Who Are North Korea's Three American Prisoners?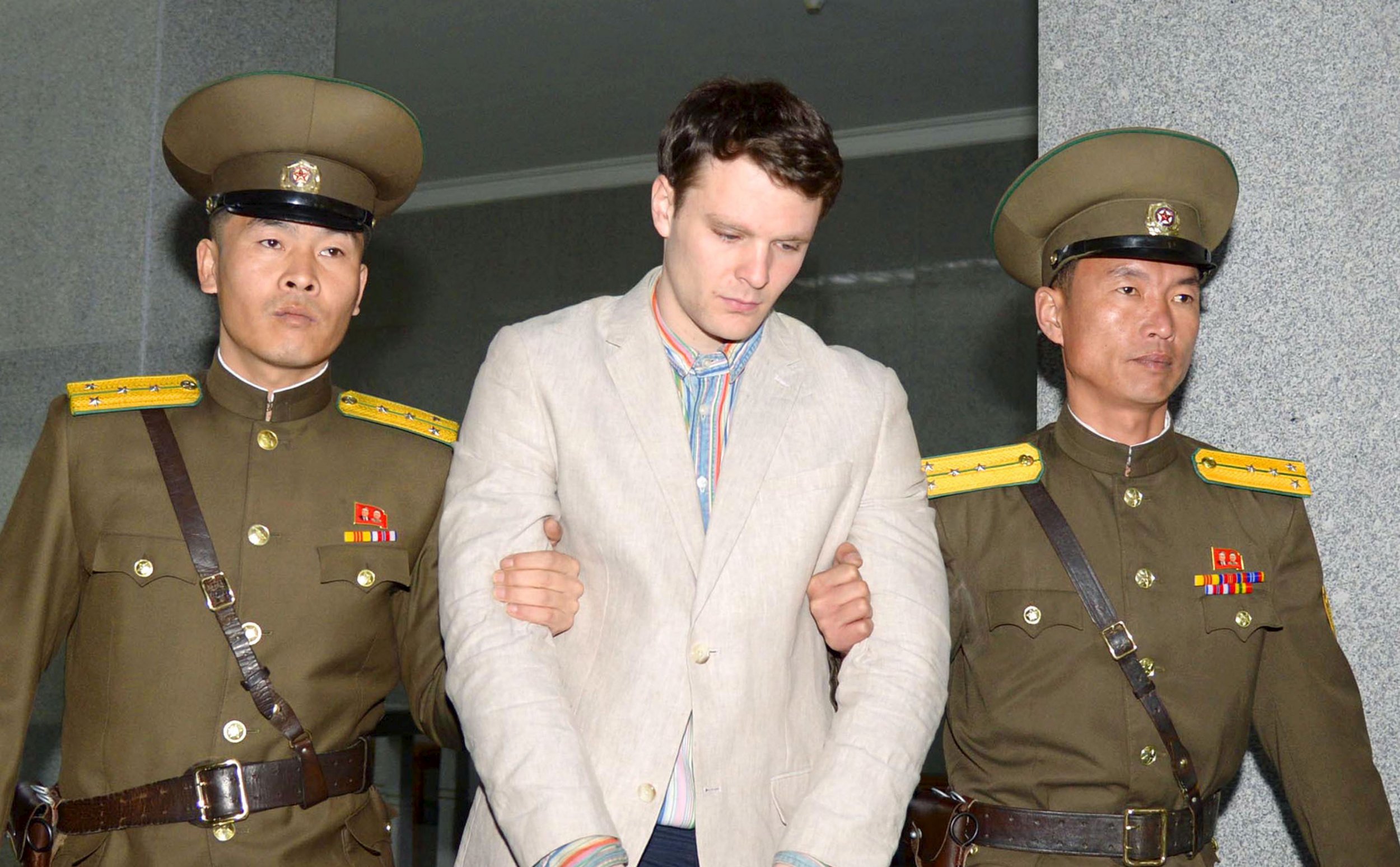 On Saturday, U.S. citizen Kim Sang-duk became the third U.S. citizen to be held in North Korea after police arrested him as he prepared to board a flight at Pyongyang International Airport.
Since the 1990s, the majority of foreigners detained in North Korea have been U.S. citizens, with 15 arrested in total since 1995. North Korean authorities have subjected several to show trials, and allegedly forced them under duress to confess to crimes including espionage and attempts to undermine the North Korean state, before being sentenced to serve time in the country's brutal labor camps.
Many only serve part of their sentences and are released, such as Kenneth Bae, who in 2014 was released three years into a 15 sentence to hard labor after being convicted of espionage and sent back to the U.S.
U.S. tourism to North Korea is legal, but the State Department has repeatedly warned against travel to the country. Experts believe that North Korea arrests foreign nationals to exert pressure on states critical of the regime, and score easy propaganda victories.
The latest arrest comes during a period of heightened tensions between the U.S. and North Korea. On Tuesday, missile armed submarine USS Michigan arrived in South Korea amid concerns that North Korea may be about to launch another nuclear test. North Korea marked its 85th anniversary with a large-scale live firing drill, the South Korean defense ministry said.
Below, Newsweek takes a look at the background of the three U.S. citizens being held.
Tony Kim
The Pyongyang University of Science and Technology (PUST) confirmed that Kim Sang-duk, also known as Tony Kim, had taught at their institution for several weeks and confirmed his identity Saturday. North Korean authorities have not disclosed the reason for the arrest.
The arrest was confirmed to AFP by the Swedish embassy in Pyongyang, which performs consular functions for the U.S. as North Korea has no formal diplomatic ties with Washington. The U.S. State Department said it was aware of the arrest but said it would not comment further because of "privacy" considerations.
South Korean news agency Yonhap reported Monday that Kim, who is believed to be in his late 50s, had been involved in aid programs and had been in North Korea to discuss relief initiatives. It cited a source familiar with the matter who described Kim as a "religiously devoted man".
Kim had previously taught at Yanbian University of Science and Technology in China, which is affiliated to PUST, reported Yonhap. Park Chan-mo, PUST chancellor, said he was informed the detention had "nothing to do" with Kim's work at the institution but did not know further details.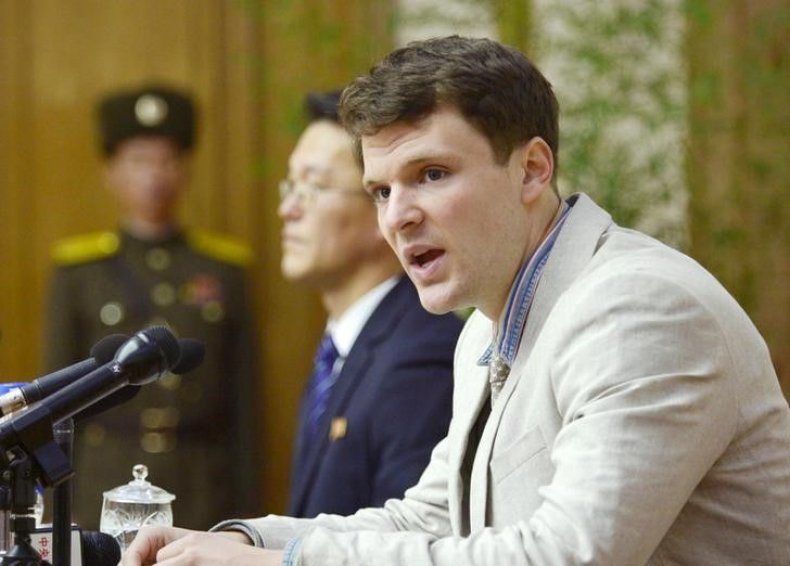 Otto Warmbier
In March, 2016, University of Virginia student Otto Warmbier was sentenced to 15 years hard labor in North Korea for crimes against the state. He had been arrested that January after attempting to steal a propaganda banner from a hotel as a prank.
He made a tearful television appearance after his arrest, in which he said he said a "church group" had asked him to bring back a religious trophy. There is no freedom of worship in North Korea, where members of the state's ruling family are revered as deities.
In the interview, the commerce and economics student said he had "committed the crime of taking down a political slogan from the staff holding area of the Yanggakdo International Hotel."
"The aim of my task was to harm the motivation and work ethic of the Korean people. This was a very foolish aim," he said.
He said it was the "worst mistake" of his life.
North Korean state news agency KCNA released grainy footage, allegedly showing Warmbier stealing the sign.
KCNA reported that Warmbier had been convicted of subversion. The U.S. State Department said the harsh sentence was for "political purposes", and had been imposed after the U.S. imposed tougher economic sanctions in response to North Korean nuclear tests.
Human Rights Watch called the sentence "outrageous and shocking."
Former Presidents Bill Clinton and Jimmy Carter have in the past traveled to North Korea to help secure the release of U.S. citizens. Veteran diplomat Bill Richardson has reportedly taken part in negotiations over Warmbier's detention.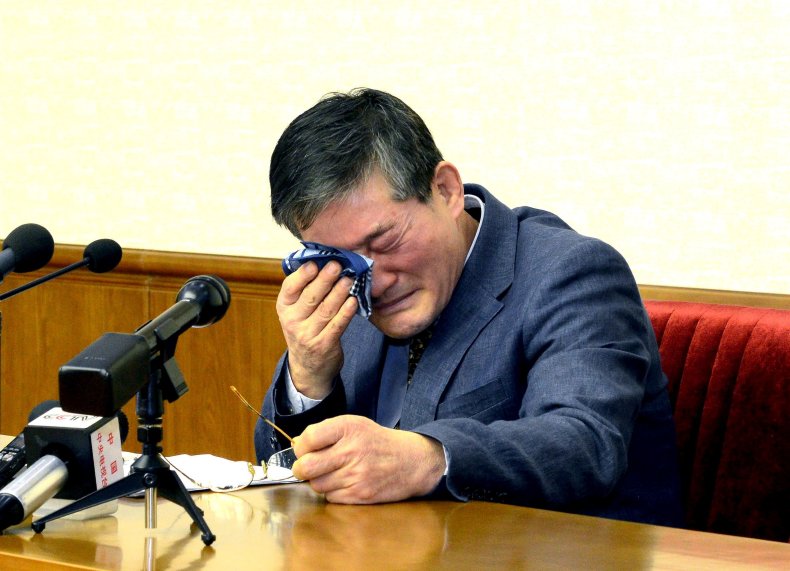 Kim Dong-chul
In April 2016, naturalized U.S. citizen Kim Dong-chul was sentenced to ten years of hard labor. The 62-year-old had been arrested the previous October.
Like Warmbier, he was paraded in front of reporters, and in an apparent confession said he had been paid by South Korean intelligence.
Kim, who once lived in Fairfax, Virginia, claimed he had had been introduced to South Korean agents by U.S. intelligence.
In a January interview with CNN in which his detention was made public, Kim claimed he had in 2001 moved to Yanji, a city near the Chinese-North Korean border that acts as a trade hub between the two countries.
He said he had commuted daily to Rason, a special economic zone in North Korea, whre he served as president of a company involved with hotel services, while working as a spy.
Korean Central News Agency claims he was arrested while carrying a USB stick with stolen "nuclear and military secrets." A North Korean defector has told Reuters that she met Kim in 2007, who told her he had worked as a missionary in North Korea.
The U.S. State Department has told news outlets it would not confirm Kim's citizenship, as "speaking publicly about specific purported cases of detained Americans can complicate our tireless efforts to secure their freedom."