North Korea Fears Japan 'Invasion' as Abe's Victory Paves the Way for Changes to Pacifist Constitution
Japanese Prime Minister Shinzo Abe has upped his rhetoric against North Korea following a landslide victory in Sunday's snap election, worrying Pyongyang that he may mobilize troops in the Korean peninsula.
Abe called a vote last month, counting on increased public support for his stance on North Korea after months of plummeting popularity ratings, a strong economy and a divided opposition, to ensure a swift victory and a chance to rule until 2021—provided he is re-elected to the party's leadership next year.
His calculated gamble paid off, as results reported by the Japanese newspaper Asahi show. His ruling Liberal Democratic Party and its coalition partner, the small, Buddhist-linked Komeito, lost five seats, but their combined 313 majority controls just over two-thirds of the 465-seat House of Representatives.
Commenting on the vote Monday, Abe called the victory a "vote of confidence" from the public. "I will make sure the Japanese public is safe and safeguard our nation," the prime minister said at a news conference in Tokyo, quoted in the BBC.
"We would dramatically show countermeasures against the North Korea threat," he added.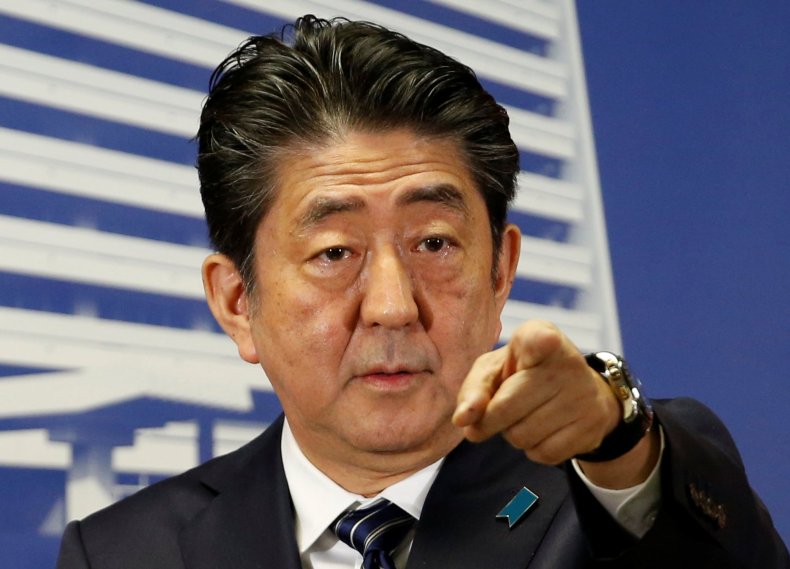 Abe represents a key regional ally of the U.S. government and President Donald Trump's strategy of strict sanctions against North Korea. Reiterating his position, Abe said Monday he would discuss exercising "stronger pressure" on Pyongyang with President Trump when the latter visits Japan next month. The two leaders are also scheduled to enjoy a game of golf.
The North Korean regime, whose most recent ballistic missile tests in August and September sent rockets flying over Japan before landing in the Pacific Ocean, followed the vote from afar.
A commentary published Sunday called Japan a "parasite living under the wing of the U.S." that would "only face bitter doom." Another article published Monday on the state-run news agency KCNA accused Japan of plotting to "pave the groundwork for a reinvasion of the Korean peninsula," which the Japanese occupied from 1910 until 1945.
"What the Japanese reactionaries seek in deliberately linking their step to dissolve the House of Representatives with the DPRK is to gratify their ambition for staying in power and pave the groundwork for reinvasion of the Korean peninsula," said a spokesperson for the country's Asia-Pacific Peace Committee, responsible for Pyonyang's external ties and propaganda, referring to Abe's plan to change Japan's pacifist constitution to include a more defined role for its Self-Defense Forces.
The conservative prime minister has long hinted at reforming the country's postwar constitution, which was largely written by U.S. General Douglas MacArthur and his officials after Japan's defeat in World War II.
Article IX of the constitution explicitly rejects war as a "means of settling international disputes" and prohibits the country from maintaining traditional armed forces. Abe wants to amend the text to recognize the legitimacy of the country's Self-Defense Forces, whose remit he revised in 2015—defying great opposition—to include overseas operations in self-defense and in support of its allies.