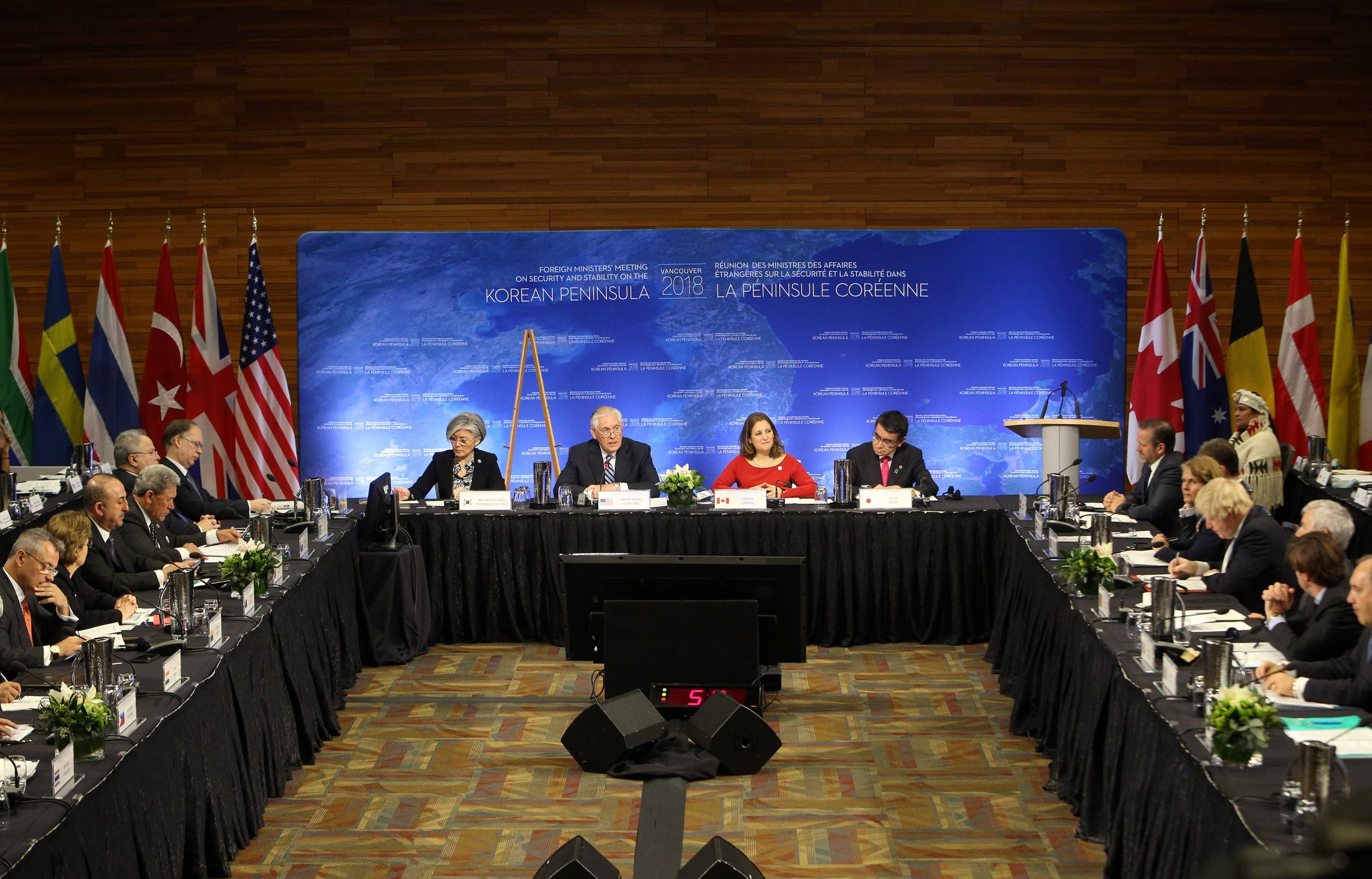 The U.S. will continue to lead the international effort to pressure North Korea to halt its nuclear and missile development program via sanctions, but has warned that military options remain on the table.
Twenty nations gathered in Vancouver to discuss the threat of North Korea nuclear weapons and ballistic missiles, a summit co-hosted by the U.S. and Canada announced in November following the test-launch of Pyongyang's most powerful intercontinental ballistic missile (ICBM) to date.
The summit participants agreed to fully implementing U.N. sanctions against North Korea and "to consider and take steps to impose unilateral sanctions and further diplomatic actions that go beyond those required by U.N. Security Council resolutions," according to a joint statement quoted in Reuters that did not add further details.
North Korea has not fired a rocket since the November 28 launch and has held talks with South Korea for the first time in two years to discuss participation at the Winter Olympic Games in Pyeongchang. These developments, according to Secretary of State Rex Tillerson—who attended the talks along with Defense Secretary General Jim Mattis—are signs that the pressure is working.
"There is a realization with them that the rest of the world is quite resolute in this stand we're taking that we will never accept them as a nuclear power. And so it's time to talk, but they have to take the step that says they want to talk," Tillerson told reporters at a press briefing on Tuesday.
Answering a question about whether Americans should be concerned about a war with North Korea, Tillerson warned North Korea the only path to avoid a military confrontation was talks, as the threat from the country's nuclear and missile tests remained a cause of concern.
"If North Korea is not—does not choose the pathway of engagement, discussion, negotiation, then they themselves will trigger an option," he said. "Our approach is, in terms of having North Korea chose the correct step, is to present them with what is the best option—talks are the best option; that when they look at the military situation, that's not a good outcome for them," he added."
Whether President Donald Trump will personally intervene in talking to the North Korean regime remains to be seen, as Tillerson evaded a question on the topic. "When we get into who's talking to who and what was said, if we want that to be made known or made public, we will announce it," he said.