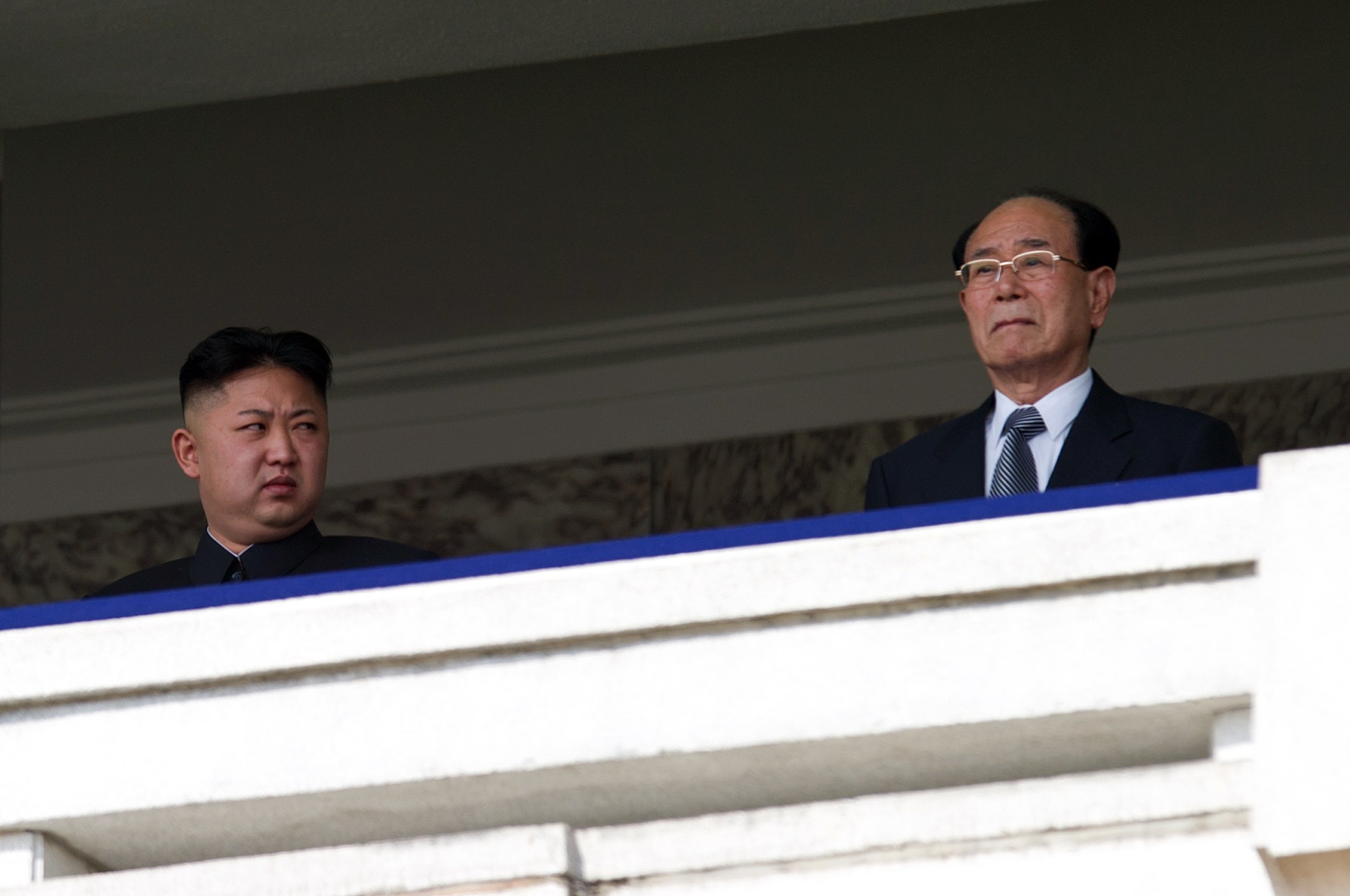 North Korean state media confirmed the country's nominal head of state will visit South Korea from February 9-11 to attend the Winter Olympics' opening ceremony in Pyeongchang.
The nonagenarian Kim Yong Nam, a former minister of foreign affairs, holds the role of president of the Presidium of the Supreme People's Assembly, the country's legislative body. The largely ceremonial position invests him with the tasks of a head of state, such as welcoming foreign officials and nominating ambassadors, even though no one has held the official title of president since the country's founder, Kim Il Sung, was posthumously recognized as "eternal president" in the constitution.
Born in 1928, Kim is not related to the ruling Kim family but has maintained a good enough relationship with all of the Kim rulers—from Kim Il Sung to his son Kim Jong Il and his grandson and current leader Kim Jong Un—to remain a high official in the ruling Workers' Party for decades.
Former North Korea diplomat Koh Yong Hwan, who defected to South Korea in 1991, remembered Kim as loyal and diligent party official, a "model" of North Korean officialdom.
"If Kim Il Sung was pointing to a wall and said there is a door, Kim Yong Nam would believe that and try to go through it," Koh was quoted as saying in the 1997 book The Two Koreas: A Contemporary History, by Don Oberdorfer.
A veteran diplomat who is not blacklisted in international or U.S. sanctions list as he is not considered to have contributed to the country's nuclear and missile development program, Kim is one of the highest-ranking North Korean officials who is able to travel the world freely—most recently spending 10 days in Iran in August to attend President Hassan Rouhani's inauguration ceremony. He made appearances at other sporting events such as the 2014 Winter Olympics in Sochi, Russia, and the 2008 Summer Olympics in Beijing.
Despite holding a position that is just below Kim Jong Un in terms of hierarchical importance, Kim does not wield any real power, which is concentrated in the hands of the Supreme Leader. The South Korean government nonetheless welcomed his presence as head of the North Korean delegation as a show of goodwill on North Korea's behalf.
"It is Kim's first visit to South Korea, and he is the highest-ranking North Korean official ever to visit the South," presidential spokesperson Kim Eui-kyeom said at a press conference Monday, quoted in The Korea Times. "His visit shows North Korea's wishes to improve inter-Korean relations and for a successful Olympics. We recognize the North is showing a serious and sincere attitude."
It remains unclear whether South Korean president Moon Jae-in will hold a formal meeting with Kim. "The North announced Kim's visit only last night, so working-level officials are now arranging who will be his counterpart and what they will discuss," the spokesman said.
As for a meeting between the North Korean official and U.S. Vice President Mike Pence, who will head the U.S. delegation to the Olympics, the presidential spokesperson said he had no comment: "It is something the U.S. and North Korean governments will decide."