North Korea's Missile Launch Leads to U.N. Security Council Emergency Meeting
The United Nations Security Council has announced that it will hold an emergency meeting following North Korea's latest missile launch.
Images provided by North Korea showed what they said was a missile being launched from a submarine, CBS Evening News reported. The launch would represent a step forward in the country's weapons development.
Its launch may have been timed to coincide with the arrival of U.S. President Joe Biden's North Korean envoy to the region. The envoy will reportedly meet with the United States' East Asian allies to discuss plans to halt North Korea's nuclear development, according to the aforementioned news program.
In the early hours of Tuesday morning, Japanese Prime Minister Fumio Kishida said North Korea fired off two ballistic missiles into the Sea of Japan. The launch violated security sanctions placed on North Korea by the United Nations.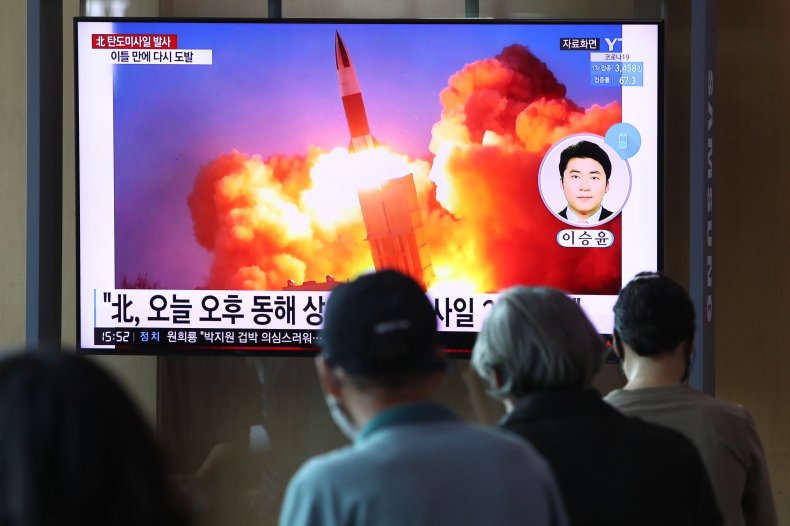 North Korea has conducted six missile tests since January. In doing so, the country has violated multiple United Nations weapons sanctions banning it from developing ballistic missiles, according to The New York Times.
North Korea has said that it is developing its weapons defense program in order to deal with a possible U.S. military threat. The U.S. has said it has no hostile intentions towards North Korea.
U.S. President Joe Biden has warned of "responses" if North Korea continues to escalate tensions in the region, but he hasn't publicly issued any in response to their recent missile tests.
The U.S. Defense Intelligence Agency (DIA) has warned that North Korea wants to launch a long-range missile in the coming year. Such a launch would represent a major security risk to South Korea, Japan and other U.S. allies in eastern Asia. North Korean leaders ultimately want to develop nuclear arms, something they see as "critical to regime survival," the report said.
The U.N. Security Council held another emergency meeting on October 1 to discuss North Korea's recent missile tests.
In an October 3 letter to the U.N., North Korea accused the Security Council of having a "double-dealing standard" when it comes to weapons testing. The letter criticized the fact that the U.N. allows similar missile tests by the U.S. and its allies.
By the end of 2017, North Korean leader Kim Jong Un claimed that his country had the ability to launch a nuclear strike against the continental United States. However, international security experts have said the country is still testing its ballistic missiles while it refining its capacity to make weapons-grade nuclear materials.
Newsweek contacted the U.N. for comment.