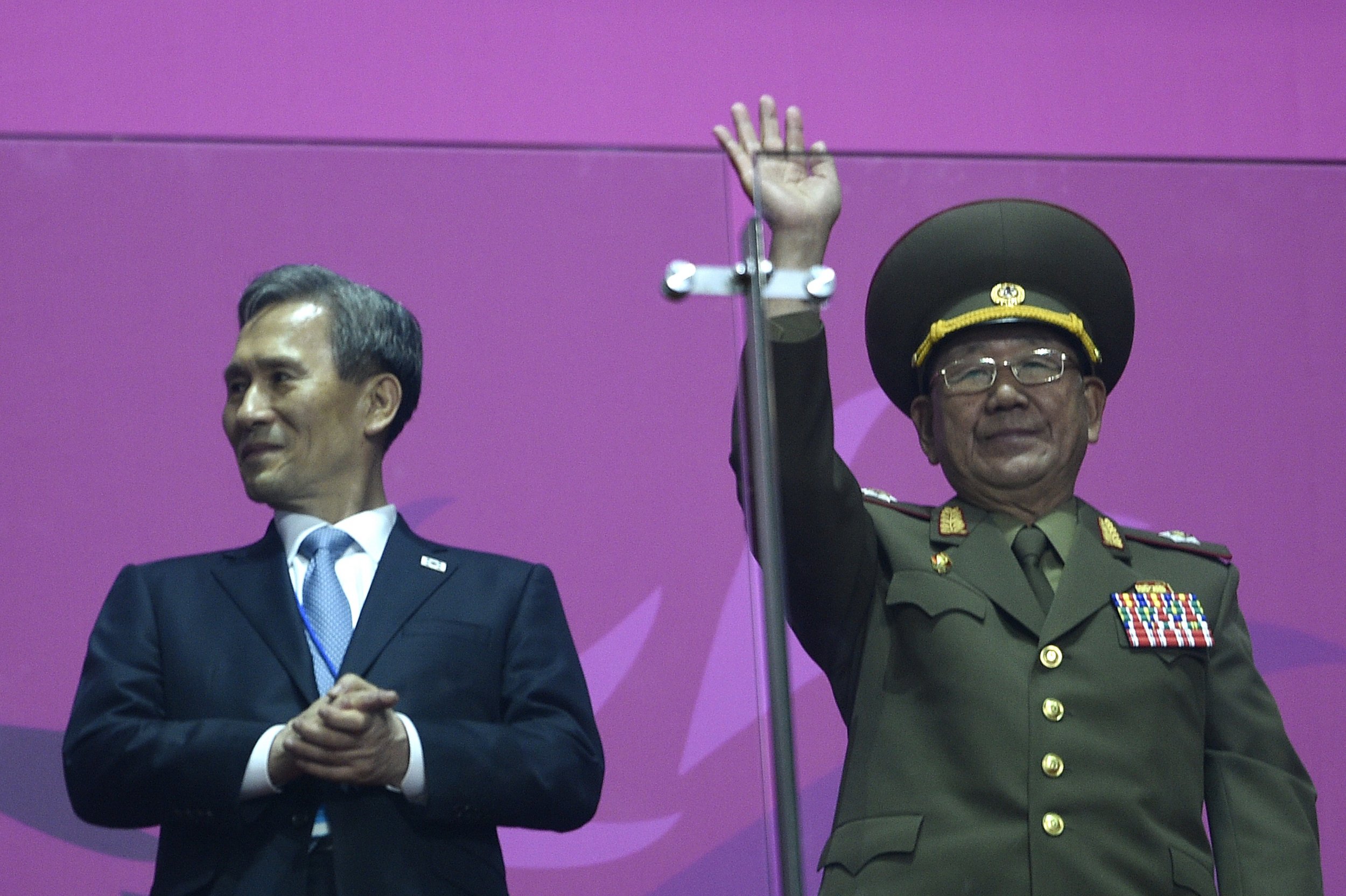 The absence of one of North Korea's top officials, General Hwang Pyong So, from leader Kim Jong Un's side continues to fuel speculation that he has fallen from favor and may have been executed.
Director of the hugely influential General Political Bureau of the North Korean military, the body tasked with ensuring ideological commitment within the ranks of the army, Hwang reportedly has been expelled from the Workers' Party, where he'd served in a senior position in the politburo.
An unidentified South Korean source told South Korea publication Korea JoongAng Daily that Hwang was purged from the party for taking bribes. The source did not specify when the expulsion took place.
Reports about Hwang first emerged after the South Korean intelligence agency briefed Seoul lawmakers on the situation in North Korea in November, a week after a North Korean soldier staged a daring defection across the demilitarized border area.
Read more: U.S. military preparations for North Korea are "not empty words," says Trump's Navy chief
Seoul's spy agency said Hwang and his deputy were punished for their "impure" attitude, and a lawmaker who attended the briefing told local media he could not add details about the punishment because it was classified information.
Hwang's position within the regime effectively made him second only to Kim, the result of a power struggle with the ruling party secretary, Choe Ryong Hae, South Korean news agency Yonhap reported in 2015.
Choe, whose son is reportedly married to Kim's younger sister, used to lead the military bureau and became the most senior North Korean regime official to visit South Korea when he led Pyongyang's delegation to the Asian Games in October in 2014. Choe was replaced by Hwang later that year and sent to work on a farm in 2015 as a punishment for mishandling a power station construction project. He reappeared in public a month later.
Rumors of a new power struggle between Choe and Hwang were circulating in March and, according to Seoul, Choe may have gotten the upper hand, leading the probe that reportedly led to Hwang's downfall. Hwang was last seen in public two months ago, South Korean media reported.
It is not the first time Hwang has disappeared from the public eye: He vanished for three weeks in December 2015, with South Korea later suggesting that he had traveled to China to have back surgery, as Yonhap reported.
Although North Korea is fiercely secretive and its politics opaque, state-controlled media usually lists the names of officials attending public events, allowing analysts to speculate on who is in and out of favor. Hwang's name did not appear in reports of Kim climbing the top of Mount Paektu—North Korea's sacred mountain—over the weekend, while Choe's did.
The visit to the mountain sparked a flurry of rumors, with some South Korean media commenting that remarkable events, such as the execution of his uncle Jang Song Thaek in 2013 and the withdrawal from Korean talks in 2014, were announced following Kim's previous trips.
Hwang was also missing from the country's eighth Conference of Munitions Industry this week, despite having been heavily involved in the development of North Korea's nuclear arsenal.
Purges of top officials are fairly frequent under Kim's rule, with the young leader keen to make examples of those who make mistakes or amass too much influence as a means to maintain an unchallenged grip on power.
"Vice Marshal Hwang Pyong So could not have continued in the capacity that he was operating in without it coming back to bite him," Michael Madden, an expert on the U.S.-based North Korea monitoring website 38 North, told Reuters last month.