U.S. Military Preparations for North Korea Threats Are 'Not Empty Words,' Says Trump's Naval Chief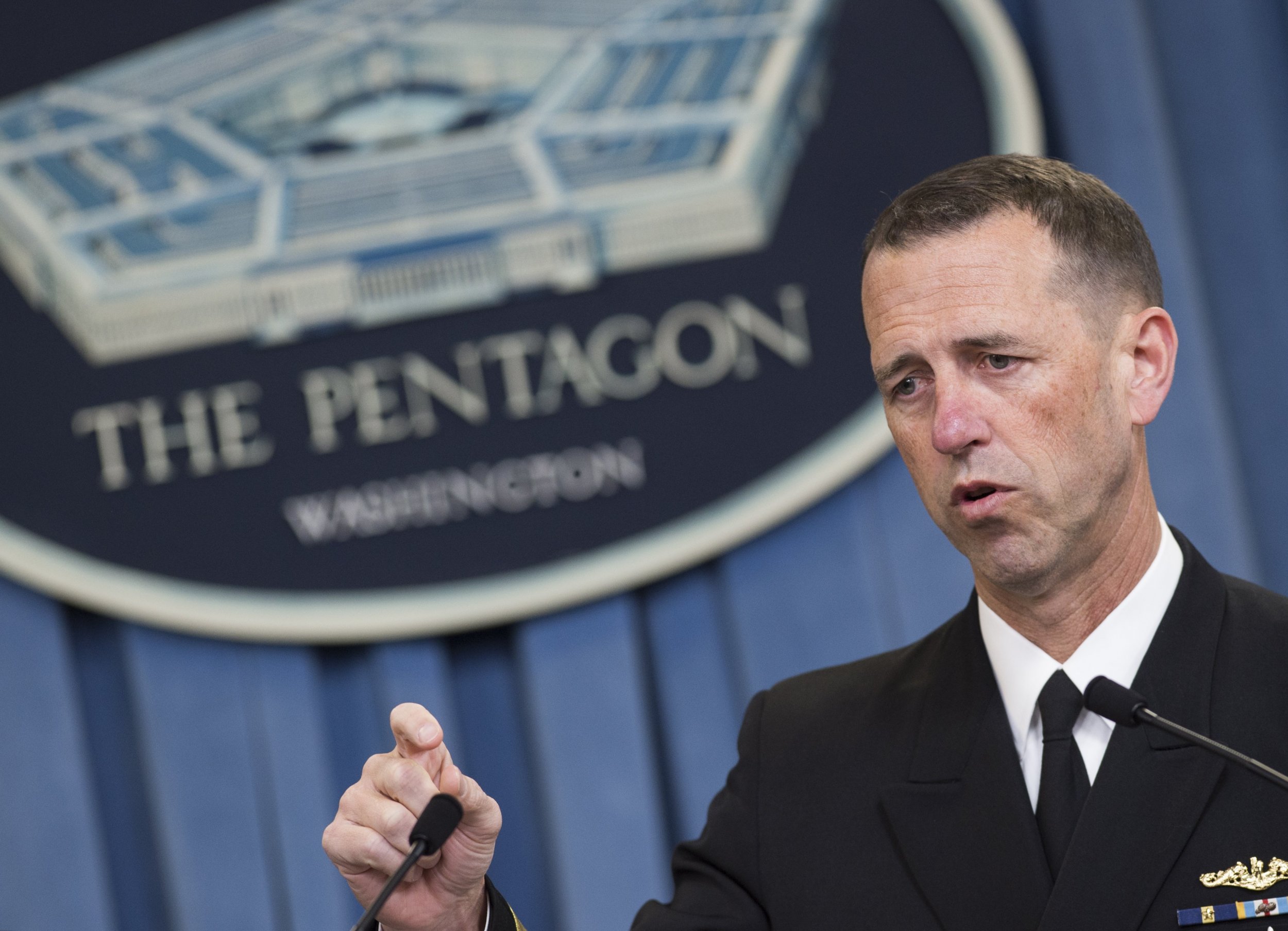 The U.S. is prepared to fight North Korea if diplomatic options fail, the U.S. chief of naval operations said while visiting troops in South Korea.
Admiral John Richardson, the U.S. highest-ranking naval officer, discussed the need for a "legitimate deterrence" and military preparedness in the peninsula, as North Korea has yet to show commitment to return to the negotiation table after test-launching a new, more powerful intercontinental ballistic missile on November 29.
"It's not empty words," Richardson said in an interview with South Korean news agency Yonhap. "To have a legitimate deterrence, I think, you have to have legitimate, I guess, options. So we're prepared."
However, Richardson emphasized that he sees the role of the military as supporting ongoing diplomatic efforts.
"We in the military understand that we have to be prepared for any kind of increasing capability that could come from the North, that would threaten us from the North, so that we could prevail and that we provide a firm backstop to the diplomatic and economic efforts that are going on the lead," he said.
The Trump administration has sent mixed messages over its North Korea strategy. Secretary of State Rex Tillerson said on Tuesday that the U.S. was willing to begin talks with Pyongyang without precondition, signaling a change of direction from previous positions requesting North Korea to accept giving up its nuclear arsenal as a requirement for the negotiations to start. Tillerson did mention one condition: that the U.S. would need to see a pause in nuclear and missile testing before talks could start.
The White House appeared to dismiss Tillerson's remarks within a few hours, issuing a statement in response to his comments that evening.
"The President's views on North Korea have not changed. North Korea is acting in an unsafe way not only toward Japan, China and South Korea, but the entire world. North Korea's actions are not good for anyone and certainly not good for North Korea," the statement from Press Secretary Sarah Sanders read.
U.N. Secretary General António Guterres also was asked to respond to Tillerson's statements during his visit to Japan on Thursday. He did so, reluctantly. "I do not like to comment on expressions that sometimes might not translate exactly the thinking of people there. What is important is that dialogue to be meaningful, must have an objective," he said, adding, "That objective is the denuclearization of the Korean Peninsula, and to do it by peaceful means."
Japan is chairing a ministerial-level meeting of the U.N. Security Council on Friday to discuss North Korea's ballistic missile and nuclear development program. Pyongyang's ambassador to the U.N. is expected to make a rare appearance at the meeting, Nikkei Asian Review reported, quoting Japan's Permanent Mission to the U.N.