North, South Korea Ramp Up Capabilities as World's Two Newest Submarine Missile Powers
Rivals North and South Korea have ramped up testing of submarine-launched ballistic missiles as the world's two newest powers to join the small club of nations possessing such capabilities.
North Korea conducted a test Monday, early Tuesday local time, of what U.S. allies Japan and South Korea identified as a submarine-launched ballistic missile (SLBM) fired from the vicinity of Sinpo on the east coast. The projectile was said to have reached an altitude of around 50-60 kilometers (about 31 to 37 miles) and have landed approximately 590-600 kilometers (somewhere between 367 and 373 miles) away in the sea.
The following day, official Korean Workers' Party Central Committee newspaper Rodong Sinmun published five images showing what appeared to photos of the "new type submarine-launched ballistic missile" alongside a submarine, marking the first time the country has offered evidence it could conduct such a test from an actual ballistic missile submarine.
The launch was the first to be conducted by North Korea in almost exactly two years, following an October 2019 test during which the Pukguksong-3 was fired from an underwater platform. A weapon identified as the Pukguksong-4 was showcased during a Pyongyang military parade a year later last October, while another SLBM was displayed during a January rally. Yet another potential SLBM appeared alongside an array of other weapons at last week's Self-Defense-2021 exhibition in the capital.
North Korea has previously conducted SLBM launches dating back at least to May 2015 through August 2016, using the Pukkuksong-1, and Rodong Sinmun reported that the submarine used was called "8.24 Yongung" from which "the first submarine-launched strategic ballistic missile was successfully launched five years ago to demonstrate the military muscle of the DPRK," an acronym for North Korea's official title, the Democratic People's Republic of Korean.
The report credited the Academy of Defence Science and said the event was overseen by the institution's top officials, alongside Korean Workers' Party Central Committee Department Director Yu Jin and Korean Workers' Party Central Committee Munitions Industry Vice Department Director Kim Jong Sik.
The academy aslo "clarified that the new type SLBM, into which lots of advanced control guidance technologies including flank mobility and gliding skip mobility are introduced, will greatly contribute to putting the defence technology of the country on a high level and to enhancing the underwater operational capability of our navy."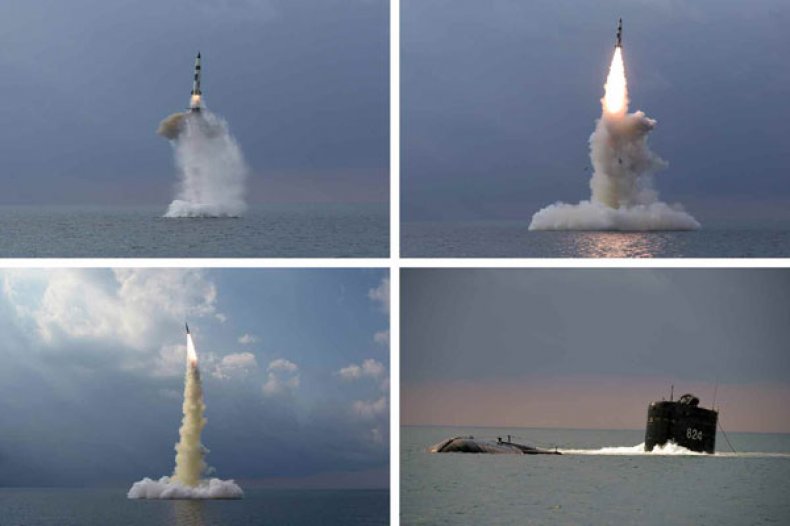 For years, North Korea was the world's most recent SLBM power, joining the United States, Russia, the United Kingdom, France, China and India. But last month, South Korea entered the fray, conducting an SLBM test of its own and making it the only country without nuclear weapons to have done so.
The South Korean Defense Ministry said the SLBM was launched from the ROKS Dosan Ahn Changho submarine. The test was observed by President Moon Jae-in, who, while having expressed an unprecedented enthusiasm to rekindle frozen inter-Korean peace efforts, also noted the need to defend the country from potential attack.
"Augmenting our missile capabilities can create a definite deterrence against North Korean provocations," Moon said, according to the Ministry. "We have demonstrated our adequate deterrence against North Korean provocations through this successful missile test-launch."
Amid the latest tensions to hit the Korean Peninsula, U.S. special representative for North Korea Sung Kim traveled to Seoul to met in Washington with Japanese Ministry of Foreign Affairs Director General for Asian and Oceanian Affairs Bureau Funakoshi Takehiro and ROK Special Representative for Korean Peninsula Peace and Security Affairs Noh Kyu-duk.
The trio "held detailed discussions on the current situation on the Korean Peninsula and reaffirmed their commitment to working trilaterally to reduce tensions and make progress toward the shared goal of the denuclearization of the Korean Peninsula," according to the State Department.
The U.S. envoy reiterated slammed North Korea's recent SLBM test and emphasized President Joe Biden's appeal for dialogue with North Korea, as well as the administration's commitment to its two Asia-Pacific allies.
"Special Representative Kim emphasized U.S. condemnation of the DPRK's October 19 ballistic missile launch, which violates multiple UN Security Council resolutions, and called on the DPRK to refrain from further provocations and engage in sustained and substantive dialogue," the readout said. "He further reiterated Washington's ironclad commitment to its allies, the ROK and Japan. Special Representative Kim expressed support for humanitarian aid for the most vulnerable North Koreans and affirmed U.S. commitment to the immediate resolution of the abductions issue."
Japan has accused North Korea of having kidnapped a number of citizens between 1977 and 1983, an issue that Tokyo sees as central to any efforts to engage with Pyongyang.
White House Press Secretary Jen Psaki told reporters Tuesday that North Korea's latest launch and a string of tests that preceeded it including those said to include a hypersonic glide vehicle, a railway-based ballistic missile and a cruise missile "underscore the urgent need for dialogue and diplomacy."
"Our offer remains to meet anywhere, anytime without preconditions," Psaki said. "We call on the DPRK to refrain from further provocations and engage in sustained and substantive dialogue."
North Korean Supreme Leader Kim Jong Un and his officials have said discussions would only be possible with the U.S. once it dropped its "hostile policy" of economic and military pressure.
"Seeing the contents of various military exercises the United States and south Korea frequently wage on the pretext of coping with what they call threats while talking about peace, cooperation and prosperity in public and south Korea's attempt to modernize its armaments which has recently become intolerably undisguised," Kim said during last week's military exhibition, according to the official Korean Central News Agency, "we can easily guess how military environment will change in the region of the Korean peninsula tomorrow."
The ruler went on at length about Seoul's recent defense initiatives, including the SLBM launch.
"South Korea has been unhesitant on several occasions in disclosing its ambition for securing military supremacy over us under the preposterous excuse of deterring threat from us, and each time justified itself with the containment of our threat and defence of peace," Kim said. "Designating us as a source of threat and a target to be contained, not as a partner of dialogue and cooperation, is a concentrated expression of their deeply-ingrained hostility towards our Republic which cannot be concealed no matter how hard they try to pretend otherwise."
He also discussed a potential offramp, however, and expressed a desire to avoid a return to the days of the war that pit the two nations against one another in the early 1950s, a conflict that has yet to technically end nearly seven decades later.
"But, if south Korea does not find fault with us in a stubborn manner and if it does not pick a quarrel even with our exercise of national sovereignty, I assure that no tension will be caused on the Korean peninsula," Kim said. "Were it not for it, we will not be involved in verbal confrontation with south Korea nor have any reason to be so. I want to reiterate that south Korea is not the target of our armed forces.
"Undoubtedly, we are not strengthening our defence capability targeting at south Korea," he added. "The dreadful history of having recourse to arms against the fellow countrymen must not be repeated on this land."