President Joe Biden may be pushing Americans to be fully vaccinated against the coronavirus, but a performance at the White House aimed to provide a different kind of Christmas week booster.
The Northwell Health Nurse Choir from Long Island, New York, performed on Tuesday at this year's Spirit of the Season TV special in a video that has gone viral.
The choir shot to fame this year after appearing this year in the 16th season of America's Got Talent, receiving the Golden Buzzer from Howie Mandel and got a top 10 spot in the show's finale.
On Tuesday, a 17-strong group appeared in the East Room to sing, "We Need A Little Christmas," the popular Yuletide song first performed in Jerry Herman's 1966 Broadway musical Mame and which has been covered by artists ranging from Johnny Mathis to Kelly Rowland.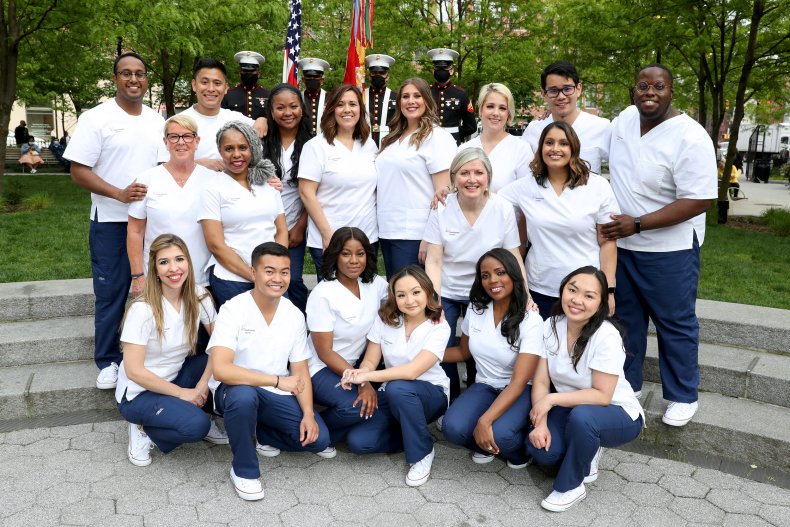 As of Christmas Eve morning, the video, in which first lady Jill Biden can be seen watching from the side, had been viewed more than 5.1 million times.
People posted their appreciation of the performance after a difficult 2021.
Patient research advocate Anne Marie Mecurio tweeted: "@NorthwellHealth nurses have provided me with more comfort since Feb 2020, when 1st little born, thru Oct 2020, when mom died, then 2021 febrile seizures, birth of 2nd little. It's personal for me. They earned joy. Take a beat or scroll on by."
Political scientist David Darmofal tweeted: "The Northwell Health Nurse Choir was great on In Performance at the White House tonight."
One user wrote: "Thank you @FLOTUS and @POTUS for bringing Americans this great In Performance at the WH!" Another wrote: "They're inspirational! FLOTUS chose well!
Retired diplomat Laura Kennedy tweeted: "The Northwell Nurses choir from NY performing for the Bidens' Xmas performance at the WH—terrific! They sang 'We all need a little Christmas'—amen to that. Thanks all our health care workers!"
The choir gathered from different health care facilities from around New York in 2020 to support the nonprofit Nurse Heroes to help solve the global nurse shortage.
Northwell Health's website said that music helped them "forge a special bond—something they treasure, as the COVID-19 pandemic has been especially challenging for nurses."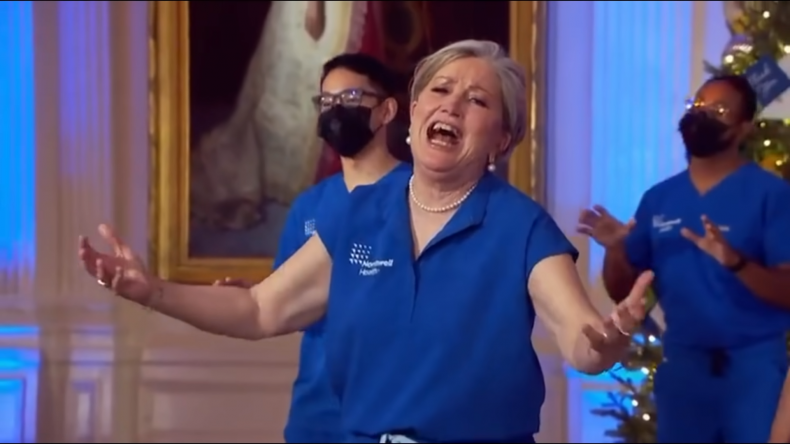 Their performance comes amid a worrying spike in new COVID cases as the more transmissible Omicron variant sweeps across the U.S and threatens to overwhelm health workers.
The Centers for Disease Control and Prevention (CDC) announced looser rules for health care workers who test positive for COVID, allowing them to return to work after seven days instead of 10 if they test negative and do not have symptoms.