Man Accused of Attempting Mosque Attack and Killing Step-sister Repeats Nazi Salute in Court
A Norwegian man accused of killing his teenage step-sister and attempting a terror attack on a mosque repeated the Nazi salute that he gave during his previous court appearance a month ago.
Philip Manshaus, 22, was thwarted in his attempt on the Al-Noor mosque in Oslo on August 10 by a 65-year-old worshipper who managed to overpower him.
But Manshaus's step-sister, Johanne Zhangjia Ihle-Hansen, who had been adopted as a child from China by his father's girlfriend, was found dead at their home a few hours later with gunshot wounds to the head. A .22-caliber rifle was found in the accused's car.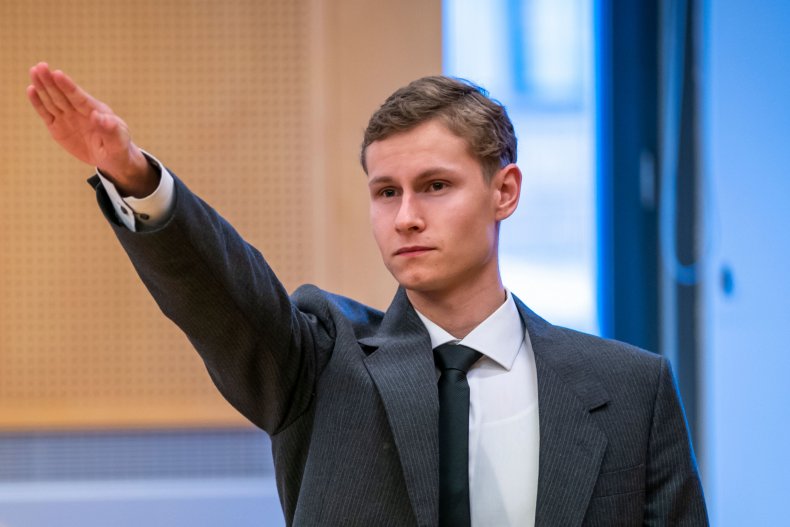 On September 9, Manshaus had given a Nazi salute during a court hearing to extend his detention in custody.
In a court appearance on Monday, Manshaus, who was dressed in a dark gray suit, gave the Nazi salute for three seconds towards the waiting photograpers, Norwegian news outlet, Resett.no reported.
The publication noted that Manshaus had complained about the terms of his detention in solitary confinement, with no visits or access to media.
The Oslo court agreed to prosecutors' requests to continue to remand him in custody pending formal charges. Manshaus has admitted to the facts but has rejected the "terrorist act" and "murder" suspicions against him.
Police said on the day of the incident, the Islamic holiday of Arafah, the suspect is said to have burst into the mosque wearing body armour and carrying two weapons believed to be shotguns, although their type has not been specified.
He allegedly fired several shots before being overpowered by Mohamed Rafiq, a retired Pakistani Air Force officer, who was the only one injured.
"He put the finger inside my eye up to there, the whole finger," Rafiq said, according to the Daily Mail.
When he first appeared in court, Manshaus's face and neck had bruises and scratches.
Prime Minister Erna Solberg said in a statement: "This is not supposed to happen in Norway. Norway should be safe. All places of worship shall be safe," The New York Times reported.
Postings under the accused's name allegedly praised the mosque attacks in Christchurch, New Zealand in which 51 people were killed on March 15.
Police have said that Manshaus's step-sister was killed on account of her race. Her funeral was attended last month by Norwegian Justice Minister Jøran Kallmyr and philosopher Henrik Syse, a member of the committee that awards the Nobel Peace Prize who knew Manshaus's father.
Eight years ago, Norwegian neo-Nazi Anders Breivik murdered 77 people, first in Oslo and then at a summer youth camp run by the centre-left on the island of Utoeya. He was jailed for 21 years.