'Not Fit for the Job': Jim Jordan Joins GOP Calls for Biden to Resign Over Afghanistan
Representative Jim Jordan has joined Republican calls for President Joe Biden to resign over his administration's withdrawal of U.S. troops from Afghanistan after Senate Minority Leader Mitch McConnell ended rumors of impeachment proceedings.
"What happened in Afghanistan was wrong. It was terrible. But frankly, it wasn't surprising because what has this guy done right?" the Ohio Republican said on Fox News' Justice with Judge Jeanine Saturday. "Everything this guy touches, it goes bad. That's why I said he should resign."
"Thirteen service members killed, Americans left behind, allies left behind, billions of dollars of equipment and weapons left behind. And some of the Afghans who have come to America haven't been properly vetted," he added.
Dozens of House and Senate Republicans have called for Biden to resign or be removed from office after a terror attack killed 13 U.S. service members in Kabul amid the final leg of the U.S. evacuation effort.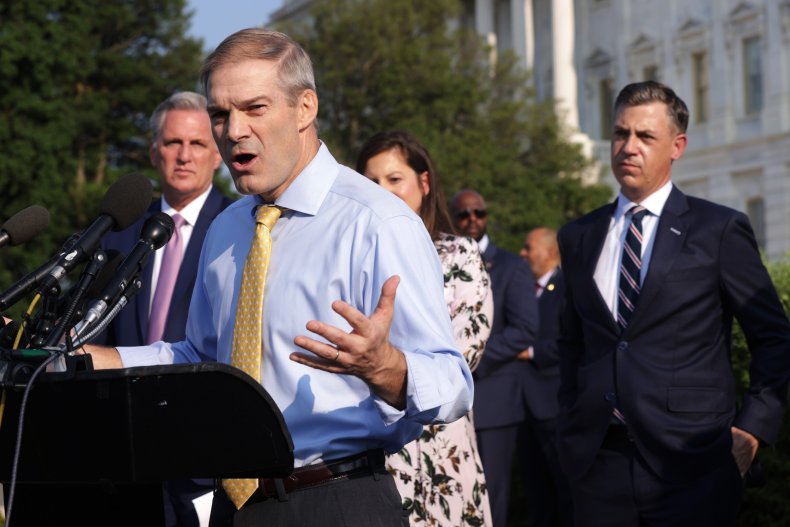 Those who have called for Biden's ousting include a slew of former President Donald Trump's closest congressional allies—including Senators Josh Hawley, Lindsey Graham and Marjorie Taylor Greene—and Representative Tom Rice, who voted with Democrats to impeach Trump following the Capitol riot on January 6.
Graham called for Congress to remove Biden over the chaotic Afghanistan withdrawal on CBS's Face the Nation last Sunday.
McConnell said "there isn't going to be any impeachment" of Biden and suggested that the president should be ousted by voters during an event in Pikeville, Kentucky Wednesday.
"I think the American people have to decide what kind of government they want. I have a feeling the American people didn't think they voted for this government," the Republican leader added. "The way these behaviors get adjusted in this country is through the ballot box."
House Minority Leader Kevin McCarthy did not to endorse calls for Biden's resignation during a press conference on Tuesday, but said there must be "accountability."
Biden strongly rejected criticism of his decision to end America's war in Afghanistan, calling the evacuation effort an "extraordinary success" in an address to the nation on Tuesday.
"When I hear we could have, should have continued the so-called low-grade effort in Afghanistan, at low risk to our service members, at low cost," the president said, "I don't think enough people understand how much we've asked of the 1 percent of this country who put that uniform on."
"There's nothing low grade or low risk or low cost about any war," he added. "It's time to end the war in Afghanistan."
Newsweek reached out to the White House for comment.