Notre Dame Cathedral Fire Extinguished After 9 Hours: 400 Firefighters Fought Horrific Blaze to Save Prized Works of Art, Vital Structure
The devastating fire that engulfed the world-famous Notre Dame Cathedral in Paris was finally put out, firefighters announced.
The blaze, which destroyed much of the church's roof and collapsed a spire, was extinguished after nine hours, Paris firefighters announced on Twitter on Tuesday morning.
More than 400 firefighters attended the scene, where the blaze broke out on early Monday evening. Two police officers and one firefighter were injured as emergency services battled to save the 850-year-old cathedral and the many artifacts and artworks inside.
The official Paris fire service Twitter account shared several photos of its staff battling the "horrific" blaze, which sent a plume of thick dark smoke high over the center of the French capital.
Though officials initially feared the entire building would be lost, emergency services managed to protect the cathedral's structure and two towers. As shocked Parisians gathered around the burning famous landmark, responders saved what they could as the fire spread to the wooden interior of the building.
Photos from inside the church showed extensive damage. Within nine hours, the fire had consumed much of a cathedral that took 100 years to build and stood witness to revolutions, wars and upheaval in the City of Lights since 1345.
Despite the damage, some of the building's most intricate and famous stained-glass windows survived. Images of the damage inside the church showed the cross on the cathedral's altar glowing above the rubble.
The graphic below, provided by Statista, illustrates the history of the famous Notre Dame cathedral.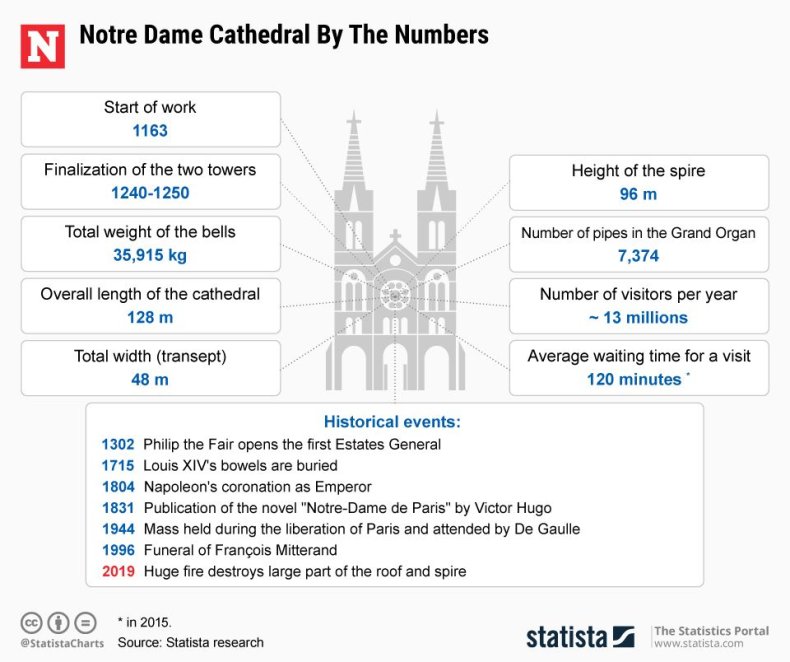 Firefighters explained that the "difficult fire" began in the building's attic, rapidly spreading to consume the spire, which soon collapsed. Firefighters are still picking their way through the rubble, and the full extent of the damage is not yet apparent.
The cause of the fire is still not known, though officials have ruled out arson and are not treating the incident as terror-related. The cathedral was already undergoing extensive renovation, and initial reports suggested the fire may be linked to that. Prosecutors have opened an investigation, The Associated Press reported, and will consider "involuntary destruction caused by fire."
On Monday night, French President Emmanuel Macron praised the "courage" and "great professionalism" of the firefighters called to the scene. Paris Mayor Anne Hidalgo said Monday that first responders had saved invaluable items from the flames by creating a human chain even as the cathedral burned.
Macron has already pledged to fully rebuild the damaged cathedral. The Friends of Notre Dame website—set up to fund ongoing renovations—crashed under the weight of unprecedented traffic, while two French billionaires have also promised hundreds of millions of dollars to fund repairs.