Notre Dame Hero Priest Jean-Marc Fournier, Who Rescued Christ's Crown of Thorns, Is Afghanistan Vet
As inspiring tales of bravery emerge of firefighters' heroic efforts to quell the inferno that tore through Notre Dame cathedral in Paris last night, the determination of priest Jean-Marc Fournier is beginning to gain worldwide attention.
Philippe Goujon, the mayor of Paris' 15th arrondissement, told reporters gathered outside Notre Dame Tuesday that Fournier, the chaplain of the Paris fire brigade, had demanded he be allowed into the cathedral with the firefighters to retreive one of its holiest relics.
In a tweet, Etienne Loraillère, editor of France's KTO Catholic television network, confirmed that Fournier had played a pivotal role in saving the Crown of Thorns, one of Notre Dame's most famous artifacts. According to the Guardian, the Catholic faithful believe that the Crown of Thorns held at Notre Dame is the same that was placed on Jesus' head during the crucifixion.
As Fournier is praised for his role in saving the cathedral's treasures, his past brushes with danger and heroism are also coming to light. The priest served with the French armed forces for seven years, a period that included a deployment to Afghanistan. Sky News reported that during the tour he survived an ambush that killed 10 of his fellow soldiers.
In the past the priest has also provided spiritual guidance in the face of national catastrophe. In November 2015 he prayed over the dead and comforted the wounded at the Bataclan music club where 89 people were killed in attacks by the Islamic State militant group.
"I gave collective absolution, as the Catholic Church authorizes me," Fournier said in the aftermath of the attacks.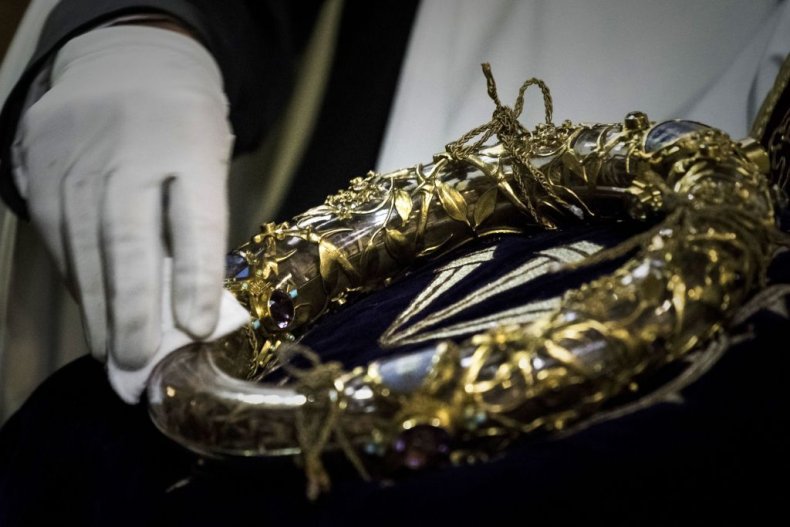 In the wake of the Notre Dame fire, Fournier's colleagues have sung his praises. "Father Fournier is an absolute hero," an unnamed member of the emergency services said. "He showed no fear at all as he made straight for the relics inside the cathedral, and made sure they were saved. He deals with life and death every day, and shows no fear."
Amid the tragedy of destruction at Notre Dame, French officials have said that many of the cathedral's priceless sacred and historical artifacts have been rescued. In addition to the Crown of Thorns, given to French King Louis IX in 1238, a fragment of the True Cross and a nail that Catholics believe was used at the crucifixion are among the items saved from the blaze.
Officials say it may take as many as 20 years to restore the cathedral.