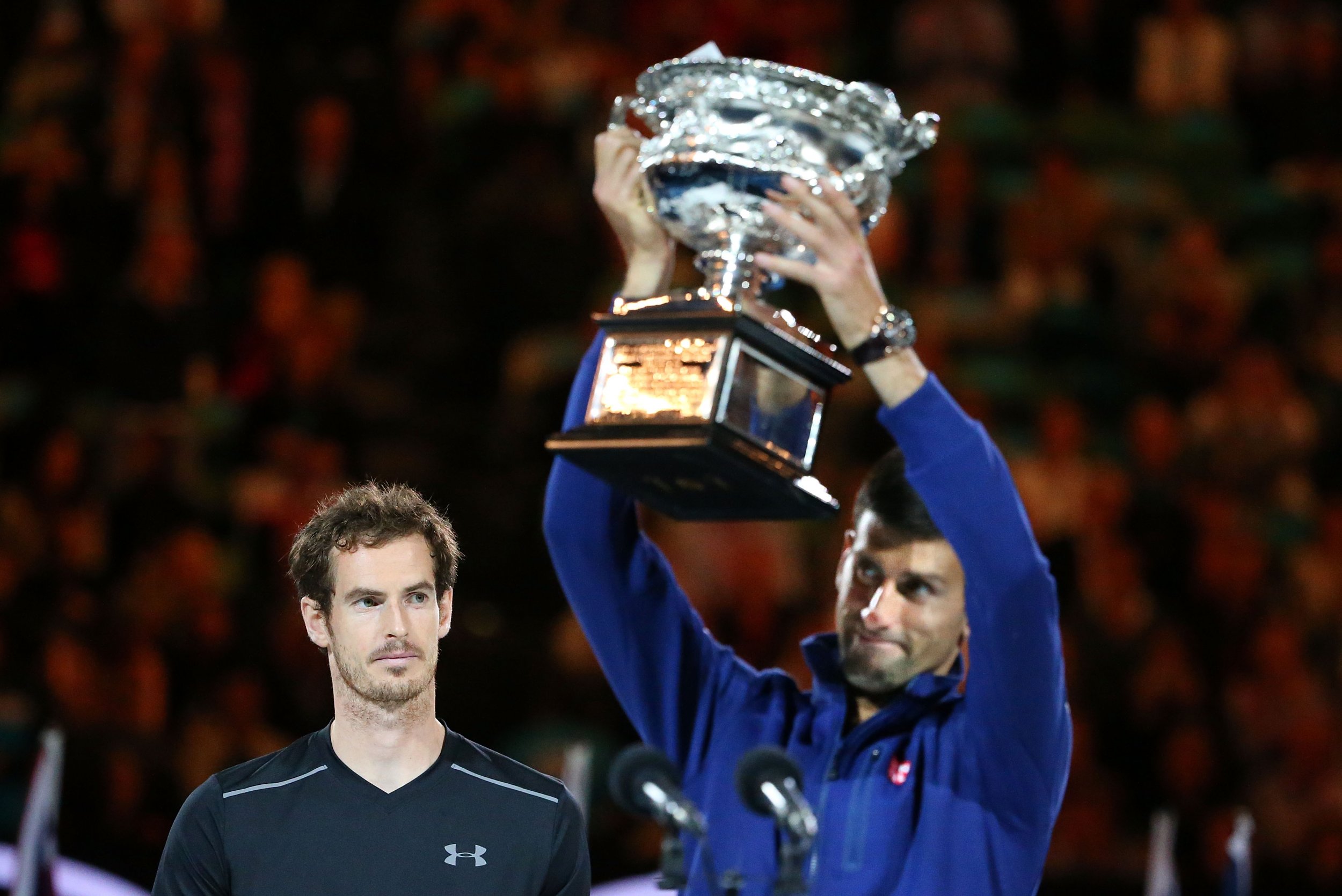 Srdjan Djokovic is the 54-year-old who built one of the world's greatest sportsmen—the 11-times tennis Grand Slam winner Novak.
Srdjan's dealings with the press are rare, but he granted Newsweek an exclusive interview at Novak Cafe and Restaurant in Belgrade, Serbia, the family business set up in his son's name.
With youngest son Djordje providing translation, Srdjan held court on everything from Novak's childhood in the Serbian mountains to how his son learned to love tennis to the secrets behind Novak's famed mental strength—and how Andy Murray and Novak's other rivals can catch up with him.
Below is an edited transcript of the interview.
Srdjan on his early life
I was born in a small village in Kosovo, near Trepca [a major mining complex in northern Kosovo]. Between the two World Wars, the English came, and built tennis courts and hotels. I didn't have a chance to participate in tennis. This was where I finished elementary school and high school, and then we moved to Belgrade, when I was 19. We lived there until 25; that was when I met my wife, Dijana. A year after that, Novak was born.
On Novak's first years
He was the first child; he was welcomed with a lot of love, because he was the first grandson and son. The difference between us and Western countries—when we have a child, we want to be in its life 100 percent until the end. That's why in Serbia and the Balkans we are so connected with our children. There is some special, unconditional love we have toward each other.
All throughout Novak's childhood, he was the most loved. After four years came Marko, and then another four years Djordje. When Novak was 2 and a half we moved to the mountains, to Kopaonik. We opened a restaurant there [called Red Bull], and a sports equipment business. That's where all the children grew up and learned how to live.
How Novak started tennis
He was 3 years old; we had tennis courts right in front of our restaurant [in Kopaonik]. When the courts were being built, Novak would hang out with the workers, bringing them food and drinks. He developed this connection to the courts. I saw the love in his eyes when he looked at the tennis courts, so I bought him a colorful small racket with a soft foam ball. It immediately became the most beloved toy in his life. He would rather play with it than anything else.
When Novak was 4, he went to a tennis camp in Novi Sad [a city in northern Serbia, around 70 kilometers from Belgrade]. They included Novak, and this is where he started to play. The rest is history. He hit the same backhand at 4 as he hits today. He was born for this sport. My biggest wish was for the brothers to be professional skiers, but things probably turned out better this way.
On raising children amid war and sanctions
We lived for 17 years on the mountain; that meant a lot for the boys' healthy growth. We spent eight months per year on the mountain, and we were much safer there because we could not hear or see what was going on in the big cities.
On Novak's temperament as a boy
I want to say something I have never told any press before. Novak was always a special kid, very different from the rest of his generation. He was very sensitive, careful, a hard worker and had good discipline since he was a small kid.
When he was 4 years old, my brother, who owned a boutique, gave him a jacket as a present. Novak didn't want to take it. My brother asked him, 'Why don't you want to take it?' He told him, 'If I take this from you, you will not have it to sell.'
My brother would give Novak footballs; Novak would play for a couple of hours and then bring it back. He would say to my brother, 'It's yours,' and he would say, 'No no no, if I need it I will take it back from you.' He was always so sensitive.
On Novak's career plan
Since he was 6, when he first started training, every aspect of his career has been taken care of. What he's working on today, tomorrow, in a month and in a year. What he's eating, drinking, today, tomorrow, when he's going to school, what he got in a maths test, what his wishes and unfulfilled dreams are. Every aspect and every small thing in his life has been controlled. Why? Many talented children don't succeed, all around the world, because the parents are very unrealistic when it comes to their careers, lives and dreams. They decide their child is a great talent, and then put so much pressure on the child that it cannot handle it. When it grows up and learns how to live, there is chaos in the family, divorce—all the family is destroyed.
On developing Novak on his own
There was no goodwill for anyone to help us, even though Novak was becoming a great player. I had to do it all by myself.
For 10 years, I was never apart from him. We were always together. Everywhere we went, everybody else had a team—physios and coaches. Everybody else was taken care of, except us. I was Novak's mother, father, coach, physio—everything!
I had no one to teach me, but the key is that I could not make a mistake at any point. It was the biggest pressure I could think of. I had to make tough decisions overnight, to change and hire coaches, to change academies. As soon as I saw a small thing not going as planned, I would go somewhere else.
Only Novak mattered. All of us—even his family and coaches—were unimportant. Everything was made for him to achieve what he has achieved today.
Unfortunately for all the family, Marko and Djordje did not have one percent of my enthusiasm, will and power that I gave to Novak. I am sad because of this, because Marko and Djordje could have achieved something great. The problem is Novak took all my energy; I had nothing left. I had no power left.
On letting go of Novak
It was very hard. He left the house when he was 12, almost 13, to the Niki Pilic Tennis Academy near Munich. At that time we did not have the money to go with him. It's in Oberschleissheim, about 30 kilometers from Munich. It's where you eat tennis, drink tennis, sleep tennis, think tennis…everything is tennis.
It was an amazing experience for Novak. As a hard worker, it was perfect for him. Niki Pilic was very happy with Novak. He never normally took kids under 14, but he didn't want Novak to leave.
On Novak's attention to detail
One day, we were sitting together and Novak passed by 20 minutes before practice. Niki Pilic asked Novak, 'Where are you going?' He said, 'I'm going to get ready for practice. I need at least 20 minutes to warm up for my practice.'
Another day Novak came to Tennis Club Partizan; there was an old man watching him. He asked him, 'Hey kid, why do you warm up 20 minutes before the match and warm down for 20 minutes afterwards.' He answered: 'Each time I stretch myself after practice, I extend my tennis career by another day.' It was most important to keep your body healthy. It's why Novak almost never gets injured.
At the Davis Cup [in 2006, when Great Britain played Serbia in Glasgow], on court there were [Ilija] Bozoljac and [Janko] Tipsarevic [two members of the Serbia team]. They were waiting for Novak. They started hitting full, full, full power after just a couple of minutes. Novak came after two minutes with his physio; they invited him to practice and he did not want to come. He ran a couple of times around the court, then after that for 15 minutes his physio stretched every muscle and joint in his body. Only after that, he went out for practice when he felt ready. Nothing is by accident.
On Novak's relationship with Andy Murray
They played every tournament together as juniors. They never had a conflict; there was always some respect between them. Novak was always the best, but Murray was always following just behind him. Like now! I want to congratulate the Murray family for giving birth to their girl [Sophia Olivia, born on February 7]. It is amazing what Novak and Murray have done with their children and their careers. I am very glad that everything turned out well.
On Novak's future and religion
I believe he will be the best tennis player in history. I have been saying it since he entered tennis. Surely he will be one of the best sportsmen ever. All of it is because he was sent from God. As a family, we tried to make God's wish come true. He can win another 10 Grand Slams.
On Federer, Nadal, Murray and friendships in tennis
Everyone has the right to their own opinion. This is only my opinion. When Serbia played Switzerland in Geneva [in 2006], Novak was just 19 at the time. He had a deviation of his sinuses and couldn't breathe. He had a problem with staying in long matches and long points. And Federer tried in every possible way to disrespect him because of his breathing problem.
He showed himself to be the best player in the world but not as a good person at that time. Nobody has ever treated Novak like this. I don't understand why Federer is still playing tennis. Why does he still play? He's already 34.
With Murray, they grew up together, they are amazing friends. At the moment they cannot be good friends outside of tennis, because they are rivals, but once they have finished their careers they are going to be much better friends than they are today. This is for all the big players right now. [Richard] Gasquet, [Gael] Monfils, [Wilfried] Tsonga, [Juan Martin] Del Potro, [Milos] Raonic, [David] Ferrer, all these amazing athletes. Novak has a good relationship with each and every one of them. Everybody should be friends, to have respect toward each other because they know how hard it has been to get where they are.
Rafael Nadal has been a legend of one era, but his game is very different from Novak and Federer's. He spends a lot of energy on court. With this kind of style, it's very hard to maintain a high level. But the sport of tennis still needs Nadal; he needs to come back. I hope he can play another two or three years at a high level.
On what Boris Becker has brought to Novak's coaching team
He has given him strength. [Becker joined Djokovic in December 2013.] Becker was a different player from Novak in his career, but everything that Novak is going through now, Becker has already been through. Becker tells Novak about his mistakes in growing as a tennis player and champion, and is trying to keep Novak from making those same mistakes. For a long time, Novak didn't know how to reduce power in matches in order to keep energy. Now he has learned. He has enough energy to win the match, and for the rest of the tournament.
On how Murray can catch up
I don't know if I should tell you what I think, because I have known Murray since he was a very young kid.
Murray is a great, great talent. One of the biggest ever, and a big part of it is not being used, because his mindset is not calm. He gets frustrated very easily. When he's winning he has booming confidence, but once he starts losing, his mind turns around and he looks lost. He starts talking to his box, and this distracts his mind. If he learns to calm down, he will have a far bigger career than he has by now. I would love for Murray to achieve his potential.
When Federer and Nadal were the best two players in the world, they took much more out of Novak. For a couple of years, Novak was giving his best and trying everything, changing his forehand, his serve, because he had a goal to beat Nadal and Federer. Now Murray has to do the same. He needs to put himself in the same position: to say, 'OK, Novak, you are better at this and this, I need to make myself better in this and this in order to get there.' They make each other better.
On Novak being a Serbian icon
He is the symbol of Serbia and a god of new Serbia, but this makes me sad. Novak is the only bright point at the end of the tunnel for Serbia at the moment. I am very worried about the country and the people; what is going to happen after Novak ends his career. The people of Serbia see Novak as their idol for how to succeed. He is the living example of how to achieve the impossible with your family around you. But there is nothing for Serbia except him.
On Novak's mental strength
In 2011 when he beat Federer at the U.S. Open [in the semifinal], of 24,000 people, 23,000 were cheering for Federer. [Novak] won the match, took the microphone and said, 'You are the best crowd in the world.' This is his mental strength—like granite. When they are screaming 'Roger,' all he thinks about is that they are screaming 'Novak.' When he finishes his tennis career, he will be even more respected for his achievements.
About the writer
Sportswriter at Newsweek.