NRA Accused of Illegally Funneling $35 Million To Gun Rights Candidates, Including Trump
A new lawsuit alleges the National Rifle Association (NRA) broke federal campaign finance laws by making as much as $35 million in illegal contributions.
The complaint, filed Tuesday by the gun control advocacy group Giffords, accused the NRA of engaging in a broad pattern of activity in violation of the Federal Election Campaign Act dating back seven years.
"The NRA has long acted like it is above the law, and it has done so flagrantly in the last several election cycles. This lawsuit demonstrates that the NRA broke the law by illegally coordinating with federal campaigns and funneling millions of dollars to candidates who supported their extremist, deadly agenda," David Pucino, a senior staff attorney at Giffords Law Center, said in a statement.
Pucino added, "We are suing the NRA to finally hold them accountable for actions that corrupted politicians and undermined our democracy."
The complaint claims the gun rights powerhouse evaded federal regulations by using shell entities to coordinate advertising with seven candidates running for federal office during the 2014, 2016 and 2018 election cycles.
One of those candidates, the lawsuit alleges, was former President Donald Trump. Giffords accused the NRA of illegally contributing up to $25 million to Trump's first White House run.
Other politicians named as having received these funds over the years are Thom Tillis, Tom Cotton, Cory Gardner, Ron Johnson, Josh Hawley and Matt Rosendale.
Newsweek reached out to the NRA for comment but didn't receive a response before publication.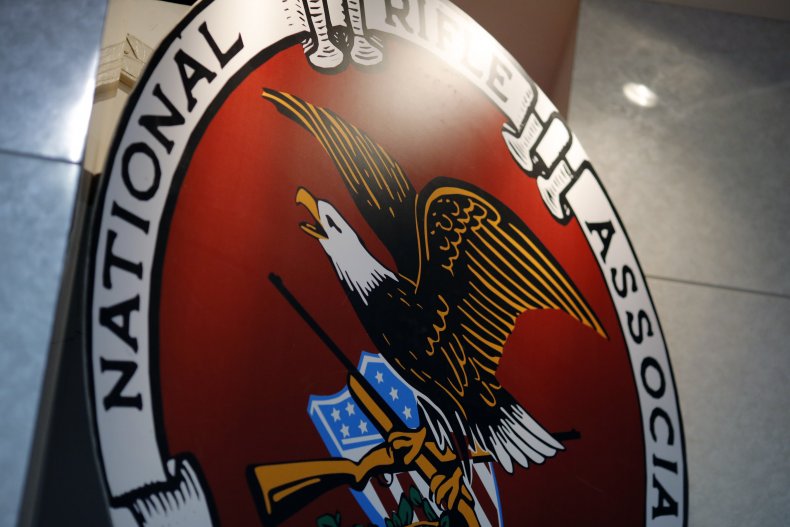 Giffords said if it's lawsuit is successful, the NRA may be forced to pay up to $35 million to the U.S. Treasury.
"Giffords is injured by the competitive advantages the NRA has obtained by flouting campaign finance laws," their lawsuit reads.
The purported scheme involved the NRA and candidates coordinating through the political consultancy OnMessage/Starboard, which the lawsuit stated operated as "OnMessage" when it acted on behalf of candidates and as "Starboard" when it acted on behalf of the NRA.
Giffords said its legal challenge against the NRA began in 2018, when it filed complaints with the Federal Election Commission (FEC) about the association's alleged behavior. In September, the U.S. District Court for the District of Columbia ordered the FEC to act on the complaints within 30 days.
But when the commission took no action, the court allowed Giffords to sue the gun association directly.
The NRA has faced numerous expensive legal challenges over the past few years, and has been plagued by a series of internal scandals and bankruptcy. But the association still remains a lobbying powerhouse amid the national debate on gun reform, experts told Newsweek earlier this year.