President Donald Trump is facing a backlash after the National Rifle Association's (NRA) chief lobbyist claimed the president has reversed his stance on gun control, with some claiming the president's support for tighter measures has been an act.
Scott Dworkin, who co-founded the anti-Trump Democratic Coalition, claims a GOP lobbyist told him that Trump is "only publicly acting like he's taking on the NRA."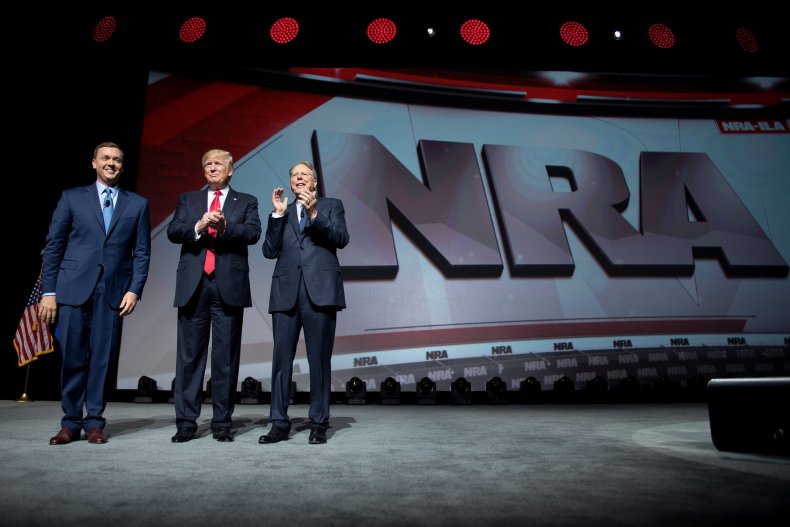 "Privately, he's reassuring them he's on their side," he said. Dworkin said the GOP lobbyist said the president has "completely lost his mind," adding that the public should "expect anything."
The accusation comes after NRA chief lobbyist Chris Cox tweeted late Thursday evening that he had met with Trump and Vice President Mike Pence and left assured that they "don't want gun control."
Cox said he had a "great meeting" with Trump and Pence, before adding: "We all want safe schools, mental health reform and to keep guns away from dangerous people."
He said both the president and vice president "support the Second Amendment, support strong due process and don't want gun control."
Trump himself appeared to speak favorably of the meeting, tweeting: "Good (Great) meeting in the Oval Office tonight with the NRA!"
Former Republican U.S. Representative David Jolly, who has emerged as a strong critic of Trump, said the NRA "sold" the president out.
"Who owns whom? I think we know," Jolly said, after quoting Cox's remarks after his meeting with the president. "Trump and Pence answer to a different master, and the master just sold them out."
The president has already sparked outrage over his decision to meet with the NRA behind closed doors.
"So the victims of the latest mass shooting got a 17 minute hospital visit and a televised meeting with the President where he was given talking points telling him to listen," Fred Wellman, the CEO of ScoutComms, which advocates on the behalf of veterans and military families, wrote on Twitter.
"The NRA got a private lunch with him. That's why so many Americans are angry. Money buys access," he added.
"Good (Great) $30 million donation from the @NRA to the President made this happen!" Shannon Watts, the Founder of MomsDemand Action for Gun Sense In America, which was created after the Sandy Hook shooting, said on Twitter.
"It's DISGUSTING that gun lobbyists who seek to profit gun manufacturers at the expense of our communities' safety are meeting with the President just two weeks after the Parkland school shooting," she added.
If Cox's claim is true, it would represent a reversal in Trump's stance on gun control, after the president appeared to support tighter gun laws in a televised meeting with lawmakers on Wednesday.
In the meeting, he urged lawmakers to bring about comprehensive gun control legislation that would increase background checks for those looking to purchase weapons at gun shows and on the internet, restrict access to those with mental health issues, promote security in schools and put age limits on gun sales.
Trump also suggested that law enforcement authorities should be able to seize guns from people with mental health issues or others who were deemed to present a danger to the public without having to go through a court process.
"I like taking the guns early," the president said. "Take the guns first, go through due process second."
Read more: Marco Rubio proposes modest gun control measures
The televised meeting appeared to send NRA lobbyists into a frenzy, with calls to Capitol Hill calling Trump's ideas "bad policy," according to the New York Times.
The move also caused upset among Republicans against tighter gun control, with Republican Nebraska Senator Ben Sasse saying in a statement: "We're not ditching any constitutional protections simply because the last person the president talked to today doesn't like them."
Some Democrats appeared to be left optimistic after Trump's comments, with senators, including California's Dianne Feinstein visibly grinning and cheering throughout the Wednesday meeting.
Others expressed skepticism over whether the president's ideas would translate into action. "The White House can now launch a lobbying campaign to get universal background checks passed, as the president promised in this meeting, or they can sit and do nothing," Democratic Connecticut Senator Chris Murphy said.
The president has yet to respond to Cox's claim that his position on gun control has changed since Wednesday's televised meeting.