Donor Behind Multi-Million Dollar NRA Lawsuit Says 'Too Much Smoke' To Ignore Misdeeds
The donor behind a multi-million dollar lawsuit accusing the National Rifle Association (NRA) of fraud and financial malfeasance told Newsweek the gun rights group's criticisms of his legal action are little more than bluster.
In response to news of NRA donor David Dell'Aquila's lawsuit, the organization's outside counsel, William A. Brewer III, said in a written statement to Newsweek that "the lawsuit is totally without merit."
Dell'Aquila filed what could become a class action claim in federal court on Tuesday alleging that the NRA is misrepresenting to donors how it uses their contributions. The suit further accused top NRA officials of financial improprieties, the result of months of reporting on the group's spendthrift attitude towards its most high-profile employee, CEO Wayne LaPierre.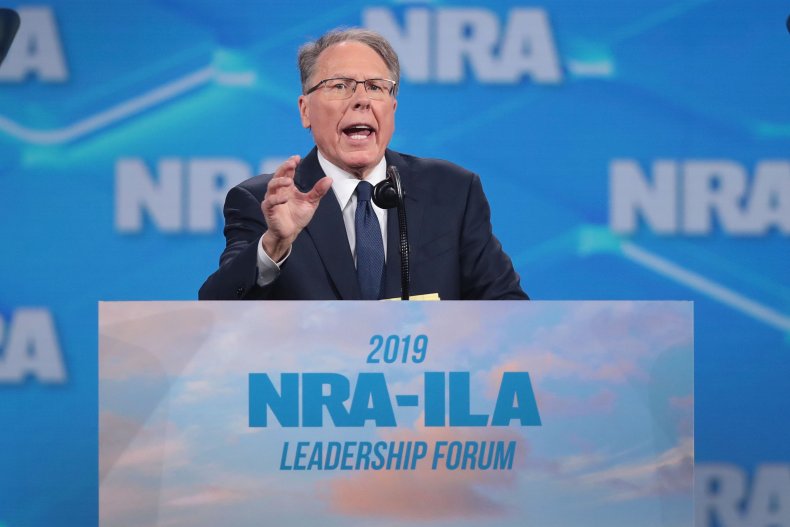 Newsweek subscription offers >
"Once this class action lawsuit is certified by the Federal Court, the NRA members will have their opportunity to finally obtain transparency into the payments made to vendors and more importantly, to discover how the NRA actually spent the members' money," Dell'Aquila said in a written statement. "At this time, there is an appearance that such money has been spent on expenses unrelated to the core NRA mission."
If the class action claim is allowed to proceed, potentially millions of donors could be eligible to receive some form of reimbursement if the suit is ultimately resolved in their favor.
Before his falling out with NRA leadership, Dell'Aquila had been a generous benefactor to the nonprofit, providing around $100,000 worth of donations since 2015. He had also planned, until recently, to donate 75 percent of his estate to the NRA upon his death.
Dell'Aquila's lawsuit recounts reporting that revealed an internal struggle between LaPierre and the group's former president, Lt. Col. Oliver North. North had reportedly begun to investigate the group's finances after learning of allegations of financial misdeeds levied against LaPierre. As part of his efforts, North is said to have tried to launch a crisis management committee. He was ultimately ousted after having been accused by LaPierre of extortion.
Newsweek subscription offers >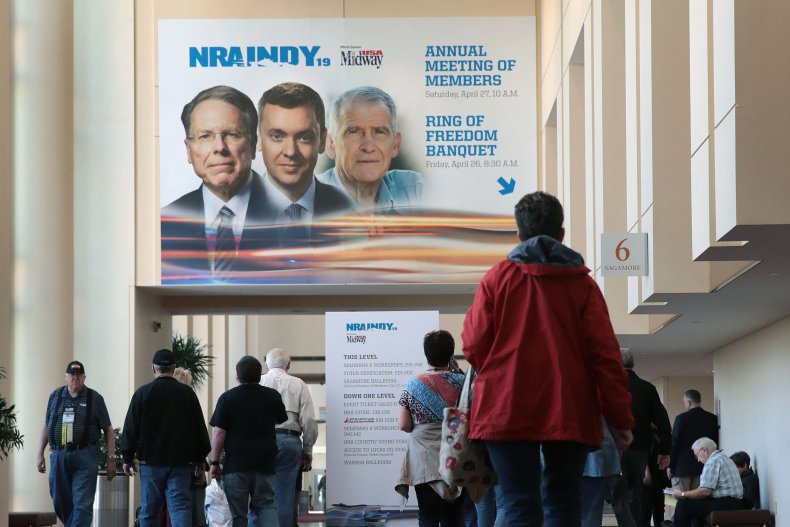 Brewer unequivocally rejected Dell'Aquila's claims, telling Newsweek that "there was no legitimate 'investigation' by Lt. Col. North and the so-called 'crisis management committee' never existed."
"We believe it was part of a contrived narrative to advance the interests of Lt. Col. North, his employer (Ackerman McQueen), and to deflect attention from their conduct," he added.
Ackerman McQueen is the NRA's decades-long PR consultant, responsible for the current public face and ubiquitous presence of the organization. The two groups had a falling out after the allegations of wrongdoing began to trickle out earlier this year, spurring court battles on several legal fronts. While serving as the NRA's president, North was on Ackerman's payroll, a compensation scheme that non-profit experts have called highly unusual.
NRA President Carolyn Meadows similarly rebuked Dell'Aquila's action, calling it "a misguided and frivolous pursuit."
"This lawsuit parrots claims from an individual who has worked for anti-NRA organizations and openly campaigned against our cause and our Association. End of story," Meadows told Newsweek in a written statement. "As we have said, this is stale news—recycled by those with personal agendas. I have full confidence in Wayne LaPierre, the Brewer firm, and the substantial amount of work being done in support of the NRA and our members."
Dell'Aquila has himself engaged in several efforts to encourage reform at the NRA, including by calling for a boycott and launching a grassroots campaign for organizational accountability.
He has previously said that, in a conversation with Meadows ahead of the NRA's annual meeting before she ascended to her current position, he raised concerns with her about spending that he had received from another individual. She denied any improprieties, but downplayed the idea, posed to her hypothetically, that receiving kickbacks would be a cause for alarm.
"That's how it's done in D.C., everyone does it," Meadows replied, according to Dell'Aquila.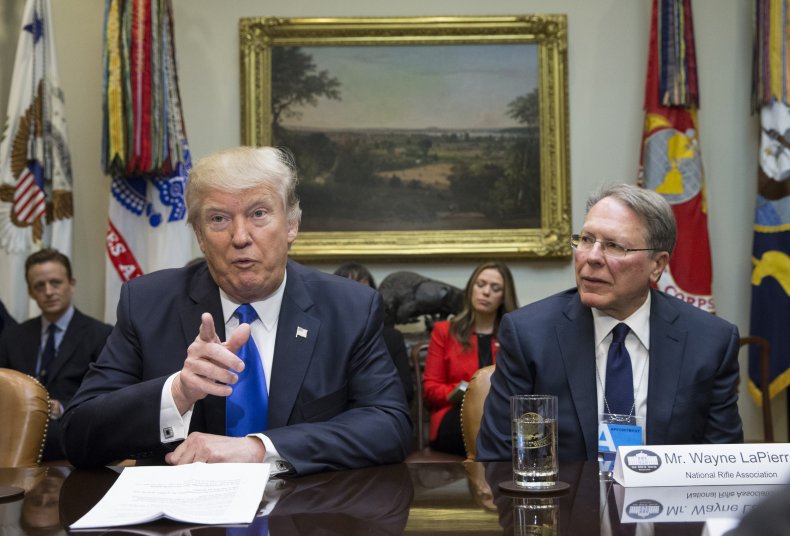 Dell'Aquila did not buy the notion that "stale news" about the NRA's finances should eliminate legal accountability.
"The fact that an allegation in a pleading is 'old news' does not make the allegation less fraudulent, if proven to be true," he said. "With all due respect to Mr. Brewer and President Meadows, there is simply too much smoke coming out of the NRA building for current management to claim "business as usual.""
Though he forcefully pushed back on Dell'Aquila's claims of impropriety, Brewer is himself implicated in the NRA's expansive financial scandal through his apparently lavish compensation as the group's outside counsel.
ProPublica has reported that Brewer's firm billed the NRA $24 million over 13 months for his services. At one point, Brewer was charging over $97,000 per day. Brewer has previously defended these payments by pointing to the numerous legal actions the NRA is embroiled in, including an examination of the group's non-profit status by the New York State attorney general.
"The NRA's attorney, William Brewer, is going to have a very difficult time explaining in federal court how his law firm of twelve attorneys has done work for the NRA warranting fees of $97,000 per day, for several months in a row," Dell'Aquila said. "That works out to all twelve attorneys, billing at $1,000 per hour, for eight hours of the day—something highly implausible."
Donor Behind Multi-Million Dollar NRA Lawsuit Says 'Too Much Smoke' To Ignore Misdeeds | U.S.