As Florida Shooting Unfolded, NRA Was Promoting 'Buy Your Loved One a Gun' Twitter Post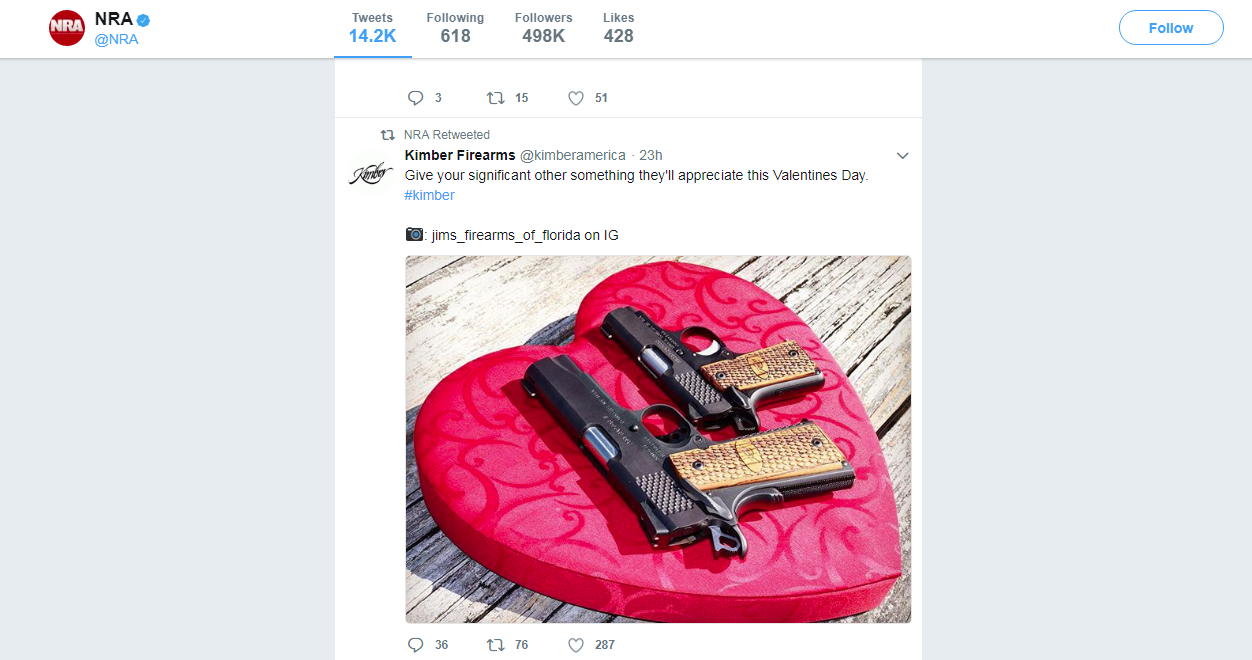 The National Rifle Association was promoting a Valentine's Day–themed tweet on Wednesday that urged its nearly 500,000 followers to "buy your loved one a gun" as a teenager in Florida was opening fire on his former high school classmates with an AR-15 assault rifle.
The NRA retweeted a post by Kimber Firearms that featured a photo of a heart-shaped pillow with matching handguns lying on it on Wednesday morning, according to the Internet archiving website the Wayback Machine. The gun advocacy organization's retweet was live at 3:49 p.m. EST. By 7 p.m. EST, the retweet had been deleted, Business Insider reported.
According to the timestamp, the post would have been deleted within hours of the shooting at Marjory Stoneman Douglas High School in Parkland. The Broward County Sheriff's Office alerted the public via Twitter at 2:53 p.m. of the active shooter situation at the school. By 4:30 p.m., police had arrested the alleged gunman, 19-year-old Nikolas Cruz. Cruz was charged with 17 counts of premeditated murder early Thursday, according to the sheriff's office.
The NRA told Newsweek that the organization did not delete the tweet, Kimber Firearms did. The Kimber Firearms tweet appears to have been reposted from an Instagram account belonging to a gun shop out of Pensacola, Florida. That post, by the account Jims_Firearms_of_Florida, was originally published on February 2 and remains active.
Kimber Firearms did not responded to an email from Newsweek requesting comment on the post or its deletion.
As has become rote following mass shootings, the NRA became the target of renewed criticism. The New York Daily News, which has taken an aggressive editorial stance against gun violence and repeatedly called on lawmakers to push for more gun control measures, tweeted at several Republicans after they tweeted various iterations of "thoughts and prayers" to the victims.
"Mike Pence was given an 'A' rating by the NRA based on his pro-gun voting record," the newspaper tweeted after the vice president weighed in on the shooting. "In Congress, he voted to ban product misuse lawsuits against gun manufacturers, and to loosen restrictions on interstate gun purchases. #thoughtsandprayers."
The Daily News' post came in response to Pence's tweet saying, "Our hearts break for all the victims and families affected by today's terrible school shooting in Broward County, FL. These students, teachers, administrators & families will all remain in our prayers."
President Donald Trump also tweeted his sympathies, offering "My prayers and condolences to the families of the victims of the terrible Florida shooting. No child, teacher or anyone else should ever feel unsafe in an American school."
In prepared remarks, Trump later told the victims, "We are here for you—whatever you need, whatever we can do, to ease your pain."
A protected Twitter account purporting to be a student at the school named Sarah, issued an expletive laced respondse to the president suggesting one thing he can do.
"I don't want your condolences you fucking price [sic] of shit, my friends and teachers were shot," she said. "Multiple of my fellow classmates are dead. Do something instead of sending prayers. Prayers won't fix this. But control will prevent it from happening again."