NRA Head Wayne LaPierre Admits to Hiding on a Yacht After Sandy Hook, Parkland Shootings
National Rifle Association (NRA) CEO Wayne LaPierre admitted to hiding on his wealthy friend's yacht because of a "security threat" after deadly shootings at Sandy Hook Elementary School in Connecticut and Marjorie Stoneman Douglas High School in Florida.
In a deposition unveiled as part of the NRA's Texas bankruptcy trial on Monday, LaPierre said he used the 108-foot-yacht, named Illusions, to shelter from threats and the national outrage that followed the shootings of dozens of schoolchildren in the two incidents.
"They simply let me use it as a security retreat because they knew the threat that I was under. And I was basically under presidential threat without presidential security in terms of the number of threats I was getting," LaPierre said, according to the New York Daily News.
"And this was the one place that I hope could feel safe, where I remember getting there going, 'Thank God I'm safe, nobody can get me here.' And that's how it happened. That's why I used it."
LaPierre added that his first stay on the elaborate yacht, which carried two Jet Skis and a four-person staff, was "the summer after the Sandy Hook shooting," and his last stay was "sometime in 2018 after the Parkland [Florida] shooting."
At Sandy Hook, 20 first-graders and six adults were killed with an AR-15-style rifle in 2012. Six years later, 14 students and three staff members were killed at Marjorie Stoneman Douglas High School.
The Monday deposition came on the first day of a hearing regarding the NRA's decision to file for bankruptcy in Texas in order to avoid a lawsuit from New York State Attorney General Letitia James.
James first sued to dissolve the NRA in August, alleging that the organization misused its member funds to funnel millions into top executives' pockets. A private air charter plane that LaPierre's family flew to the Bahamas at least eight times cost the organization more than $500,000, according to James.
The lawsuit wants LaPierre and three of the group's other leaders to make full restitution for the funds that they had profited from. But the NRA vehemently denied the claims and instead filed for voluntary bankruptcy in January and vowed to restructure itself in Texas.
"The plan can be summed up quite simply: We are DUMPING New York, and we are pursuing plans to reincorporate the NRA in Texas," LaPierre said in a January statement. The NRA was founded in New York in 1871."
The statement added, "Our opponents will try to seize upon this news and distort the truth. Don't believe what you read from our enemies. The NRA is not 'bankrupt' or 'going out of business.' The NRA is not insolvent."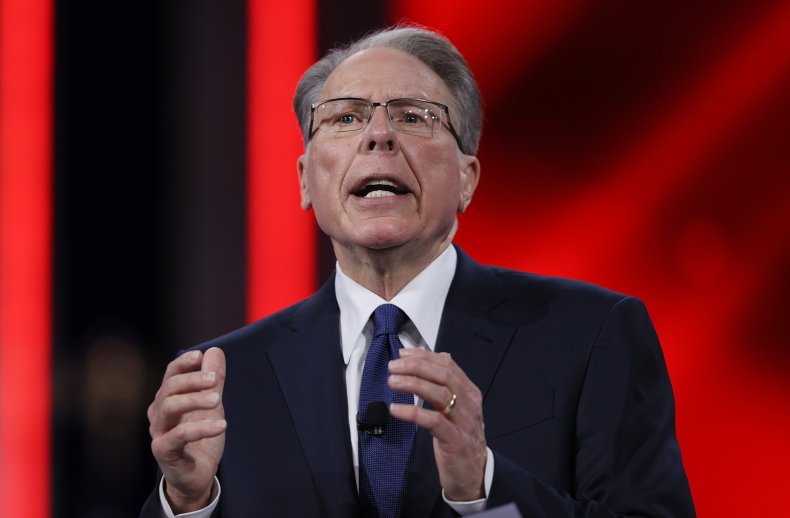 On Monday, New York Assistant Attorney General Monica Connell said LaPierre's use of the yacht was a violation of the rules surrounding the NRA's status as a nonprofit. Connell also alleged that the stay on the boat was a conflict of interest, because the yacht's owner, Hollywood producer David McKenzie, is on the group's payroll. McKenzie is paid $1 million a month by the NRA for media appearances, the Daily News said.
In opening remarks, Connell also alleged that LaPierre misused funds by paying for a group of traveling stylists for his wife to take on family vacations.
NRA attorney Greg Garman responded by saying that the stylists were not exclusively meant for LaPierre's wife but were a perk used for speakers at the NRA's Women's Leadership Forum.
"Are there going to be facts that are moderately cringeworthy? The answer is yes. We're not going to run from them," Garman said in response on Monday.
The ongoing hearing in a Texas bankruptcy court is expected to last six days and will determine whether the group's bankruptcy case should proceed in Texas.
The court hearing comes amid growing pressure from President Joe Biden and Democratic lawmakers to enact gun reform after mass shootings in Georgia, Colorado and California in the past month.
"I don't need to wait another minute—or another hour—to take common sense steps that will save lives in the future," Biden said March 23, urging Congress to pass legislation that will close loopholes in the background check system. Biden has also encouraged lawmakers to ban assault-style weapons.
Newsweek reached out to the NRA for an additional comment but did not hear back in time for publication.