How Big Is the NRA? Gun Group's Membership Might Not Be as Powerful as It Says
Bill Ware, like a lot of children growing up in North Carolina in the 1960s, bonded with his father while shooting a rifle. He was 7 or 8 years old when his father introduced him to firearms.
"He thought—many men of that era thought—What the hell am I gonna do with this kid? I know: I'll get out the .22," said the now 59-year-old, a long-haul truck driver living in Spartanburg, South Carolina, with his wife, Debby. She, too, has childhood memories of shooting, her father holding on to her so the blast wouldn't rock her backward.
"To this day, my wife and I go to the range, and very often the conversation will come back to...wouldn't it be fun if Dad were still here?" Ware said, his voice choked with emotion. "We're still bonding with them. Those people have been gone for 20 years, and we're still bonding with them in a powerful way."
When Ware was about 13, his father bought him his first gun, a Savage Model 24D .22/.410 combo rifle. Later, he would become the captain of his high school's rifle team.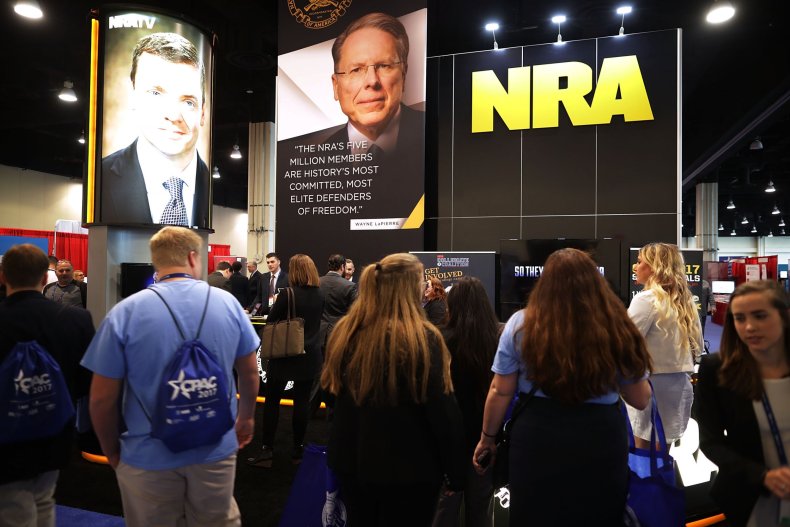 "This was the NRA to me, the NRA that supported the BB gun program, the .22 camp, the rifle camp," he said. "I owe so much to the NRA of that time."
But Ware no longer recognizes that sportsmanship in today's NRA, he told Newsweek.
"The NRA is a rabid dog. It is a rogue outfit," Ware said. "Whatever its purposes are, they are not mine. They do not speak for me."
As the number of children killed due to gun violence increases, poll after poll shows increasing support for stricter gun legislation among the general American public and the country's estimated 55 million gun owners specifically. A Quinnipiac poll conducted in the days after February's Parkland, Florida, school shooting—arguably a watershed moment in the movement to end gun violence—showed 97 percent of surveyed gun owners support universal background checks for gun purchases.
Despite those numbers, the National Rifle Association continues to oppose such legislation, arguing that gun controls punish law-abiding citizens and infringe on their civil rights. "The logic of gun control, however, demands that the innocent must be punished for crimes they didn't commit," the NRA's lobbying wing, the NRA Institute for Legislative Action, said in a March 9 statement.
A question remains. If gun owners across the country like Ware no longer identify with the organization, and polls show that they increasingly support gun control measures, who is the gun rights group fighting for?
NRA Membership: Perhaps Not as Stout as It Reports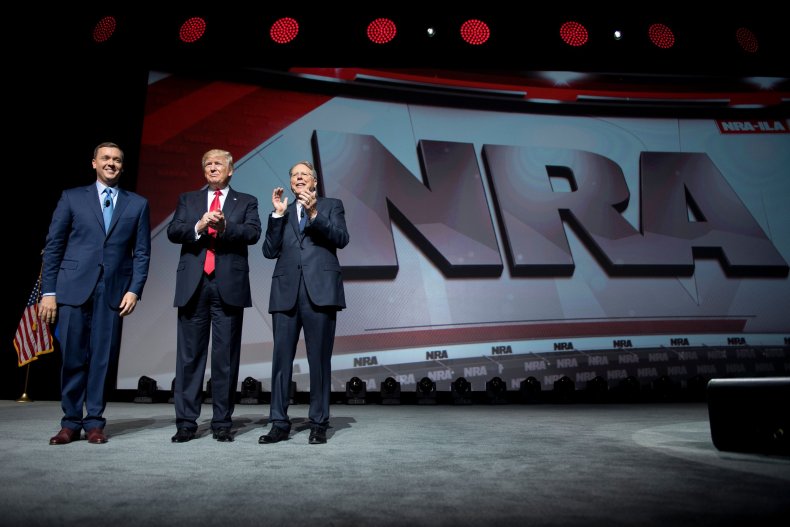 Queries about the NRA's membership have dogged the gun group for years, but they aren't merely academic or trivial. The gun rights organization is one of the most influential nonprofits in the United States because of both its prolific spending and its core base of gun rights activists.
Many gun violence prevention advocates say the NRA's base is a motivated and politically active bloc that the gun group uses to intimidate and cow politicians. That force, coupled with its spending power, is a combination that for years has been credited with muzzling lawmakers on gun control and suppressing stricter legislation.
The gun group boasts a membership of 5 million people—more or less. It doesn't regularly report its membership numbers or allow an outside party to verify its public claims. That lack of transparency breeds NRA doubters.
"The only thing more inflated than their membership numbers is the myth of their invincibility," John Feinblatt, president of Everytown for Gun Safety, the nation's largest gun control group, told Newsweek.
The NRA did not respond to several requests for comment and information about its membership for this story. But a Newsweek analysis of the group's tax records, its public statements, the circulation of its four magazines and interviews with several experts in various fields found that the nation's self-described "longest-standing civil rights organization" may not be as stout as it purports.
The NRA's Membership by the Numbers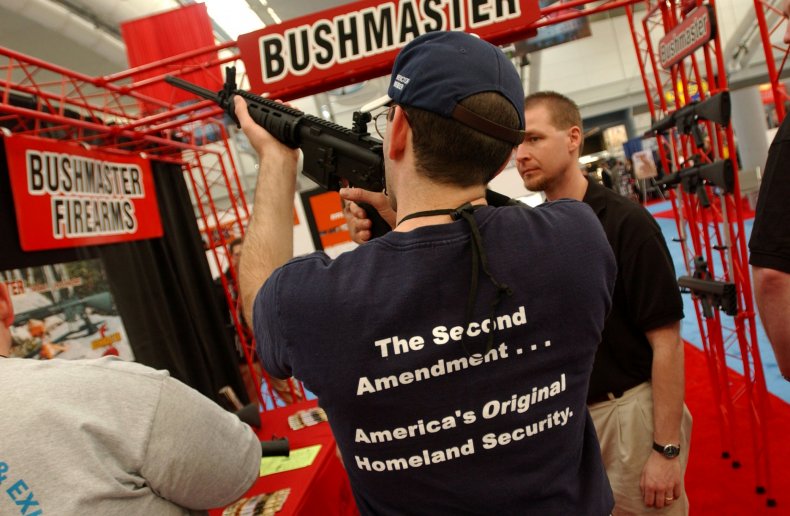 Days before the 2016 presidential election, NRA CEO Wayne LaPierre appeared in a call-to-action video titled "An Urgent Message to the NRA's 5 Million Members," imploring the contingent to oppose Hillary Clinton's presidential bid. ("She will come for your guns" and "forcibly" seize them, he warned.)
On February 24—10 days after the mass shooting at Marjory Stoneman Douglas High School in Parkland, Florida, where a 19-year-old with a legally purchased AR-15 allegedly gunned down 17 people—the NRA's lobbying wing said there were "more than five million law-abiding members of the National Rifle Association." The NRA's own "about" page, however, says it has "nearly 5 million."
In any case, if the numbers are floating around 5 million, the NRA's membership may have plateaued—it's been citing that number since 2013.
On January 30, 2013, LaPierre told Congress the organization had 4.5 million members. Just a few months later, at an NRA convention on March 4, he told attendees the group had ballooned to 5 million, an 11 percent increase.
Gaining a half-million members in just over three months is impressive. Especially considering the NRA said its membership numbered 4 million in September 2010, meaning it took more than two years to climb to 4.5 million. Even that was a significant growth trend over previous years: The NRA reportedly had about 3.6 million members around 2000. If true, it gained fewer members over the next 10 years than it did in 34 days in 2013.
Post-Massacre Membership Increases and Posthumous Padding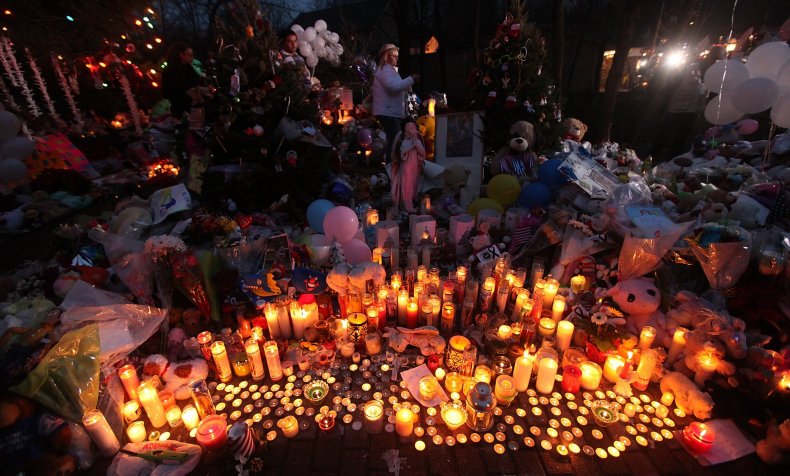 There are at least two predominant explanations for the skyrocketing membership rolls in 2013. One is that the NRA's membership typically gets a boost after tragedies like the one in Newtown, Connecticut. In December 2012, Adam Lanza killed 20 first-graders and six adults with an AR-15-style rifle at Sandy Hook Elementary School.
Indeed, a month after the slaughter, the NRA told U.S. News and World Report it added 250,000 new members to its rolls. And on Sunday, the Center for Responsive Politics, which monitors political spending and lobbying efforts, reported that the NRA received "twice as much money from nearly five times as many donors in the seven days after the Parkland, Florida, high school shooting." The donations came from NRA members and employees and were made out to the group's political action committee, the NRA Political Victory Fund.
The other explanation is that many who follow gun violence are aware the NRA typically gets a bump in membership after high-profile shootings, and the group may use that expectation to juice its numbers, according to Josh Sugarmann, executive director of the Violence Policy Center.
"If you look at the NRA's claims, it's always after some high-profile event where it's totally believable there's an increase in membership, and they take that opportunity to pump up the numbers," he said. "The NRA can go out and proclaim any information they choose, and because of the lack of information…you can't confirm those claims."
Richard Feldman, a former NRA lobbyist and author of Ricochet: Confessions of a Gun Lobbyist, said the group uses a few other tricks to pad its numbers.
Feldman, who left the gun group's lobbying branch, the NRA Institute for Legislative Action, in the mid-'90s, told Newsweek one method he and his colleagues used was to continue counting annual members on its rolls even after their membership lapsed, at least for another month, in hopes they would renew.
"When I was at the NRA, when you joined as an annual member—and back then we had over 2 million [members]—they would still consider you a member into the 13th month," he said. "There were times we would say 3 million, but really it was 2.8 million, and we would count those 13-month lapsed memberships."
Feldman offered a second theory as to how the NRA might exaggerate its membership: It could include lifetime members who have died.
"In the '80s and early '90s, we talked about the fact that it was a belief that there may have been 100,000 or more life members who had actually been deceased," he recalled.
"The magazine was going to their address," he said, referring to a free NRA-published magazine offered to all members. "Call it eternal membership."
"It's like 'Hotel California,'" Sugarmann said in a separate interview, referring to the classic song by the Eagles to describe the NRA. ("You can check out any time you like/But you can never leave.")
Feldman isn't the only former NRA insider to suggest the organization counts dead people among its members. In 2000, Osha Gray Davidson, a journalist and the author of Under Fire: The NRA and the Battle for Gun Control, detailed a conversation he had with former NRA board member David Gross.
"Two years ago, David Gross, then an NRA board member, confided to me that a substantial number of the group's 1 million Life Members are, well, dead," Davidson wrote in The Washington Post. "'There just isn't that much incentive to go find out when someone passes away,' Gross explained. 'Not when the cost of maintaining [a dead member] is minimal and when they add to your membership list.'"
How the NRA's Tax Returns Reflect Its Membership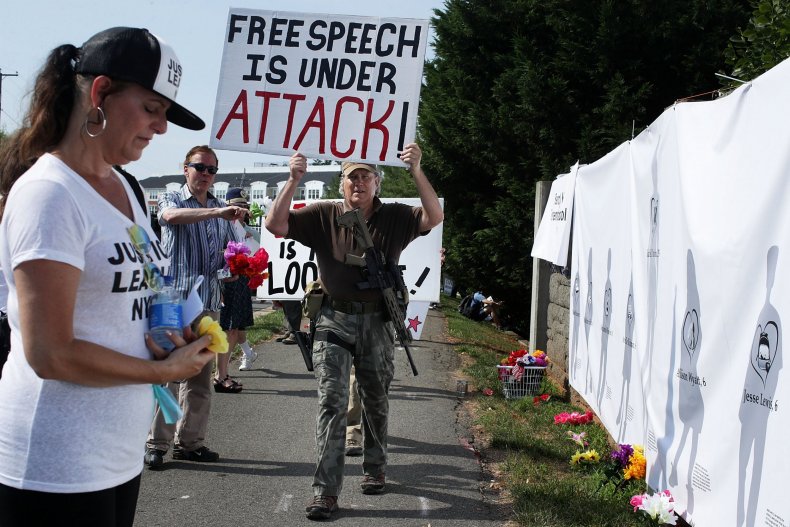 The NRA is a 501(c)(4) nonprofit and enjoys tax-exempt status as a "social welfare" organization. As such, it is not required to disclose its donors. It is, however, required to file a tax return declaring its revenue sources, which includes membership dues. A Newsweek review of those records, known as 990 filings, show wild fluctuation from year to year, but also an overall decline in membership revenue between 2007 and 2016.
In 2007, the group received a high of $228.6 million in membership dues. It hasn't come within $50 million of that mark since. Membership dues dropped by 36.6 percent the following year, bringing in $145 million. Those dues continued to drop over the next two years, reaching a low in 2010 with $100.5 million, before membership revenue began to increase.
From 2012 to 2015, that revenue showed significant volatility. Dues spiked from $107.9 million in 2012 to $175.5 million in 2013, a 62.6 percent increase. But they declined 26.9 percent the next year, dropping to $128.3 million. Membership revenue then spiked again in 2015, increasing 29 percent to $165.6 million. In 2016, dues dipped slightly to $163.5 million.
Unfortunately, said Brian Mittendorf, the chair of the accounting department at Ohio State University's Fisher College of Business, the decline in membership revenue isn't enough to indicate any change—decline or growth—in actual membership.
Mittendorf specializes in nonprofit organizations and has studied the NRA's financial records. He said the group's tiered membership structure—it offers annual, two-, three-, five-year and lifetime memberships—among other incentives it confers, makes attempts to glean anything about its membership from tax returns a Sisyphean task.
"I tried to do it," he said. "It's impossible to reverse engineer it based on the 990s."
The NRA offers several membership options. An annual membership regularly costs $40; a two-year membership is $100; three-years is $100; a five-year membership—the "best value"—is $140; or individuals can opt into the lifetime membership.
But the NRA often offers discounted sign-ups after high-profile shootings or ahead of elections. As of Thursday, six weeks removed from the Parkland shooting, the NRA was offering such a promotional deal. Individuals who followed a link on one of its Facebook videos landed on a page that advertised annual memberships at $30, two-year plans for $55; three-year memberships for $75, and the five-year memberships for $100.
It also offers a discounted membership with a firearms purchase or discounted entry to gun shows or shooting ranges by enrolling with the NRA, Mittendorf and gun control experts said. All of this obfuscates the revenue data. Ware, the gun owner from South Carolina, said the last handgun he bought came with a coupon for a free year's membership to the NRA.
Multiyear memberships further complicate attempts to untangle the membership revenue. The NRA front-loads membership dues on its 990, Mittendorf said. Rather than spread out a $100 payment over the three-year membership evenly, it will declare a greater amount in the first year. That could explain large spikes in membership revenue, Mittendorf said.
It also means a subsequent decline in revenue only indicates fewer new or renewing members, not necessarily a decline in membership, meaning tax records may be moot as an investigative tool into the gun group's membership.
Phil Hackney, a tax specialist and law professor at Louisiana State University, said that though 990s may not be all that useful, a look at nonprofit memberships in general may be indicative.
"I don't think it's possible to tell from membership revenue. One trend is that membership organizations in the U.S. have been declining," he said. "It would be odd if [the NRA] was not declining."
Magazine Circulation and Membership Speculation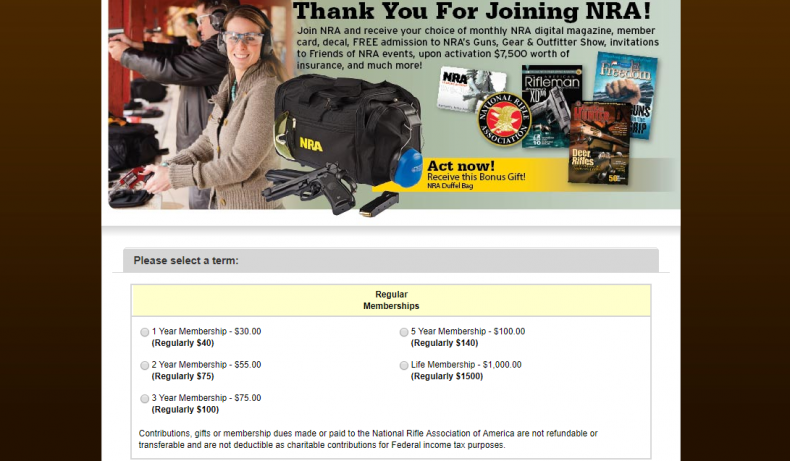 Another way to determine how many people belong—or don't belong—to the NRA might be its magazine circulation.
All members are offered a free subscription to one of four magazines the NRA publishes. Prospective members also have the option to decline the magazine.
The four magazines are American Rifleman, American Hunter, America's 1st Freedom and a new addition, Shooting Illustrated. At no point in the past 10 years has the total print circulation ever reached above 4 million, according to Alliance for Audited Media, which verifies circulation.
The firm verifies circulation twice a year, in June and December. The highest combined subscriptions among NRA-published magazines was in December 2013, reaching 3.9 million readers. That was a sharp increase from the year before, when it had 3.1 million subscribers. Circulation has waned since then, dipping to 3.7 million subscribers at the end of 2017.
Still, this method isn't an exact science for determining membership, either. Members may subscribe to more than one magazine, or they may cancel. They might also have opted for the digital-only subscription, which the media auditing group does not track.
Whom Does the NRA Represent?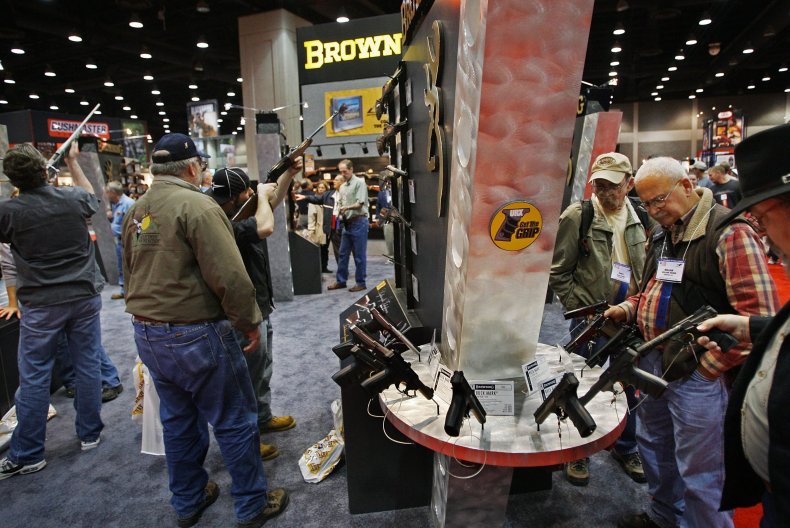 The NRA's membership isn't just a measure of how much political pressure it commands. It also provides insight into whom it's accountable to.
It's unclear how much individual gun manufacturers, wealthy donors or outside organization donate to the group, because the NRA is not required to disclose the sources of "contributions, grants, gifts, or other similar amounts."
Revenue under the "contributions, grants, gifts and other similar amounts" section of the NRA's tax returns grew from $54.7 million in 2007 to $124.4 million in 2016, a 127.4 percent increase. Over that same period, revenue from membership dues shrank by 28.5 percent.
"My guess is they're ultimately working on behalf of the largest contributors to their operation, which I have always anticipated and expected to be the gun manufacturers," said Hackney. "But I think they're also additionally supporting corporate interests along ideological lines—wealthy interest donors who have a particular interest in the sales of guns and conservative causes."
David Chipman, a senior policy adviser at the gun control group Giffords and a former agent with the Alcohol, Tobacco, Firearms and Explosives, said the NRA acts on behalf of the gun industry and major donors—not so much the $40-per-year members.
"They are rarely representing their membership. They represent the people who Wayne LaPierre takes pictures with holding big checks," he said. "Perhaps they represent the people who are giving them [membership dues] money, but they clearly represent the manufacturing industry."
Kent Hartland, a gun owner from Missouri who started the Facebook group Gun Owners for Responsible Gun Control in 2016, said the NRA was once focused on outdoorsmanship but evolved into a primarily political operation in the 1970s.
"They [the NRA] have gotten this machine in motion that accepts money from the gun manufacturers," said Hartland, 66, a former law enforcement officer in Platte County and analyst for the Defense Department. "Gun manufacturers are very concerned about their future and any kind of gun control. That's the mark of doom for them.
"They buy these politicians, kicking up millions of dollars per year for gun-friendly, gun-in-every-hand, flood-the-streets-with-guns legislation," Hartland continued. "There's so much grease going from palm to palm, it's pretty hard to stop the machine now."
And it's not just gun control advocates calling into question whom the NRA is working for.
"I don't think anyone knows to what degree they are beholden to the gun manufacturers," said Robert Maguire, a researcher tracking political spending for the Center for Responsive Politics.
There are some indications, however, that the NRA may be again growing its base in the wake of the Parkland shooting.
According to the Wayback Machine, which archives internet pages, the group's Twitter account spiked from 498,000 followers on the day of the shooting to 644,000 as of Thursday, weeks later, a 29.3 percent increase. Its Facebook page had 1.6 million likes on February 22, the closest archived date to the Parkland shooting available, but it climbed to nearly 3.4 million as of Thursday.
Still, if there are an estimated 55 million gun owners in the U.S., even at 5 million members the NRA would account for less than 10 percent of the gun owning community.
"Let's say it's 10 million [members]," said Ware, the South Carolinian gun owner. "That's still a fraction of the gun owners out there."
Ware, who joined Hartland's Facebook group after the Parkland shooting, said the momentum and the numbers are not on the NRA's side.
"I got disturbed after Las Vegas. I got disturbed after Parkland. I was feeling like I killed Jaime Guttenberg," he said, referring to one of the Stoneman Douglas victims. "Gun owners, we killed Jaime Guttenberg by our inactivity.
"We could've said no after Columbine. We didn't," Ware continued. "We could have said no after Virginia Tech. We didn't. Those of us, who up until now guns were in our life but not our life, we can't continue to be casual about this issue. The next Jaime Guttenberg is on our hands."