The National Security Agency (NSA) has denied allegations that it is spying on Fox News host Tucker Carlson in an attempt to get his show kicked off the air. Carlson made the allegation on Monday night.
"This allegation is untrue. Tucker Carlson has never been an intelligence target of the agency and the NSA has never had any plans to try and take his program off the air," the NSA said in a statement released via Twitter on Tuesday evening.
"NSA has a foreign intelligence mission," its statement continued. "We target foreign powers to generate insights on foreign activities that could harm the United States. With limited exceptions (e.g. an emergency), NSA may not target a U.S. citizen without a court order that explicitly authorizes the targeting."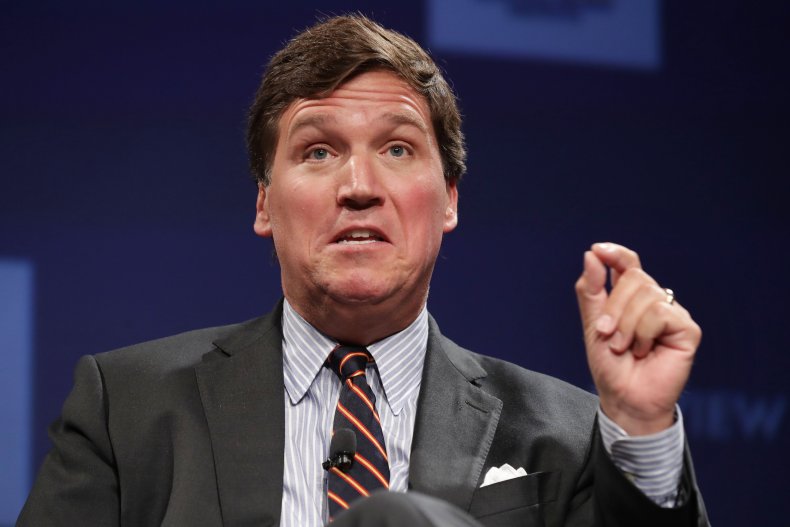 In the Monday evening installment of his broadcast, Carlson said that a whistleblower told Carlson's staff about a specific story they are working on. Carlson claimed that the information about the story could've only come from his text messages and emails.
"There's no other possible source for that information, period," Carlson said. "The NSA captured that information without our knowledge and did it for political reasons. The Biden administration is spying on us. We have confirmed that."
When mentioning the NSA's statement on the Tuesday edition of his show, Carlson said that—despite its statement calling his allegation untrue—it didn't specifically state whether the Biden Administration is reading his emails. Carlson also said that NSA representatives that he contacted directly by phone also refused to answer his question directly.
Fox's chief executive Suzanne Scott and president Jay Wallace have not released a statement about Carlson's claim. Neither Fox News' website nor its network shows earlier in the day seemed to devote time investigating Carlson's claim, CNN reported.
When asked about Carlson's claim, White House Press Secretary Jen Psaki noted that the NSA primarily focuses on foreign threats. She referred all other inquiries to the NSA. Carlson said her response wasn't a denial either.
During his Tuesday broadcast, Carlson noted that the NSA has spied on American citizens in the past. From 2001 to 2007, the NSA conducted warrantless wiretapping of U.S. citizens as part of the Terrorist Surveillance Program.
In 2013, classified court documents showed that the NSA secretly collected thousands of e-mails from U.S. citizens that "had nothing to do with terrorism," The Washington Post reported.
That same year, leaked documents revealed that the NSA also uses a highly classified program called PRISM to retrieve U.S. citizen data directly from major internet companies. Both the NSA and the companies have said that the data can only be collected for specific targets with court approval.
Newsweek contacted Fox News for comment.