'Illegal': Tucker Carlson Claims 'Biden Admin Spying on Us' to Oust Him from Fox News
Fox News host Tucker Carlson has claimed that the administration of Democratic President Joe Biden is spying on his show in an effort to get Carlson removed from the right-leaning TV network.
"Yesterday, we heard from a whistleblower within the U.S. government reached out to warn us at the NSA, the National Security Agency, is monitoring our electronic communications and is planning to leak them in an attempt to take the show off the air," Carlson said on the Monday night installment of his Fox News program.
Carlson said that the whistleblower alleviated his skepticism by telling Carlson's staff about a story they are working on.
"[That information] could have only come directly from my texts and emails. There's no other possible source for that information, period," Carlson said.
"The NSA captured that information without our knowledge and did it for political reasons," he concluded. "The Biden administration is spying on us. We have confirmed that."
Newsweek contacted the White House and the NSA for comment.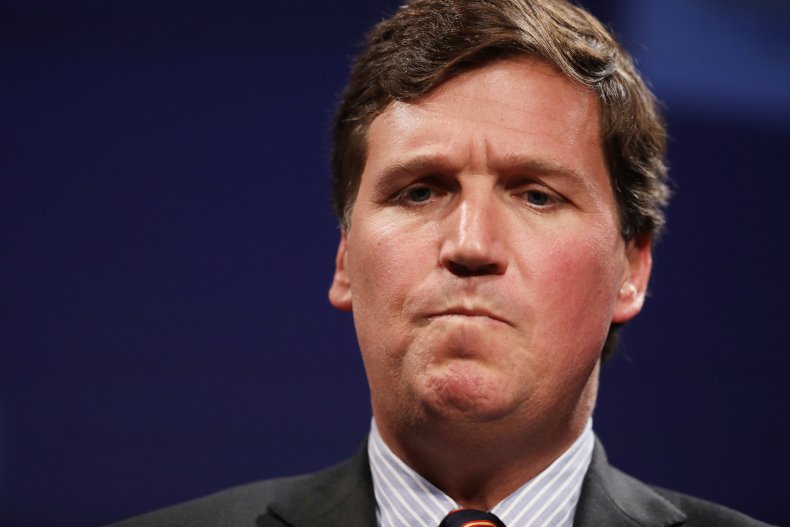 Carlson has previously claimed to have evidence of large government scandals that don't always pan out.
In October 2020, he claimed that he had a collection of previously unseen, confidential documents related to then-Democratic Presidential Nominee Joe Biden's family. Carlson called the documents "real, authentic and damning." He later said that the documents got lost in the mail.
Carlson's initial claim about the documents' existence raised eyebrows because, at the time, Biden's son, Hunter Biden, had been accused of shady business dealings. Specifically, Hunter Biden was accused of using his father's past role as Democratic President Barack Obama's vice president to help him secure business deals in China and Ukraine. The Bidens denied wrongdoing. Investigations so far have uncovered no criminal or ethics violations.
Carlson said his New York producer received and shipped the documents to Carlson's staff using a "large national carrier." While Carlson didn't disclose the carrier's name, he said it was one that Americans frequently use.
"But the Biden documents never arrived in Los Angeles," Carlson later said. He said that one day after the documents had been shipped, the shipping company had notified him that his package had been found opened with "the contents missing."
Even though the company launched an investigation involving every employee and vehicle that came into contact with the package, Carlson said, the investigation turned up nothing.
"As of tonight, the company has no idea and no working theory about what happened to this trove of materials, documents that are directly relevant to the presidential campaign just six days out," Carlson continued.
Many viewers expressed disbelief over Carlson's claim of theft. Representative Democratic Ted Lieu of California joked on Twitter, "I stole Tucker Carlson's trove of documents. Awww, just kidding."
"Of course a major news network wouldn't have scanned those documents first right? Or make a copy? Nope," Lieu continued. "They sent their only copy through the mail. If you believe that, then I have a bridge to sell you."