Tucker Carlson Says He Had 'Authentic, Damning' New Hunter Biden Documents—But They Got Lost in the Mail
Tucker Carlson on Wednesday night claimed that he was in possession of a collection of new, confidential and damning documents related to Democratic Presidential Nominee Joe Biden's family but isn't anymore because it got lost in the mail.
In a short Tucker Carlson Tonight segment, the Fox News host told a personal story about how he had received "real, authentic and damning" Hunter Biden documents, before suspiciously losing it in the mail.
"On Monday of this week we received from a source—a collection of confidential documents related to the Biden family," Carlson said. "At the time when we received them, my executive producer Justin Welles and I were in Los Angeles preparing to interview Tony Bobulinski about the Bidens' business dealings in China, Ukraine and other countries. So we texted a producer in New York and we asked him to send the documents to us."
Carlson went on to explain that the documents were shipped on Monday afternoon to California with a "large national carrier"—he did not disclose the carrier's name throughout the segment, but said it was one frequently used by Americans.
"But the Biden documents never arrived in Los Angeles," he revealed, adding that by Tuesday morning, he had received word from the company that his package had been found opened with "the contents missing."
Carlson said the company immediately launched an investigation into the incident, searching planes, trucks and interviewing every employee involved in transporting the package.
"But they found nothing," the host added. "Those documents have vanished."
"As of tonight, the company has no idea and no working theory about what happened to this trove of materials, documents that are directly relevant to the presidential campaign just six days out," he continued.
The chyrons for the segment read, "Damning Hunter Documents Suddenly Vanish."
On Thursday night, Carlson clarified that the documents did not come from Bobulinski. He also said that producers made a copy of the documents before sending them in a flash drive.
Newsweek reached out to the Biden campaign for comment.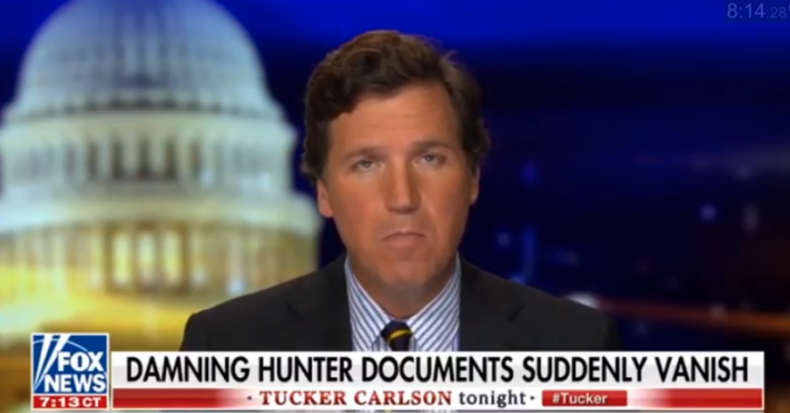 On Tuesday, Carlson interviewed Hunter Biden's former business partner Tony Bobulinski, who claimed that he had information linking the Biden family to questionable Chinese business dealings. When Bobulinski claimed to have information connecting the Bidens to the dealings, high-profile conservatives on social media saw it as a watershed moment for the party lagging behind by double digits in nationwide polls. Bobulinski's claims are unverified at this time.
Documentation published by the New York Post in October regarding the matter received widespread backlash, with some saying that the story was based on uncorroborated sources. The report, which revived allegations of corruption against the former vice president, used emails and information obtained from a laptop that had been abandoned at a computer repair store in Delaware. The store's legally blind owner could not confirm that the laptop was owned by Hunter Biden. President Donald Trump's lawyer Rudy Giuliani reportedly delivered the contents of the hard drive to the Post.
They key question is whether Joe Biden ever waded into his son's overseas business dealings while serving as vice president under former President Barack Obama. The Post's emails suggest that he met with one of Hunter Biden's business associates in 2015.
The Democrat and his aides have categorically denied any wrongdoing in connection with his son's business dealings. During the final presidential debate, the candidate said "nothing was unethical" when asked by the moderator to address the allegations. "Every single solitary person, when [Trump] was going through his impeachment, testifying under oath who worked for [Trump], said I did my job impeccably," Biden added. "I carried out U.S. policy. Not one single solitary thing was out of line, not a single thing."
Bobulinski claimed Joe Biden was the "chairman" allegedly referenced in the emails and said the Democrat once refused to place tougher controls on Oneida Holdings, the company set up to handle dealings with the Bidens and a Chinese energy company.
Biden has denied accepting payments from a foreign source, said his son "made no money from China" and called the unproven allegations a "Russian disinformation" campaign. There are a few specific questions raised by the Post's report that Biden's campaign have not answered, including whether the emails are authentic and whether Joe Biden ever met his son's business associate.
Update 10/29/20 10:13 p.m. ET: This story has been updated to include additional comments from Tucker Carlson.