NSYNC's JC Chasez Surprises Fans With Gray Hair in New Video: 'Silver Fox'
Former NSYNC member JC Chasez took fans by surprise while sporting gray hair in his first-ever TikTok video.
The 46-year-old joined the platform on Tuesday, August 9, and showed off his long, lighter locks alongside a thick beard and glasses.
"Am I doing this right?" Chasez captioned the post, tagging his ex-bandmates Justin Timberlake, Joey Fatone, Lance Bass and Chris Kirkpatrick.
In the 11-second clip, he said, "That's really bright, give me this," while staring into the phone's camera, before grabbing it himself.
"OK, how's this s*** work?" he asked as "Bye, Bye, Bye" played in the background.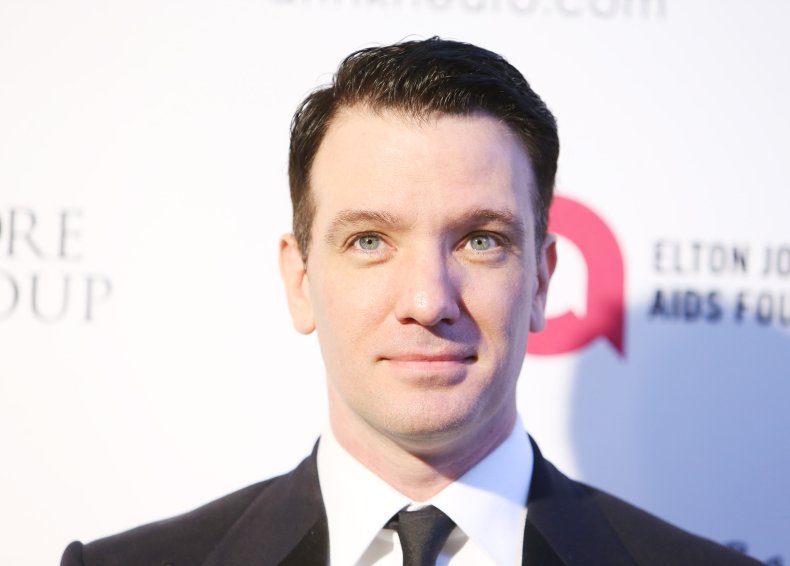 At the time of publication, Chasez's post had been viewed more than 1.2 million times and garnered over 107,000 likes. He also racked up nearly 70,000 followers in just a couple of days.
When the producer started popping up on people's feeds, they were thrilled—with many commenting on his appearance.
"Silver fox much?! Hot damn!" one person wrote underneath the clip. Another agreed, writing, "JC went from teen heartthrob to silver fox and I'm here for it," while a third said, "Well hello there silver fox!!!!!"
"Was not expecting all the gray," a fourth chimed in.
Meanwhile, someone else compared the Maryland native to a Hollywood A-lister. "How did JC grow up to be Richard Gere? Not complaining, just asking."
"Even with grey hair he is still absolutely gorgeous," added a separate user.
When a fellow TikToker said, "This man has aged like a fine wine," Chasez cheekily replied, "Red or white?"
Several celebrities got in on the commenting as well, welcoming the newcomer to the platform.
"Finallyyyyy," Glee alum Kevin McHale said.
"He has arrived," Canadian dancer Josh Beauchamp, who boasts 6.1 million followers on the app, wrote.
NSYNC was formed in Orlando, Florida in 1995, and in addition to Chasez, it consisted of Timberlake, Fatone, Bass and Kirkpatrick. In 2002, the group announced a six-month hiatus to pursue solo projects but never reunited.
Despite their breakup, it appears there's no bad blood between them.
In an interview with the Huffington Post in 2018, Chasez said their split came about "organically."
"After you do something for a certain amount of time, you get into a rhythm of it and then new things spark your curiosity; you need new brain food," he told the outlet. "At that time, we just felt like we had exhausted every kind of idea for what we were doing and we just felt like, 'OK, let's do something different.' So, that's what we did."
Since 2002, the ex-boybanders have each experienced varying levels of success, with some being in the spotlight more than others.
Chasez, for his part, made the switch from performer to behind-the-scenes, writing songs for the Backstreet Boys, Matthew Morrison and American Idol's David Archuleta. In 2008, Chasez became a judge on MTV's America's Best Dance Crew.
Newsweek has reached out to Chasez's representative for comment.