Ten years after their last performance at the MTV Video Music Awards (VMAs), NSYNC shocked the audience with a surprise appearance at yesterday's event.
Band members Justin Timberlake, 42, JC Chasez, 47, Lance Bass, 44, Joey Fatone, 46, and Chris Kirkpatrick, 51, appeared on stage to present the first award of the evening. The group handed the Best Pop accolade to Taylor Swift—who was just as stunned by their presence as the crowd.
Despite the warm welcome from attendees, the reception on social media was more mixed. While many fans were thrilled to see NSYNC—who reigned over the pop world from the late 1990s to the early 2000s—back together again, others felt cheated by the band's brief cameo at the award show.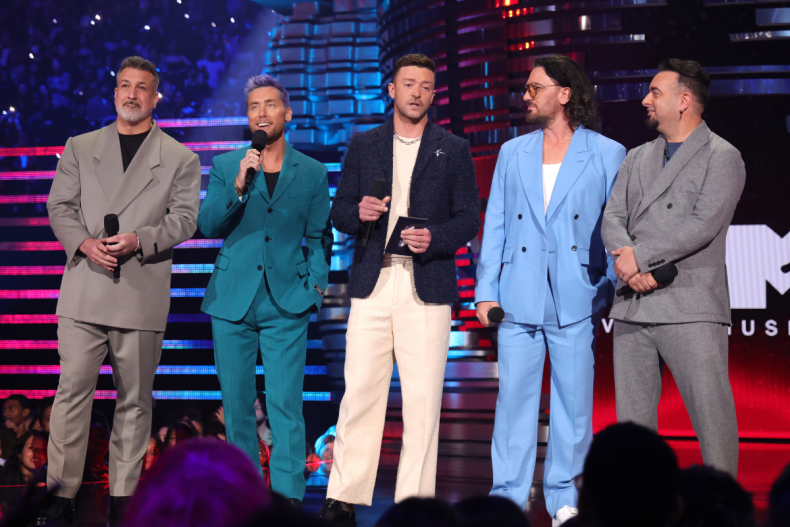 "WHY didn't nsync perform," asked @sar4hdanielle.
"NSYNC reunited.. just to give Taylor an award? So disappointing," said Ali.
"Who cares that they just standin' up there together?" wrote @psychedelicdomo.
"The fact that @NSYNC did not perform has me extremely disappointed and regretting my decision to stay up past 10pm," said X user Jamie.
"I was hoping they'd perform and we'd get a little medley and tour announcement," commented Trish.
The last time NSYNC performed onstage together was in 2013, with the quintet singing their smash hits "Bye Bye Bye" and "Girlfriend" at the VMAs. The reunion was to celebrate Timberlake's Video Vanguard Award, presented to performers and directors who have made a memorable impact on the music industry.
Formed in 1995 in Orlando, NSYNC was one of the biggest-selling bands of the era. Their second LP No Strings Attached, released in 2000, sold more than 1.2 million copies upon the day of release. It would go on to set the world record for the most albums sold in a week—a feat that would not be beaten until the release of Adele's 25 in 2015.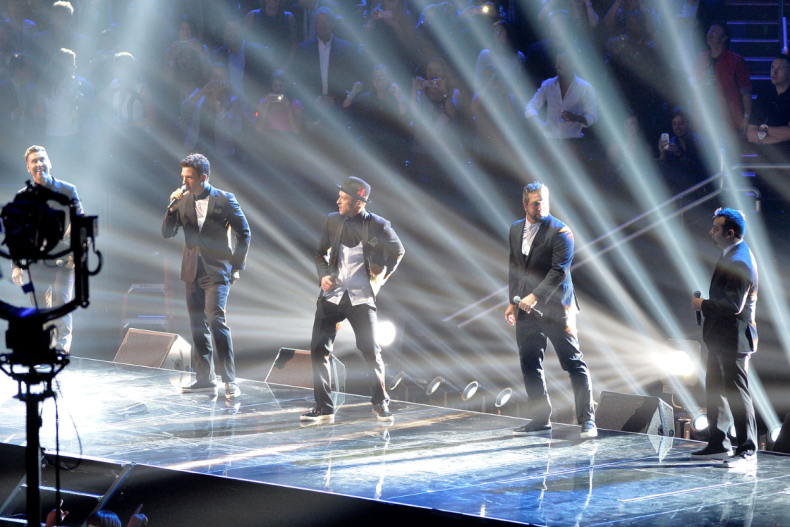 The band went on hiatus in 2002, with Timberlake leaving to launch his solo career. However, the temporary break turned into a permanent split, with NSYNC not releasing new music since 2001.
In 2018, Bass told The Huffington Post that the break-up was amicable.
"It took us a while to naturally say, 'You know what? I think... we might be done,'" he told journalist Leigh Blickley.
"It wasn't anything crazy—no big, crazy fight to break us up. We're all still close and we talk daily, but I guess it just had run its time, which was sad because I was really excited for the next album."
Swift wasn't the only celebrity thrilled to see NSYNC back together. On Instagram, Will Smith commented on a snap Timberlake posted of the group at the event, writing: "Y'all better be makin' music in that elevator."
Footage of Megan Thee Stallion seemingly yelling at Timberlake as the band passed her backstage also went viral, but according to Variety, the 28-year-old rapper was actually fangirling over the singer—not cussing him out.