Nuclear War Threat Drives Greater Divide Between U.S., China
The already tenuous relationship between the United States and China risks further deterioration following recent comments from each country regarding the threat of nuclear war the other presents.
Admiral Charles Richard spoke Wednesday during a hearing assembled by the Senate Armed Services strategic forces subcommittee about the escalated nuclear threat posed by China since its ally Russia began its invasion of Ukraine.
"We are facing a crisis deterrence dynamic right now that we have only seen a few times in our nation's history," Richard, who is head of the U.S. Strategic Command, said. "The war in Ukraine and China's nuclear trajectory—their strategic breakout—demonstrates that we have a deterrence and assurance gap based on the threat of limited nuclear employment."
During a Friday press conference, China's foreign ministry spokesperson Zhao Lijian was asked about Richard's remarks.
"China follows a self-defensive nuclear strategy and keeps its nuclear forces at the minimum level required to safeguard national security. We stay committed to no first use of nuclear weapons at any time and under any circumstances, and undertake unequivocally and unconditionally not to use or threaten to use nuclear weapons against non-nuclear-weapon states or nuclear-weapon-free zones," Zhao said. "This policy remains clear and consistent. China opposes any form of 'China nuclear threat' theory."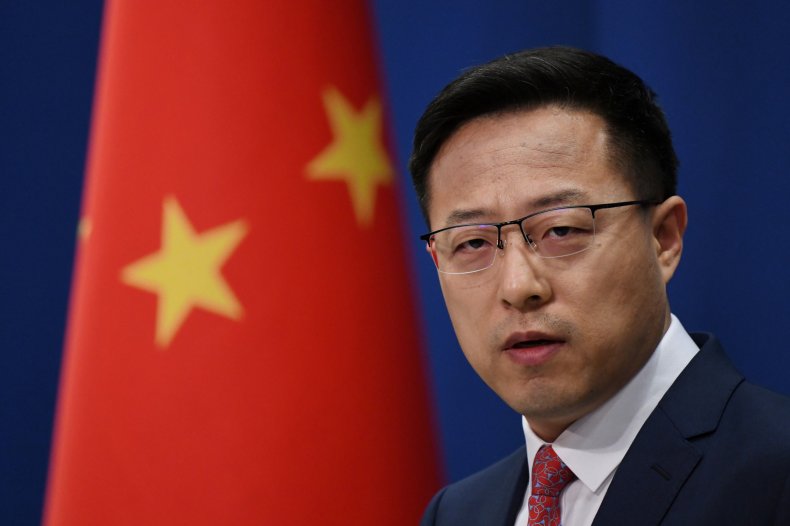 He further charged that U.S. officials were trying to shift "the blame to others."
"Some individuals in the U.S. have been hyping up various versions of the so-called 'China nuclear threat,'" Zhao said. "As is known to all, the U.S. is the biggest source of nuclear threat in the world."
"The U.S. should earnestly assume its special and primary responsibilities toward nuclear disarmament, continue to further substantively reduce its nuclear arsenal in a verifiable, irreversible and legally-binding manner," he added. "The U.S. should take the same nuclear policy with China to make due contribution to reducing nuclear threats and promoting nuclear disarmament."
During his comments at Wednesday's hearing, Admiral Richard said China was monitoring the war in Ukraine "closely and will likely use nuclear coercion to their advantage in the future. Their intent is to achieve the military capability to reunify Taiwan by 2027 if not sooner."
The U.S. Defense Department previously said in November that China had been working on building up its nuclear arsenal, and a department report stated China could have more than 1,000 nuclear warheads by 2030, the Associated Press reported. A senior Chinese official denied that report in January.
"On the assertions made by U.S. officials that China is expanding dramatically its nuclear capabilities, first, let me say that this is untrue," Fu Cong, director general of the Foreign Ministry's arms control department, said during a briefing in Beijing at the time, according to the AP.
Fu also asserted China would not join nuclear arms reduction talks between the U.S. and Russia unless those countries reduced their arsenals first, since they have the largest nuclear arsenals in the world.
Newsweek reached out to the U.S. Strategic Command and China's foreign ministry for comment.