Number of Russians Ready to Protest Government Jumps 20 Percent Since March
The number of Russians who say they will join protests against falling standards of living has increased by 20 percent since March, reaching the highest level since 1999, according to a new opinion poll.
Over the weekend, thousands of Russians took to the streets to protest against the government, chanting slogans such as "Away with the czar" and "Putin is a thief." Discontent has reached a high, with Moscow's plans to increase the retirement age from 60 to 65 for men, and from 55 to 63 for women.
President Vladimir Putin's approval rating has dropped below 50 percent, and support for his ruling United Russia party has dipped to a seven-year low. Now survey data released by the independent Levada Center shows that 28 percent of Russians plan to personally participate in protests, up from just 8 percent in March, The Moscow Times reported Wednesday.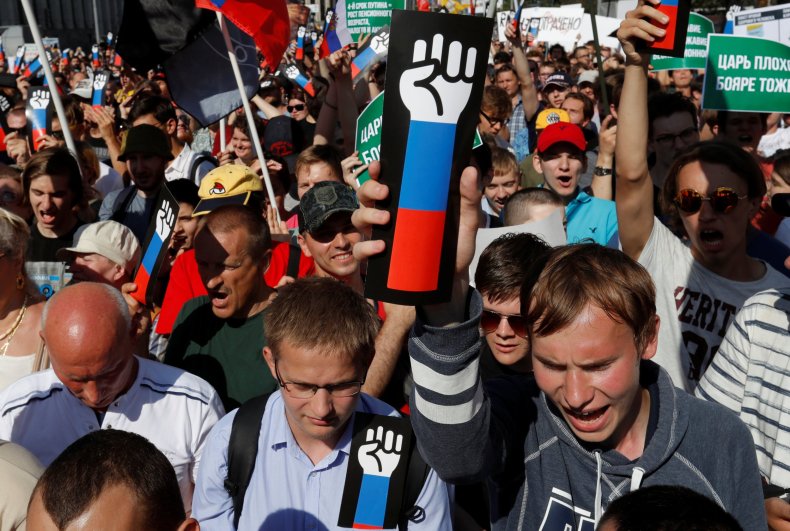 Such a significant percentage of Russians have not been willing to protest for two decades, according to the publication. Additionally, 41 percent of respondents said they expect protests to happen within their own cities, also the highest level in 20 years. Some 1,600 Russians in 52 regions were surveyed by Levada between July 19 to 25 for the poll.
Government efforts to raise the retirement age have highlighted the gap between Putin's rhetoric of a mighty Russia and a life expectancy—65.3 for men and 77.1 for women, according to 2017 data from the CIA World Factbook—that means many men will not live until their potential retirement age.
Other opinion polls show that about 90 percent of Russians oppose the proposed legislation, Reuters reported. An online petition against the measure has also circulated, gathering millions of signatures.
For his part, Putin has tried to distance himself from the policy, suggesting that it could be postponed, but that it would eventually be required. The Russian president had previously promised not to raise the retirement age.
"We have to proceed not from emotions but from the real assessment of economic conditions and prospects of its development and (the development of) the social sphere," Putin said, according to Reuters.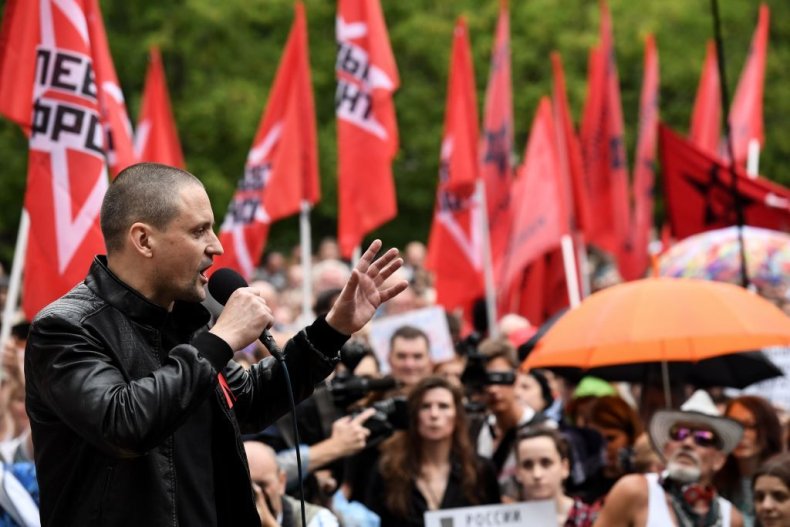 Russia's newspaper Vedomosti cited analysts who said the government will likely adjust the legislation if discontent continues. One analyst told the paper, "If the [government's] ratings continue to fall and there are more people on the streets," policymakers will likely soften the changes, The Moscow Times reported.
However, Prime Minister Dmitry Medvedev, who announced the bill in June during the 2018 World Cup in Russia, has pushed back against criticism, calling the move a practical measure.
"People these days not only live longer, they stay active longer too. A retirement-age person 30 years ago and today are simply different people," Medvedev said. "Many in this age are full of strength and the desire to work."