Juliana Morawski, an emergency room nurse who left retirement to help with the response to the coronavirus pandemic, warned that her and other health care workers were "under threat" due to a lack of personal protective equipment (PPE).
Speaking to CNN on Tuesday, Morawski said that she'd returned to work because she believed "action is better than inaction." Despite being past retirement age, putting her at higher risk for serious complications if she becomes infected with coronavirus, the nurse said that she didn't let "worry or fear rule" her life. At the same time, she warned that the situation facing her and other health care workers is dire.
"We're under threat more than any other time I can remember in emergency medicine," Morawski said, reflecting on her 30-year career as a nurse. "I've never seen emergency departments, or nursing, or any of the services actually in general, under so much threat. And you know, it's a family. So when family is threatened, you try to step up as much as you can."
Asked what she felt was "most threatening" to health care professionals like herself, Morawski said the coronavirus itself, the high number of patients, and the lack of PPE.
"Unfortunately the lack of equipment that's out there for folks, that is a huge issue," she said. "And it's kind of like everybody lionizes the emergency responders and first responders as essential workers...but we're not martyrs."
The nurse explained that it was "very difficult" for health care workers to now feel threatened by their own environment.
State governors, health experts and medical professionals across the country have repeatedly warned of a shortage of PPE and essential supplies, such as ventilators, as the coronavirus pandemic continues to spread. Nurses and doctors in some hospitals have already been forced to reuse protective masks because they have rationed supplies. While the federal government did have a stockpile of some of the necessary equipment, reports have circulated of rotting masks and faulty ventilators being sent to states from the central supply.
Compounding the problem, many of the masks and other PPE used by doctors and nurses were generally managed in China. Additionally, the U.S. exports of masks, other protective medical gear and ventilators surged in January and February, as companies increased their shipment of supplies to China, according to USA Today.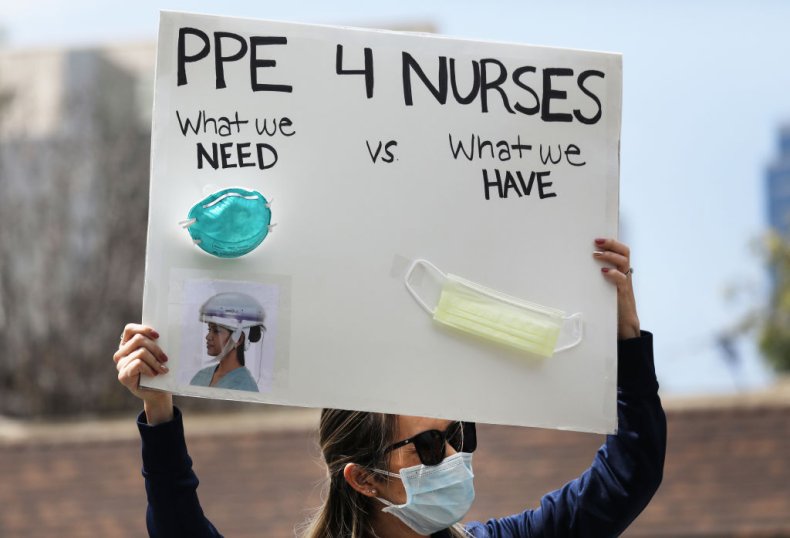 Meanwhile, states and hospitals continue to monitor their supplies and work day to day to assess the equipment they have on hand.
"We have taken extraordinary measures to build our stockpile of ventilators, masks and other personal protective equipment, but we still do not have enough," New York Governor Andrew Cuomo said on Friday.
As of early Tuesday afternoon, there were nearly 380,000 confirmed cases of coronavirus nationwide. Of those cases, more than 11,800 patients have died while just more than 20,000 have already recovered.
About the writer
Jason Lemon is a Weekend Editor at Newsweek based in Brooklyn, New York. Prior to taking on the editor role, Jason's reporting focused on U.S. politics and international affairs. He joined Newsweek in 2018, and had previously worked as a founding editor at a Middle Eastern media startup called StepFeed. He also worked a year as a contributor to The Atlanta Journal-Constitution and has bylines in The Christian Science Monitor, The Palm Beach Post, Al Fanar Media and A Magazine. He is a graduate of the American University of Beirut in Lebanon and Andrews University in Michigan. You can get in touch with Jason by emailing j.lemon@newsweek.com. Languages: English, Spanish, French and Levantine Arabic