Bianca Belair is Ready to Show Out and Stand Out as NXT Moves to USA
The premiere episode of NXT on USA will feature a slew of Takeover-level matches, including a huge Fatal Fourway to determine the number-one contender for the NXT Women's Championship.
Mia Yim, Io Shirai, Candace LeRae and Bianca Belair will square off for the right to take on Shayna Baszler. While the competitors in the match are impressive, Belair is ready heading into NXT's premiere on USA.
"I'm feeling pretty confident," Belair tells Newsweek. "Right after the Takeover match between Shayna and Mia and how that went down I'm like 'yeah, Mia and I have history' but my goal is to get the NXT Women's title, and that's to get to Shayna. At this point Mia's irrelevant to me. I called out Shayna and wanted Shayna. [The Fatal Fourway] isn't exactly what I was asking for, but I'm going to show up, show out and go through whoever I have to on Wednesday night and show everyone who is watching USA that Bianca Belair is the best, and I'm going to beat Shayna."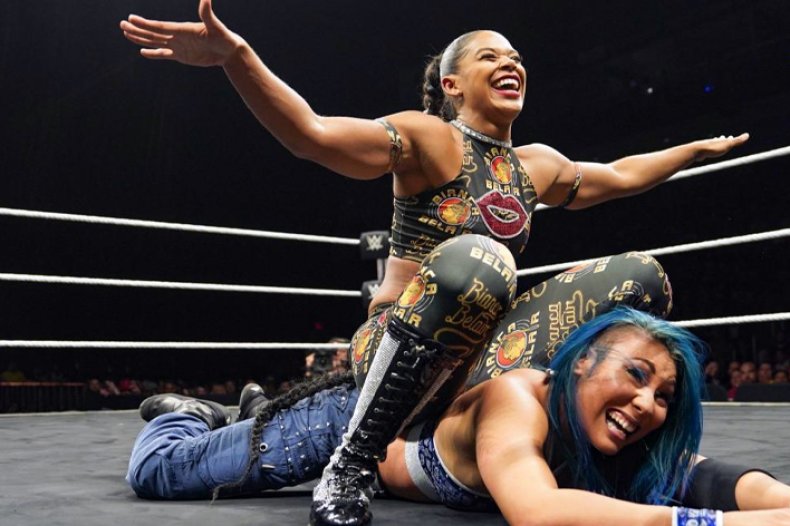 Belair - real name Bianca Blair - wasn't always this confident in the ring, though. The 30-year-old first entered the WWE Performance Center in 2016 with a background in track and field and CrossFit, but no history in professional wrestling.
"I was definitely nervous and anxious [when I first started] because I didn't know what to expect," Belair said. "Growing up I basically played every sport in the book and could pull from different things. I can pull something from track, I can use CrossFit, but when it came to WWE and sports entertainment, I didn't have a background I could pull anything from. So it was coming into the Performance Center not knowing what to expect, but I was very eager to learn about this business. I was going to rely on my athleticism and the ability to be coachable."
Belair admits that learning new skills in the ring was challenging, but leaning on her athleticism and natural abilities made her pick up things quickly. The non-physical aspects of the business, like the history, didn't come as naturally to Belair at first. Belair's only exposure to WWE was when she watched it with her brother growing up, so there was a lot to learn when she decided to make it a career.
"I tried to take everything in. But, learning about the history of the business, what really stuck with me was the storytelling," Belair said. "From the outside, sometimes when I wasn't watching wrestling a whole lot I thought people just go in there and fight. But watching the matches from the past, there's always a backstory. And I found myself getting emotionally connected to these characters that I didn't really know at the time. Getting emotionally involved and having that feeling of not knowing who was going to win the match and that was what really stuck to me."
NXT and the Performance Center has become known for bringing in talent from around the world and other promotions to groom them into WWE superstars. Belair's journey to the Performance Center didn't come with time spent in Japan or in another promotion like her opponents on Wednesday. She got there through her own physical gifts and a recommendation from a WWE Hall of Famer.
And although she went in without prior training or experience, Belair didn't let the pressure get to her.
"Honestly it was less pressure on me because there wasn't any real expectations. I came in and no one knew who I was," Belair said. "I was discovered by Mark Henry who opened the door for me to get a tryout, and I actually liked starting with no experience because I didn't have any bad habits or any expectations, so there was nowhere to go but up for me. I like being the underdog and staying below and proving who Bianca Belair is."
In her three-year career at NXT, fans have quickly learned who Biance Belair is. She's the physically-gifted, trash-talking, confident performer who is better than you and knows it. She's the best, fastest, and strongest, which is why she became known as the "EST of NXT." And while that character is all about the spotlight and proving she's the best, that wasn't who she was growing up.
"I actually pulled it from my real childhood. As a child I was always naturally very athletic, naturally smart and did well in school and every sport that I did," Belair said. "And a lot of times, people would tell me that I was showing off or that I think I was better than everyone else. So when I was young I would make myself smaller so I wouldn't stand out. I would pretend I couldn't do five pull ups in gym class so people wouldn't think I was trying to be better than them. I pulled from that to turn it into Bianca Belair, someone who doesn't do that. I shine, I'm good, I have no problem telling you I'm better, faster, stronger than you, and it's up to you to deal with it."
With the confident attitude came her unique look, a single braid that took three years to grow out. While fans can't imagine Bianca Belair without her signature lock, it wasn't something that Belair was sold on at first.
It would be Bianca's husband, NXT superstar Montez Ford, that would convince her to stick with it.
"[Montz] was very knowledgeable about the business, and he knew a lot about standing out. So I came up with this idea of the braid. As soon as he saw it, he said 'I have to keep that,'" Belair said. "At first I was like, 'no, I like to keep my hair down. I see a lot of girls who have their hair down, and they look very pretty in the ring.'' And he was like 'no. you're going to stand out just trust me.'"
With her character and signature look in tact, everything came together when coach Sarah Amato told Bianca to hit her training partner using the braid.
"I was like 'What?' So I tried to hit her, and I didn't think much of it, but it started from there" Belair recalled. "I was in the ring with Ruby Riott, and I hit her and it made this loud noise. That was the first time that I realized that this can be a threat in the ring, and I can use it to my advantage."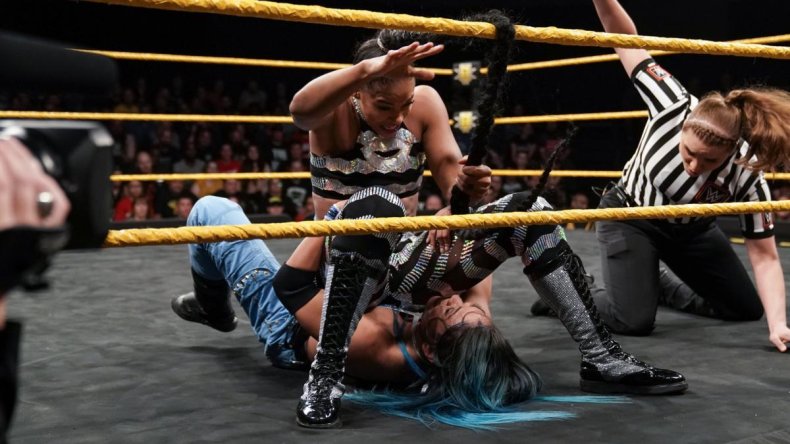 Utilizing everything she's learned and developed in her time at the Performance Center, Belair would go on to accomplish a lot in a relatively short amount of time on NXT television.
She competed in the first Mae Young Classic, competed at WrestleMania 34 as part of the Women's Battle Royal, and would go on an impressive 367-day undefeated streak. Those feats would propel Bianca to her first NXT Women's Championship match at Takeover: Phoenix in January, where she would ultimately lose her shot and streak to Shayna Baszler.
"I don't like to lose. I don't like that my undefeated streak was ended, but being an athlete my entire life comes wins and losses," Belair said. "And the one thing that's important is your mindset. That's why I went with my mindset as undefeated, and no one can take that away from me.
"I didn't see it as much as a defeat. It's more of an obstacle, as cliche as that sounds, but I feel like I'm being groomed to be the absolute best. As long as I keep getting in the ring with other great competitors, learn their techniques, learn how they move and adapt, I feel like its grooming me to be the absolute best Bianca Belair I can be."
NXT is stacked with top-level competitors, especially in its women's division. It's that depth that has allowed the brand to build compelling storylines for its athletes even when a title isn't involved, like the women's Fatal Fourway.
"We have all these women who are so talented that sometimes just having a title match isn't enough. And we have so many women who can be in the title picture, and you have to showcase that," Belair acknowledged. "And the fans prove that we can stand on our own as a brand, the fans demanded it, and we have performed. I think that's why we can fulfill these opportunities, because we have so many women we can showcase."
As NXT prepares for the next chapter of its history, Belair is looking to learn from her own and finish what she started back in Phoenix, and that starts on Wednesday.
"I have unfinished business. I've been chasing this title since the undefeated streak, and that's the ultimate validation for Bianca Belair: to prove and show everyone I am the best and I'm the EST of NXT."
NXT premieres on the USA Network Wednesday, September 18 at 8 p.m. EDT.