New York Attorney General Letitia James said she will take legal action to protect state residents' constitutional rights if President Donald Trump deploys United States military personnel to her jurisdiction, as he threatened Monday.
During Trump's latest White House press conference, the president called on governors to "establish an overwhelming law enforcement presence" as means to control violent protests that have taken place across the country since Minneapolis resident George Floyd was killed in police custody on May 25. In a statement issued after Trump delivered the remarks, James said her office would push back against the federal order in court if necessary.
"The President of the United States is not a dictator, and President Trump does not and will not dominate New York state. In fact, the president does not have the right to unilaterally deploy U.S. military across American states," her statement read. "We respect and will guard the right to peaceful protest, and my office will review any federal action with an eye toward protecting our state's rights. Rest assured: We will not hesitate to go to court to protect our constitutional rights during this time and well into the future."
Trump said on Monday that he had "strongly recommended" every U.S. governor deploy National Guard members to the extent that they are able to "dominate" demonstrators.
"Mayors and governors must establish an overwhelming law enforcement presence until the violence has been quelled," he continued. "If a city or a state refuses to take the actions that are necessary to defend the life and property of their residents, then I will deploy the United States military and quickly solve the problem for them."
Trump's threat to deploy U.S. military troops to states relies on terms outlined in the Insurrection Act, a federal law originally passed more than 200 years ago, which has been amended several times. Last invoked in response to the 1992 riots that broke out in Los Angeles after Rodney King was beaten and killed by police officers, the act permits federal military deployment to states under a few circumstances, including when local authorities require assistance to manage rebellion. Whether invoking the act without state leaders' consent is constitutional has been questioned.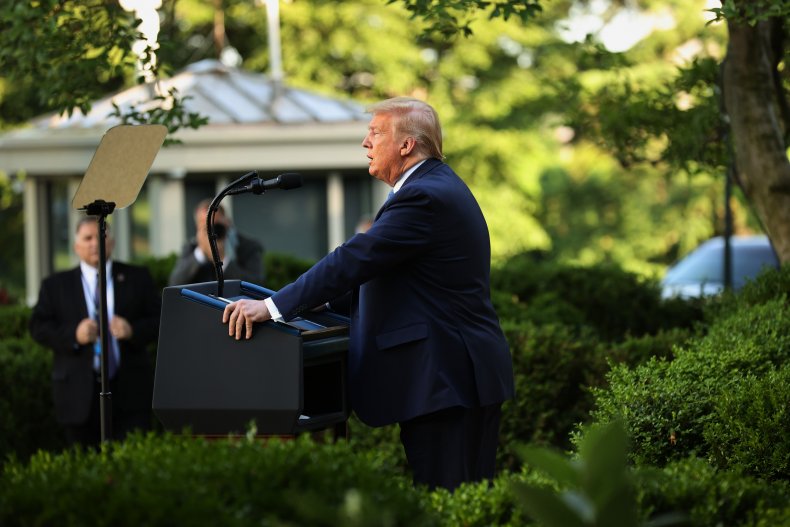 Several U.S. governors, including Illinois Governor J.B. Pritzker and New York Governor Andrew Cuomo, have criticized Trump's comments and shown resistance to federal military intervention amid ongoing protests. In cities such as New York, Los Angeles and Washington, D.C., some demonstrations have resulted in fires, looting, property damage and physical injury, while others have protested nonviolently.
"There are those who want to intentionally blur the lines between peaceful, legitimate protestors and looters. The president is among them," Cuomo tweeted Tuesday afternoon, referencing Trump's threat.
In a previous tweet shared on Monday, Cuomo pointed out that the president recently authorized law enforcement to disperse a peaceful D.C. protest with tear gas while he stood for a photograph outside a church that had been partially burned. "It's all just a reality TV show for this president. Shameful," the New York governor wrote.
As of Monday, more than 17,000 National Guard members had already been deployed to U.S. states where rallies have become destructive, according to the military agency.
Newsweek reached out to Attorney General James' office and the White House for additional comments but did not receive replies in time for publication.