N.Y. Congresswoman Diagnosed with Coronavirus After Voting for Stimulus Bill in D.C.
A member of Congress from New York who traveled to Washington, D.C., last week to cast a vote for an economic stimulus package was diagnosed Monday with "presumed coronavirus infection."
The Brooklyn-area Democrat, Rep. Nydia Velázquez, said she began feeling ill early Sunday morning and contacted the Capitol's attending physician, who diagnosed her with the virus based on her symptoms but did not recommend she seek a test or doctor's office visit.
"I developed the abrupt onset of muscle aches, fevers, nasal congestion and stomach upset," Velázquez said in a statement Monday. "My symptoms are mild at the present time and I'm taking Tylenol for fever and isolating myself at home."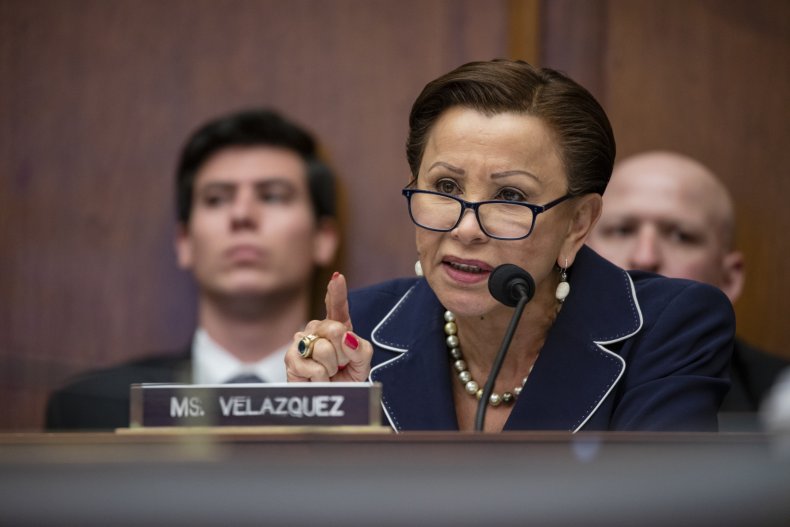 The revelation could mean that hundreds of lawmakers were exposed to the virus' infection. Velázquez was forced to return to the nation's capital on Friday due to a procedural objection by Rep. Thomas Massie (R-Ky.) over the House passing a $2 trillion bipartisan stimulus package by voice vote with less than a handful of members present.
By demanding a roll call vote, hundreds of lawmakers were forced to scramble back to D.C. in order to muster a majority and defeat the Republican's procedural motion. Democratic and GOP leadership urged its members not to raise such an objection over health concerns of having lawmakers return, many of whom had to use airplanes.
While at the Capitol building, legislators practiced social distancing by spreading throughout the chamber and disinfecting surfaces after using them.
Still, Velázquez was in proximity to her colleagues, including top leaders in both parties—House Speaker Nancy Pelosi (D-Calif.), Majority Leader Steny Hoyer (D-Md.) and Minority Leader Kevin McCarthy (R-Calif.)—at an engrossment ceremony after the bill's passage. The 67-year-old lawmaker also spoke on the floor about her district, which has become one of the hardest hit areas of the pandemic.
Massie's objection was centered on his belief that members should be on the record when passing legislation that allocates such a large sum of money, which will go toward individual checks for Americans, industry bailouts, hospitals, unemployment benefits and small businesses struggling to survive amid forced closures in many states.
"They're trying to protect the members who are there from political ramifications," Massie said to reporters of congressional leadership. Pelosi and McCarthy were unsuccessful in dissuading Massie not to raise an objection just minutes prior to the voice vote.
"If they're telling people to drive a truck, bag groceries and grow food, by golly, they could be in there and they can vote," he added.
Massie's office did not immediately respond to Newsweek's request for comment on Velázquez's diagnosis.