NY Governor Candidate Who Wants to Defund Police Also Lives on US Army Base
New York gubernatorial candidate Jumaane Williams, who has voiced his support for defunding the police, currently lives on a U.S. Army base.
Williams and his family reside in a home located on the United States Army Garrison Fort Hamilton in the NYC borough of Brooklyn, which is accessed through security checkpoints and a background check, according to the New York Post.
"When [Williams] needed a new home for his family in 2019, they chose a publicly-available unit in Fort Hamilton not because of its position on a base but because it offered the best unit for his family's price point and criteria," a spokesperson for the candidate told the Post.
Williams, who currently serves as New York City's Public Advocate, announced his bid for governor earlier this month.
"At some point, you have to stop looking to other folks and say, 'I'm going to do the best I can for the people of the state.' And for me, that's running for governor now," Williams said when announcing his campaign.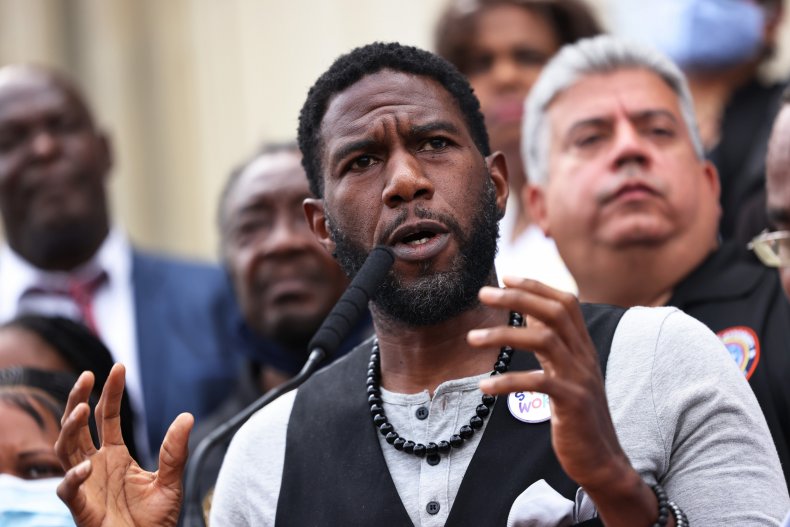 In 2020, Williams said he planned to block New York City's budget as it didn't go far enough to defund the New York Police Department (NYPD).
"The charter is abundantly clear that the public advocate has to sign the tax forms that allows the city to collect the taxes. In fact, soon after the budget passed, that tax form was sent to me and I won't be signing it," Williams said during an appearance on local news station NY1 in July 2020.
After discussing his plans to block the city's budget, Williams said in 2020, according to The New York Times: "I kept saying, whether you say defund, divest or reinvest, to me it meant the same thing: We can't keep funding the police department solely and not fund other things that contribute so wholeheartedly to public safety."
While appearing at a protest following the police killing of George Floyd, Williams called on New York City Mayor Bill de Blasio to cut funding from the NYPD and instead use "the savings to build up communities."
"The answer to every problem in communities of more color, it seems, is to send police. That needs to end, now," Williams said.
Williams told Bloomberg in May: "Defund the police became an easy flashpoint, especially for people who didn't want to see meaningful change in how we deal with public safety to begin with...It takes someone who can push through these political winds in the way the mayor and others have struggled."
Williams' campaign website also states that he is a "strong supporter of the NY State DREAM Act."
"We must also fully fund the legal services fund for undocumented immigrants, end courthouse raids and investigate detentions of activists," his campaign website says.
In 2019, Williams also backed legislation to limit funding to the U.S. military, according to the Post.
Williams' spokesperson told the Post that, "The suggestion that his work to protect, promote, and reimagine public safety would change with his address is belied by his record on these issues for over a decade—that work continues as he advocates for policies to advance community in neighborhoods citywide."
Newsweek reached out to Williams' campaign for further comment.