New York Sues ICE to Stop Arrests Near Courthouses
The state of New York is suing U.S. Immigration and Customs Enforcement (ICE) to stop them from making arrests in and around courts, according to statements from N.Y. Attorney General Letitia James.
"When ICE targets witnesses & victims for arrests, noncitizens and immigrants are less likely to go to court to assist in cases or even to protect their own rights," wrote James in a tweet Wednesday afternoon.
The two lawsuits come after ICE, which detains and deports people from the U.S., has been widely criticized this year for reports of sexual abuse in detention facilities and illegal searches on suspected immigrants, as well as detaining 18-year-old U.S. citizen Francisco Erwin Galicia for more than a month.
The cases challenge the legality of the ICE policies that allow for civil immigration arrests without a judicial warrant or court order in and around New York State courthouses, according to a statement.
The first, filed jointly by James and the Brooklyn District Attorney Eric Gonzalez, argues that these arrests impede the administration of justice, after a two-year pattern of ICE arrests close in proximity to courthouses have caused a major disruption to trials, investigations, and other procedures in court, according to the attorney general's office.
"By targeting witnesses and victims for arrests, noncitizens and immigrants are deterred from assisting in state and local law enforcement efforts or protecting their own rights in court," said the statement. "As a result, valid prosecutions have been abandoned, or never pursued, making communities less safe."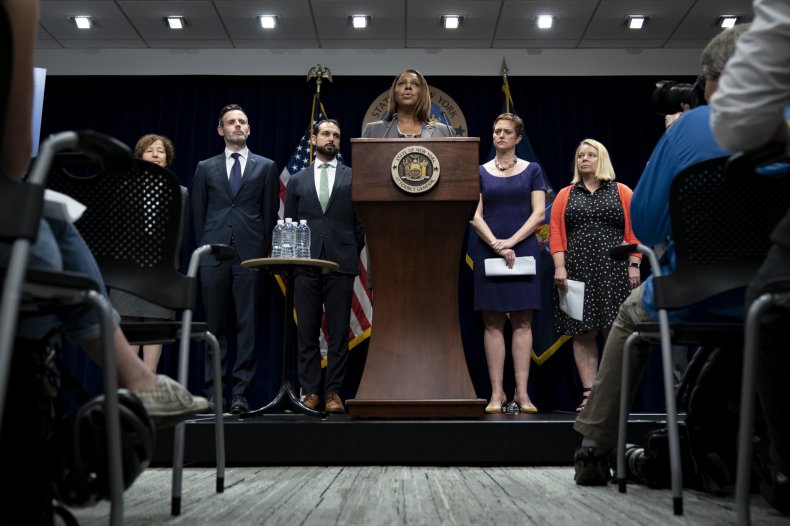 The second suit, filed by the Legal Aid Society and Cleary Gottlieb, seeks to halt the practice on behalf of a single plaintiff. This person, a noncitizen domestic violence victim, didn't appear before court to seek the protection she needed for fear of an ICE arrest.
Many immigrant victims of domestic and sexual violence are now too afraid to call the police or go to court to get help, according to a survey of hundreds advocates and attorneys from across the U.S., published in May by a group of domestic violence nonprofits.
"If there's one thing I've learned in my career as a prosecutor, it's that law enforcement can't keep people safe without the participation of the communities we serve," Gonzalez said.
"Over the past two years, numerous immigrant victims and witnesses have refused to come forward" due to the policy, he said.
On Monday, ICE sparked outrage in a Chicago neighborhood after agents raided a popular pizza shop and arrested five of its workers. The organization arrested 158,581 immigrants last year, the most since 2014, according to a published report.