NYC Cuts Parks Budget by 14% When People Say They Need Them Most
More than the New York Police Department faces reduced funding in the 2021 budget agreed to by New York City Council Tuesday, with substantial cuts to NYC Parks coming in response to a $9 billion revenue shortfall caused in part by the ongoing coronavirus pandemic.
A coalition of New York City Council members and non-profit advocates—including Chair of the Council Committee on Parks and Recreation Peter Koo, Executive Director of New Yorkers for Parks Adam Ganser and President of New York League of Conservation Voters Julie Tighe—released a statement objecting to the budgetary cuts:
"We are extremely disappointed that the City has decided to slash the budget for NYC Parks by over 14 percent, including the loss of 193 critical parks staff. The pandemic has shone a spotlight on how much New Yorkers need parks and open spaces, and suffer when parks are closed. Cutting funding for parks and laying off parks workers at this incredibly challenging time was a mistake."
The Play Fair campaign behind the statement is a collaborative effort between New Yorkers for Parks, the League of Conservation Voters and the District Council 37 public employee union representing parks service workers and gardeners. The multi-year campaign coalition previously pushed for a substantially expanded NYC Parks budget, citing the minuscule amount—less than one percent—of the city budget allocated to parks, despite NYC Parks occupying approximately 14 percent of the New York City geography.
"Compare that to the other top five major cities in the United States; there's not one where the Parks Department is less than one percent of the total budget," Ganser told Newsweek in a phone interview, further describing NYC Parks as "systemically underfunded."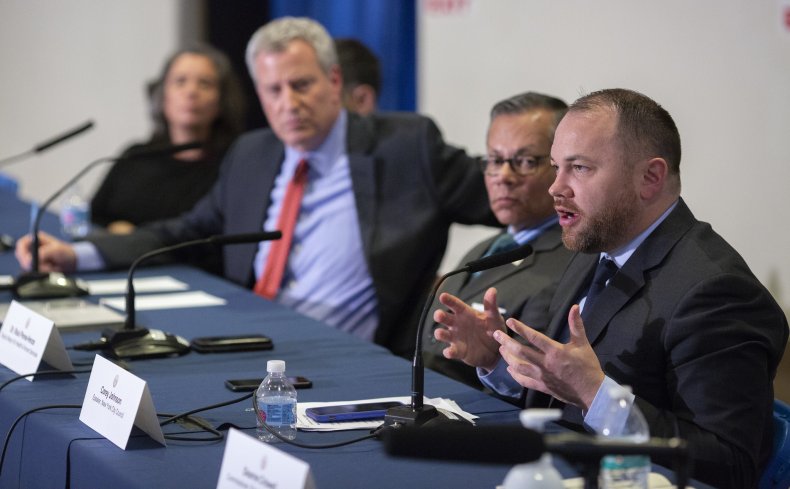 While the original Play Fair 2020 campaign asked for an NYC parks budget increase totalling $200 million, the coronavirus pandemic led to revised goals. Instead, the campaign called for $47 million to be included in the budget for use protecting the jobs of "frontline" parks workers and securing parks maintenance throughout the coronavirus pandemic.
But the $88 billion Fiscal Year 2021 Budget agreed to by New York City Council also fell short of this funding aim, despite an influx of people spending time in the outdoors, where current evidence suggests the risk of infection is minimized in comparison to indoor public spaces.
"When the pandemic hit and its impacts across the economy and New York City started becoming apparent, I think the entire city understood there was going to be cuts to the city budget," Ganser said. "It was our hope that New York City's elected officials would recognize the important role the city's public space and parks have been in basically keeping people sane and healthy. When you have museums, libraries, theaters, playgrounds, schools and all retail closed, and everybody relying on our public parks, the logical step is to increase funding for our parks, especially because they're so cheap in comparison to the rest of our city budget."
"Parks are not a luxury—they are essential," the Play Fair statement continued. "As New Yorkers continue to cope with the COVID-19 crisis, parks and open spaces are one of our few—and sometimes only—remaining refuges. For most New Yorkers, particularly lower-income residents, parks are often the only places they can go to get fresh air, cool off, enjoy nature, safely spend time together, exercise and play. They are one of our most vital environmental assets, which help mitigate climate change and provide clean air."
The group statement objected in particular to the elimination of 80 Parks Enforcement Patrol positions, whose duties they worry will be picked up by NYPD.
"Without their presence we expect to see the city relying even more on the NYPD, and we fear an increased police presence in parks will make many New Yorkers feel unwelcome and lead to increased strife."
Additional parks staff subject to the budget slashing include Urban Park Rangers and "Green Thumb" staff who maintain public green spaces.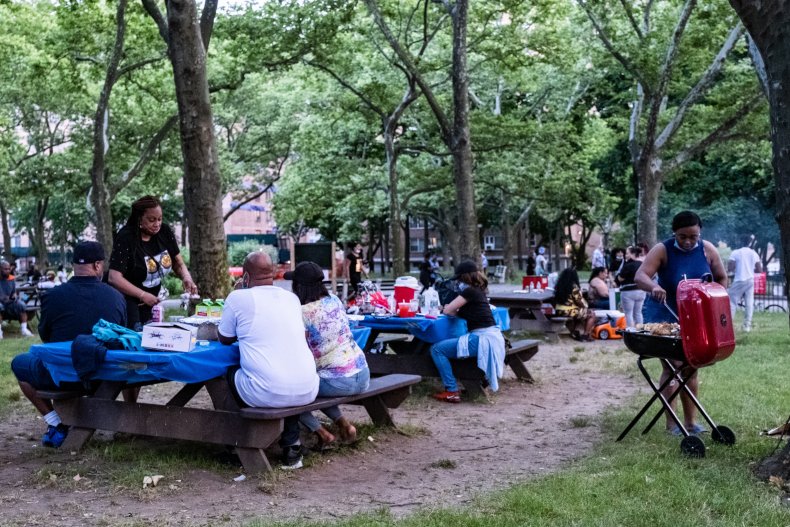 Ganser also pointed out the disproportionate negative effects cuts to the New York City Parks Department budget will have on outer borough parks, especially compared to marquee public spaces like Central Park, which are partially supported by privately funded conservancy groups.
"The whole system is suffering right now," Ganser said. "But it's the parks in the outer boroughs that are going to suffer the most. And it's no coincidence that those are the neighborhoods that have suffered the most from coronavirus and no coincidence that these are primarily the communities of people of color."
Newsweek has contacted both the office of Mayor Bill de Blasio and New York City Council Speaker Corey Johnson to learn whether they share the Play Fair Coalition's concern that park budget cuts could lead to increased NYPD enforcement, but did not hear back by time of publication. Councilman Peter Koo was also contacted, but did not provide comment before publication.