NYC, Chicago See Rise in Gun Violence Over Labor Day Weekend Amid Summer Crime Surge
Both New York City and Chicago saw an increase in gun violence over Labor Day weekend compared to last year, a sign that the surge in crime experienced by the two cities this summer is not slowing down.
In its preliminary report, the New York Department of Police (NYPD) listed a total of 22 shooting incidents, 28 victims and five homicides between Friday at 12:01 a.m. and Monday at 11:59 p.m., an NYPD spokesperson wrote in an email to Newsweek.
The numbers are up markedly from last year's Labor Day weekend, which spanned August 30 to September 2, 2019. Throughout those four days, the city saw 16 reported shooting incidents and 19 victims, stated the NYPD spokesperson.
In Chicago, a total of 51 people were shot and 10 people were killed between Friday at 6 p.m. and Monday at 11:59 p.m., Chicago Police Superintendent David Brown said during a press conference Tuesday. This is an increase of 10 victims from 2019, when 41 people were shot and seven were killed in the city during Labor Day weekend.
Both cities have experienced surges in gun violence throughout the summer. One weekend was particularly violent: August 14 to 16 saw 39 shootings occur in NYC and nearly 30 in Chicago.
From January 1 through July 26, NYC saw 745 shooting incidents, marking a 73 percent increase from the 431 shootings in the same period last year, according to The New York Times.
The Chicago Police Department (CPD) said the city had seen 1,541 shooting incidents from January 1 through July 12, 46 percent more than the same period in 2019.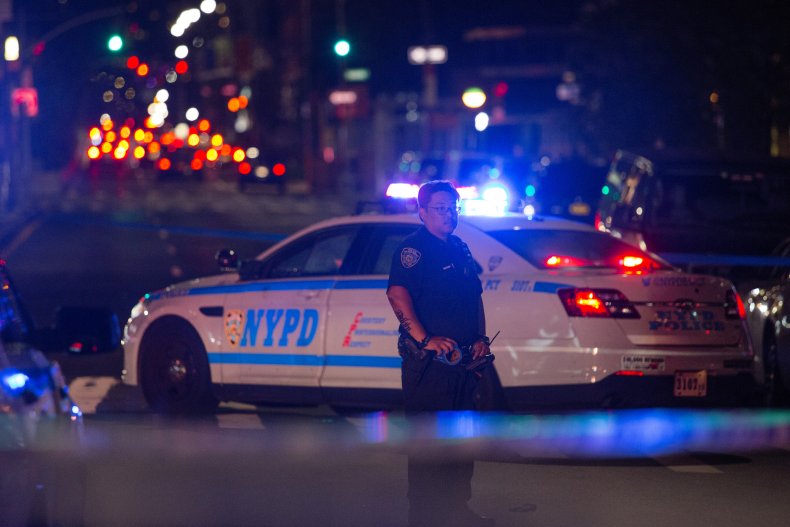 Labor Day weekend is typically an active one in terms of crime for both cities, a trend seen during most long summer holiday weekends, including Memorial Day and July 4.
In an effort to address this and the uptick in gun violence, the CPD cancelled days off for officers and extended shifts to 12 hours, placing an estimated 8,000 officers on the streets, WLS-TV reported.
NYPD Chief of Department Terence Monahan addressed the "tidal wave of violence" seen across New York City this summer, announcing at a press conference Thursday that the department would provide extra officers in certain neighborhoods throughout the holiday weekend.
"We have to be concerned of the violence that we're seeing right now. The gang violence, different crews have been attacking other crews," Monahan said. "Make sure that the retaliation shootings that we've been seeing all summer don't occur."
Police said they would focus much of their efforts in Central Brooklyn, where 26 percent of the shootings seen in August occurred. Most of them were gang related, police said.
A 6-year-old boy was among five people shot in Brooklyn's Crown Heights neighborhood early Monday morning near an outdoor J'Ouvert celebration. The boy, along with his mother, were shot while getting out of a cab near their home, authorities said.
Out of the 51 people who were shot in Chicago over the weekend, 10 of them died, including an 8-year-old girl, according to the CPD. The girl and three adults were sitting in an SUV at a stoplight Monday night when the shooter's car pulled up behind them and opened fire, targeting someone else, police said Tuesday.
"Our victims' vehicle was parked facing northbound on Union Avenue with the offender's vehicle directly behind it," said Chicago Police Chief of Operations Brian McDermott. "When the light turned green, the offender's vehicle immediately opened fire on the victims' vehicle."
The girl and two adults inside the SUV suffered gunshot wounds. The girl was pronounced dead at the hospital and the two adults remain in serious condition, police said.