NYC Distributes Masks In City Parks, Grocery Stores After Photos Of Residents In Crowded Parks Go Viral
New York City is providing face coverings to residents at no cost in an effort to promote widespread adherence to the state mandate requiring use of masks in public spaces, Mayor Bill de Blasio announced on Monday.
During the city's latest news conference to discuss updates related to the new coronavirus outbreak, de Blasio said 7.5 million face masks will be distributed at more than 50 designated sites across Manhattan, Brooklyn, Queens, Bronx and Staten Island. The distribution will include 5 million three-ply non-medical masks and 2.5 million cloth face coverings, the mayor added, while another 1.9 million surgical masks will be administered to nursing homes in each of the city's five boroughs.
"Wherever you turn, you're going to be offered a face covering," de Blasio told the public, saying the initiative will be carried out over the course of several weeks to come. The City of New York's official website has created a new page dedicated to the mask distribution effort, which includes information about where and when city residents can obtain them through Tuesday, May 5. Alongside a map charting each location, the city noted that it expects more than 100,000 masks will be distributed during that time.
In a message shared to Twitter Monday morning, de Blasio's press secretary Freddi Goldstein reiterated information shared at the news conference, noting that New York City's public and affordable housing facilities, meal distribution locales, public parks and grocery stores are among the sites where face coverings will be made available.
The first wave of mask distributions began on Saturday, as photos of crowds congregating in New York City's public parks circulated online. De Blasio addressed the gatherings, which are prohibited under the state's "PAUSE" order implementing social distancing regulations in response to the new coronavirus pandemic, at a news conference held on Sunday. During it, the mayor thanked members of the New York City Police Department (NYPD), as well as other government agencies, for enforcing the protocols.
A press statement released May 3 by Police Commissioner Dermot F. Shea noted that more than 1,000 NYPD officers would be surveying public areas citywide to ensure that individuals abide by physical distance restrictions. It also reported that on Friday and Saturday, 100 summonses had been issued to city residents who were not maintaining six feet of distance from others, as well as those not wearing face coverings.
Weeks after New York's "PAUSE" order first went into effect on March 22, Governor Andrew Cuomo signed an executive order in mid-April requiring all state residents to wear face coverings when leaving their homes. The measure was implemented as New York confronted new diagnoses, hospitalizations and deaths related to the new coronavirus in inordinate numbers.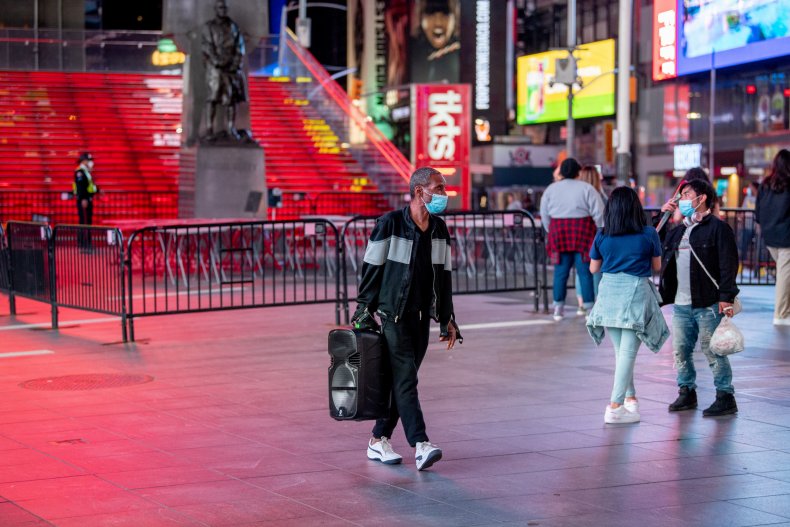 Cuomo has stressed the importance of face coverings during his office's daily news briefings, calling the decision to abstain from wearing one "disrespectful" at Monday's conference.
"You don't wear a mask for yourself. You wear a mask to protect me. I wear a mask to protect you," the governor said. "We owe each other a certain amount of reasonableness and respect in society. And I owe you that level of respect."
Although the state has seen a steady decline in new cases, hospital admissions and fatalities over the last several weeks, New York continues to experience the most severe outbreak of the new coronavirus in the United States. According to Johns Hopkins University's tracker, New York had confirmed at least 316,415 positive cases and 67,798 subsequent deaths from the disease by Monday afternoon.