New York Mayoral Vote Runs Into Ranked Choice Problems as Eric Adams Disputes Tally
The New York City Board of Elections released a statement admitting to a "discrepancy" in the unofficial ranked-choice voting results of the NYC mayoral primary reports as election day results were coming in Tuesday evening after Brooklyn Borough President Eric Adams questioned the numbers.
"We are aware there is a discrepancy in the unofficial RCV round by round elimination report. We are working with our RCV technical staff to identify where the discrepancy occurred. We ask the public, elected officials and candidates to have patience," the @BOENYC account Tweeted.
In the numbers released last Wednesday in the primary election, Adams held a comfortable lead, while Maya Wiley, a former counsel to Mayor Bill de Blasio and Kathryn Garcia, a former New York City Sanitation Commissioner, competed for second place.
A round-by-round elimination report of the primary was initially released Tuesday, and showed a significant tightening of the race, with Adams leading Garcia by only about two percentage points and Wiley in a close third. However, this report was taken down Tuesday evening, and replaced with a notice reading "Unofficial Rank Choice Results Starting on June 30."
"Today's mistake by the Board of Elections was unfortunate," Adams wrote in a statement emailed to Newsweek. "It is critical that New Yorkers are confident in their electoral system, especially as we rank votes in a citywide election for the first time. We appreciate the Board's transparency and acknowledgment of their error. We look forward to the release of an accurate, updated simulation, and the timely conclusion of this critical process."
In an earlier statement on Tuesday before the Board of Elections released theirs, Adams' team initially wrote: "The vote total just released by the Board of Elections is 100,000-plus more than the total announced on election night, raising serious questions. We have asked the Board of Elections to explain such a massive increase and other irregularities before we comment on the Ranked Choice Voting projection."
"We remain confident that Eric Adams will be the next mayor of New York," the statement continued, "because he put together a historic five-borough working class coalition of New Yorkers to make our city a safer, fairer, more affordable place."
Late Tuesday evening, the Elections Board posted a statement to Twitter explaining that about 135,000 test ballots had been included in the results.
"Board staff has removed all test ballot images from the system and will upload election night results, cross-referencing against election night reporting software for verification. The cast vote record will be re-generated and the RCV rounds will be re-tabulated," the Board wrote. "The Board apologizes for the error and has taken immediate measures to ensure the most accurate up to date results are reported."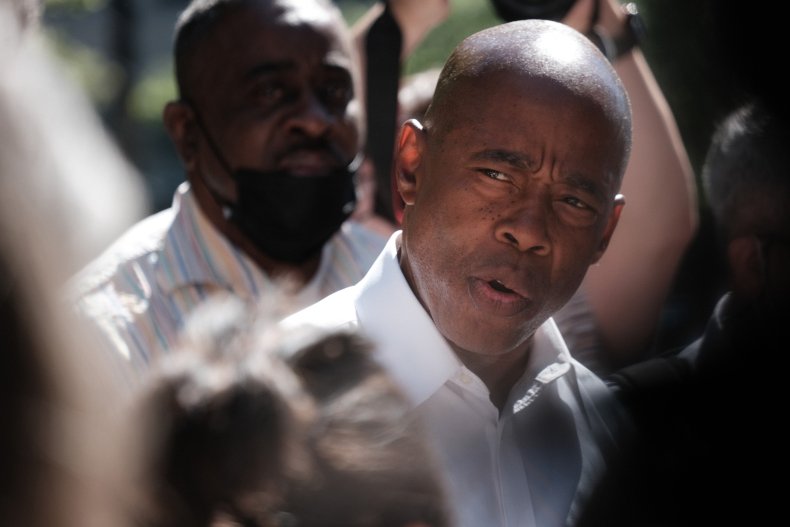 Recently-released election day results from Tuesday that may now be thrown into uncertainty, show that Adams received 51.1 percent of votes while Garcia received 48.9 percent of votes, meaning a total of 368,898 votes for Adams and a total of 352,990 votes for Garcia.
These numbers, whether or not they contain discrepancies, don't reflect a significant number of absentee ballots that are expected—about 124,000. Another voting tally that includes those votes is expected on July 6.
New local voting laws allow voters to correct ballots with small mistakes with mail-in ballot envelopes that might prevent them from being counted. The deadline for fixing these errors is July 9. The board of elections will likely begin to certify election results starting the week of July 12, the New York Times reports.
Update (06/29/2021, 8:52 pm ET): This story was updated to reflect that the elections board had taken the previously reported results off its site.
Update (06/29/2021, 10:45 pm ET): This story was updated to reflect that the elections board said that test results were accidentally included in the count.
Update (06/29/2021, 11:23 pm ET): This story was updated to reflect a statement from Adams that was emailed to Newsweek.