Police Union Protesters Chant 'Liar' Outside NYC Mayor Bill de Blasio's 2020 GMA Appearance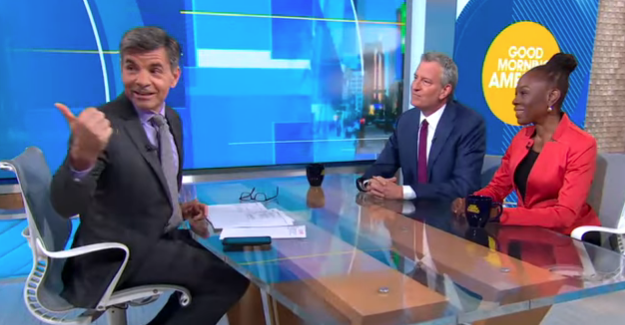 New York City Mayor Bill de Blasio's 2020 presidential campaign got off to a rough official start early Thursday as police union and pro-labor protesters chanted "liar" outside his Good Morning America appearance in Times Square.
The mayor's arrival at ABC News' studio was drowned out by dozens of Patrolmen's Benevolent Association members yelling "no friend of labor," perhaps setting up a now-national fight between de Blasio and the left-wing of the Democratic Party. The jeering protesters, holding foam fingers and signs reading, "De Blasio: Step Up or Step Down," served to overshadow his interview with co-host George Stephanopoulos inside the glass-walled studio in the center of de Blasio's native city.
"You say it's a tough city, we're hearing it outside, some protesters came to Times Square this morning," Stephanopoulos noted.
"A little serenade," de Blasio quipped.
De Blasio officially announced his candicacy for the Democratic 2020 nomination Thursday morning, making him the twenty-third Democrat to enter the race. He was joined by his wife, Chirlane McCray, for the Good Morning America appearance.
"Working Americans deserve better and I know we can do it, because I've done it here in the largest, toughest city in this country," de Blasio told Stephanopoulos after being asked what "sets him apart" from the other candidates.
The chanting police union just outside the studio was one of several labor groups in New York City who have publicly criticized a mayor who touts himself as a progressive, but who the Transport Workers Union recently labeled a "fauxgressive." The labor unions have followed de Blasio to visits in Iowa and South Carolina and berated him as an "elitist" and "anti-worker" during these trips to states with early presidential primaries.
On social media, de Blasio hasn't fared much better, with tweets ridiculing his 2020 campaign announcement receiving more likes and feedback than his original post. Even the video itself has been widely panned for openly revealing what many say is his modus operandi of promoting progressive policies but not acting on them during his time in office, which began in January 2014.
"There's plenty of money in this world, there's plenty of money in this country, it's just in the wrong hands," de Blasio says in his official candidacy announcement, right before the video cuts to him riding across the Brooklyn Bridge in the back of a limousine.
The co-hosts of Fox & Friends joined in on criticizing the mayor from their own nearby studio in Manhattan, accusing him of a false narrative that Fox & Friends helped to create: that de Blasio wants to "ban skyscrapers."
President Donald Trump also weighed in, tweeting Thursday, "The Dems are getting another beauty to join their group. Bill de Blasio of NYC, considered the worst mayor in the U.S., will supposedly be making an announcement for president today. He is a JOKE, but if you like high taxes & crime, he's your man. NYC HATES HIM!"
De Blasio responded on GMA, referring to Trump as "Don the Con." He also recently engaged in a spat with Eric Trump, which was cheered on by a U.S. Department of Housing and Urban Development official.