NYC Mayor Says NYPD Union Engaged in Racist Activities 'So Many Times' as New Requirements for Body Camera Footage Are Announced
Amid a nationwide push for increased transparency among law enforcement agencies, New York City Mayor Bill de Blasio announced Tuesday a new policy requiring police to release video and audio footage from officers' body-worn cameras within 30 days of recording.
"We recognize the power of body-worn cameras, but body-worn cameras are only as powerful as the transparency that comes with them," the mayor said during a news conference.
The mandatory release policy, effective immediately, applies to body camera footage taped during three classes of incidents involving possible officer misconduct: when discharging a firearm hits or could hit someone, when discharging a taser results in death or significant bodily harm, and when use of force results in death or significant bodily harm. According to De Blasio, about 24,000 New York police officers wear body cameras.
De Blasio said the new policy aims to help "build trust between the people and the NYPD" by way of heightened transparency and officer accountability. His announcement came one day after the NYPD eliminated its plainclothes anti-crime unit, a move that signals the beginning of "a more modern, community-based approach" to public safety, the mayor said Tuesday.
"Everyone needs safety. That is a foundation for all of us, but safety has to be done with the people of our neighborhoods," he added.
The mayor also addressed racism among high-ranking members of New York City's Sergeants Benevolent Association (SBA), a trade union representing sergeants within the NYPD.
"Look, the SBA leadership has engaged in racist activities so many times I can't even count it," said de Blasio, responding to a reporter's inquiry that referred to the union's retweeting of a message that supports preservation of Confederate monuments.
"Anyone who is tweeting in favor of Confederate monuments is supporting the structural racist history of this country," the mayor added.
The latest changes to police practices in New York City follows weeks of demonstrations protesting systemic violence and racism by law enforcement authorities in the aftermath of George Floyd's death in Minneapolis police custody. The NYPD has come under fire on several occasions for officers' use of force during the recent protests.
Citywide amendments to police practices follow passage of a series of statewide reforms, many of which have been signed into law over the past week. Those include an amendment to a New York civil rights law that previously kept law enforcement personnel records confidential and a statute prohibiting use of chokeholds by police officers.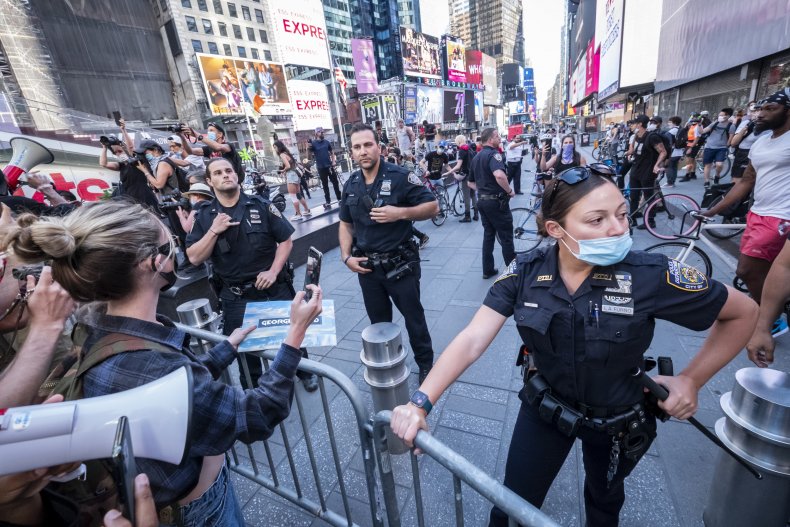 On Monday, New York Governor Andrew Cuomo said he had signed a series of additional reforms, which require police departments to report weapon discharges within six hours, track arrest data and provide necessary medical and mental health care to individuals who need it.
Newsweek reached out to de Blasio's office, the NYPD and the Sergeants Benevolent Association for comment but did not hear back before publication.