NYC Mayoral Candidate Shaun Donovan Arrested at Black Lives Matter Protest
New York City mayoral candidate Shaun Donovan was arrested during a Black Lives Matter demonstration on Tuesday, the one-year anniversary of George Floyd's death.
The arrest occurred shortly after 9:30 a.m. in lower Manhattan. The footage showed police placing plastic zip ties on Donovan and other activists as they yelled, "Black Lives Matter." Donovan was also seen with his hands behind his back being escorted by police away from the gathering.
Five people were arrested during the demonstration, the New York Police Department (NYPD) confirmed to Newsweek. They were all charged with obstructing vehicular traffic and issued summonses.
After being released from custody, Donovan spoke outside the precinct about Floyd's death and police reform.
"A year ago today we lost a son, a father—we lost someone that we should always remember should be here with us today a year later. And I am gratified that Derek Chauvin was held accountable, but I want to be clear that accountability is not justice," Donovan said.
He continued, "Real justice is what we were kneeling for today for 9 minutes and 29 seconds. Real justice means that fathers of Black children in this city, mothers of Black children in this city do not have to worry that their children will not come home when they walk to the story, when they go for a drive."
Floyd died on May 25, 2020, after Chauvin knelt on his neck during an arrest. His death triggered protests around the world against racism and police brutality.
Donovan also quoted the late civil rights icon John Lewis, saying on Tuesday: "Today we made good trouble."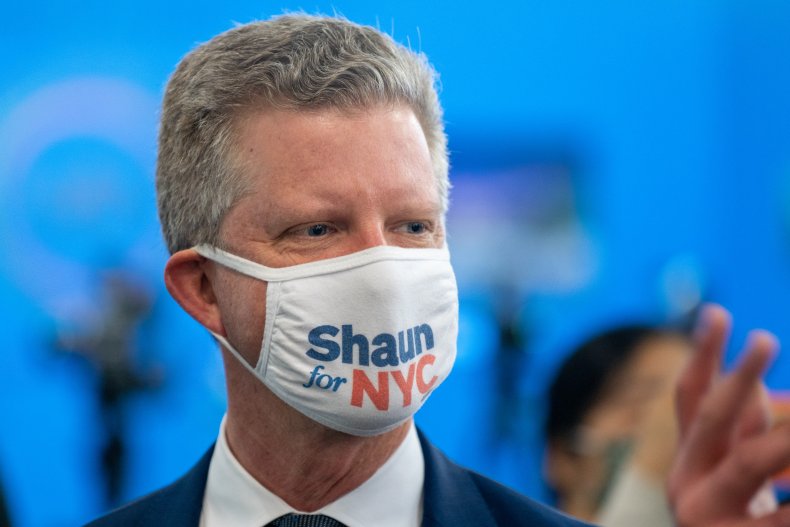 "Every New Yorker must stand up to say, 'We will not accept the destiny of our children being determined by the ZIP code they grow up in, by the color of their skin," Donovan added. "And every New Yorker—brown, Black, white—needs to stand up together and say, 'Enough is enough.'"
Donovan, a top housing official in the administrations of President Barack Obama and New York City Mayor Mike Bloomberg, launched his campaign for mayor in December of last year.
He will face 14 other candidates in the June Democratic primary for mayor, including 2020 presidential candidate Andrew Yang, New York City Comptroller Scott Stringer, Brooklyn Borough President Eric Adams and former Bill de Blasio adviser Maya Wiley.
Newsweek reached out to Donovan's campaign for additional comment but did not receive a response before publication.