Man Brutally Attacked on Facebook Live As Onlookers Reportedly Do Nothing, Suspect Arrested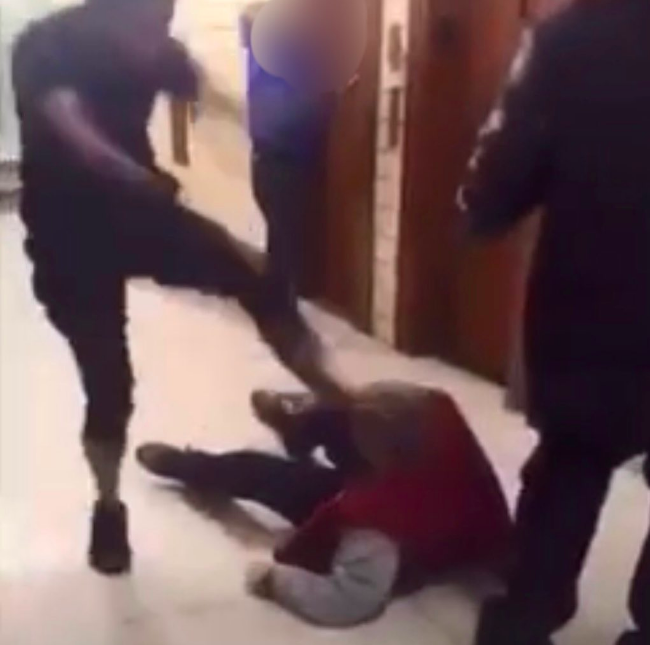 New York Police have arrested a suspect in the brutal beating of a 62-year-old that was live-streamed on Facebook. Neighbors of the victim complained that someone decided to capture the violent attack on video instead of calling authorities or trying to stop it.
Lytee Knox-Hundley, 31, was arrested by NYPD on Sunday for allegedly assaulting 62-year-old Wilfredo Arce in a Brooklyn apartment building. Knox-Hundley turned himself into the 79th Precinct on Sunday and was charged with two counts of assault, WABC reported.
The Friday attack was streamed on Facebook Live as people can be heard laughing in the background. One of at least three witnesses to the attack on Arce reportedly made a "half-hearted" attempt to intervene but the victim was still brutally punched and stomped on.
NYPD Chief Dermot Shea shared still images of the victim being punched and stomped on Saturday. "Our communities will not stand for this and neither will the NYPD, NYPD Housing [or] NYCHA," Shea tweeted. The building is run by the New York City Housing Authority.
Following the attack, Arce was transported to Woodhull Hospital to get treatment for a fractured nose and fractured orbital bone, WABC reported.
Arce's neighbors expressed frustration that witnesses did not call police or worked harder to stop the attack. "Instead of taking out your camera and recording it, you could've called police, tried to stop the situation," neighbor Vianca Phillips told WLNY.
Others said he was good person who did not deserve to be assaulted. "I can't believe somebody would assault that old man like that," neighbor Marika Spruill said. "He's really a sweet guy."
Roy Parham added: "He's a good dude. He don't do nothing to nobody. He shows a lot of love out here. He didn't deserve that."
Earlier in January, police in Atlanta were investigating an alleged sexual assault that was streamed on Facebook Live. The live-streamed video appeared to show a woman being sexually assaulted at Opera Atlanta nightclub, police said.
The woman was live-streaming her birthday celebration at the time of the alleged assault. A caller told police that the woman could be heard screaming, "No, stop!"
Authorities said they identified the man and questioned him, but no charges have been filed. The man, identified as Dominique Williams, denied sexually assaulting or drugging the alleged victim through a statement from his attorney Shequel Ross to Rolling Out.