Police Identify Suspect in Fatal Shooting of Officer Randolph Holder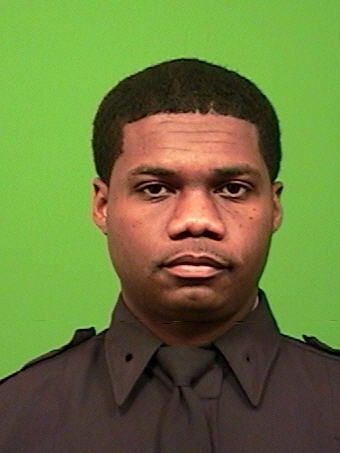 Updated | Police have identified the suspect in Tuesday night's fatal shooting of New York City Police Department Housing Officer Randolph Holder as Tyrone Howard, who was wanted for a shooting in the city on September 1.
Howard most recently is accused of fatally shooting Holder in the head on Tuesday night. Holder was the fourth officer murdered while working in the city in the past 11 months. He was a 33-year-old immigrant from Guyana, five-year veteran of the NYPD and third-generation officer.
Holder "did what every other officer in the NYPD does when the call comes—he ran toward danger. It was the last time he will respond to that call," Police Commissioner William Bratton told reporters following the shooting.
Around 8:30 p.m. ET, Holder and his partners responded to calls about gunfire in the city's East Harlem neighborhood. Witnesses reported that several men fled along a footpath on the Franklin D. Roosevelt East River Drive, Bratton said. A male victim also told officers that his bicycle had been stolen at gunpoint by one of the fleeing individuals.
Holder and another officer caught up to a male suspect, who was riding a bicycle, and exchanged gunfire, police said. Holder was shot in the head, and later died just before 10:30 p.m. at Harlem Hospital, Bratton said. Howard allegedly fled the scene, but was apprehended by other officers, authorities said. He sustained gunshot wounds to his leg and was taken into custody and transported to Cornell Medical Center.
Officers took three other male suspects into custody and began questioning them on Wednesday morning, Bratton said.
Police previously made several attempts to apprehend Howard, but failed to do so, authorities said at a press conference on Wednesday afternoon. He was most recently arrested last October on a drug-related offense, and jailed from that time until February 2015.
New York City Mayor Bill de Blasio called Howard "a hardened, violent criminal" who shouldn't have been on the streets.
"The loss of Officer Holder is hitting us all, and there is something particularly powerful about the fact that he followed in the footsteps of his father and grandfather, devoting his life to protecting others. He represented the best of our society," de Blasio said Wednesday.
Patrick Lynch, president of the Patrolmen's Benevolent Association, asked all New Yorkers to remember Holder.
"Let his sacrifice mark a new day of respect and appreciation for the men and women who stand between violent crime and the good people of New York. Let his sacrifice mark a new understanding of what police officers do everyday and why we do it. And may his sacrifice bring us together in compassion and peace as we comfort those left behind and lay this hero to rest," he said in a statement.
Following the shooting, the FDR Drive remained closed in both directions between 96th and 125th streets, due to the ongoing criminal investigation. It reopened by 1 p.m. ET on Wednesday.
De Blasio announced earlier on Wednesday that all flags should be lowered to half-staff, effective immediately until the day of Holder's interment.
He is the latest officer to be killed in a deadly 11 months for the NYPD. His funeral arrangements are pending.
In May, NYPD Officer Brian Moore, 25, was shot in the Queens borough of the city after approaching Demetrius Blackwell while in his vehicle alongside his partner. He died several days later at a hospital.
Five months earlier in December, a gunman ambushed and fatally shot NYPD Officers Wenjian Liu, 32, and Rafael Ramos, 40, while they were sitting in their patrol car on a street in Brooklyn. Their deaths came amid protests over policing in the wake of a grand jury's decision not to indict a white NYPD officer in the killing of Eric Garner, a black man who died after being placed in a chokehold by police on Staten Island in July 2014.
De Blasio called for a stronger bond between New York residents and police officers.
"Each one of them was different, but they had a common, strong bond. They believed in protecting others, and they were willing to put their lives on the line," he said of the four individuals. "We need to believe that the police are us, they are made up of every type of community."
This story has been updated to include Lynch's statement and updates provided by the police.