NYPD Officer Shot During Attempted Carjacking
An off-duty officer with the New York Police Department is in a stable condition in the hospital after being shot during an attempted carjacking while on his way to work, authorities said.
The 22-year-old officer had stopped at a traffic light near Beach 62nd Street and Beach Channel Drive in the Queens borough at around 10.20 p.m. when two men approached his car on foot, NYPD police chief Kenneth Corey said at a news conference.
One of the men "tapped on the driver's side window with a gun" and the officer got out of his vehicle, Corey said.
"One of the two males then fired several shots at the off-duty officer striking him in the shoulder," Corey added. "The officer returned fire, but did not strike anyone."
Corey said the suspects fled on foot, while uniformed officers who heard the sound of gunfire rushed to the scene and rendered aid to the wounded officer. They also broadcast a description of the fleeing suspects over their police radios.
He said uniformed Public Safety Team officers spotted two men fitting the description around three blocks away near Beach Channel Drive and Beach 59th Street.
"As those officers got out of the car, the suspects fired a shot towards the officers which struck the rear bumper on the passenger side of their unmarked car," Corey said. But the officers "exercised great restraint and did not return fire," he said.
"I want to emphasize that. These officers are being fired at and did not shoot back."
Instead, Corey said the officers chased the suspects on foot and apprehended them a short distance away without further incident. A firearm was recovered, he said.
The initial responding officers placed the wounded off-duty officer in their vehicle and transported him to Jamaica Hospital, where he is in a stable condition, Corey said.
NYPD Commissioner Keechant Sewell said the suspects had intended to rob the off-duty officer of his vehicle.
"This young man was on his way to work to protect New Yorkers from criminals like the two who were arrested today," Sewell said.
"The police department is well past standing at podiums telling people there are too many illegal guns on the street and far too many people carrying them ready to pull the trigger."
Mayor Eric Adams, a former police captain, said the suspects in the incident "had no regard of who they were trying to kill."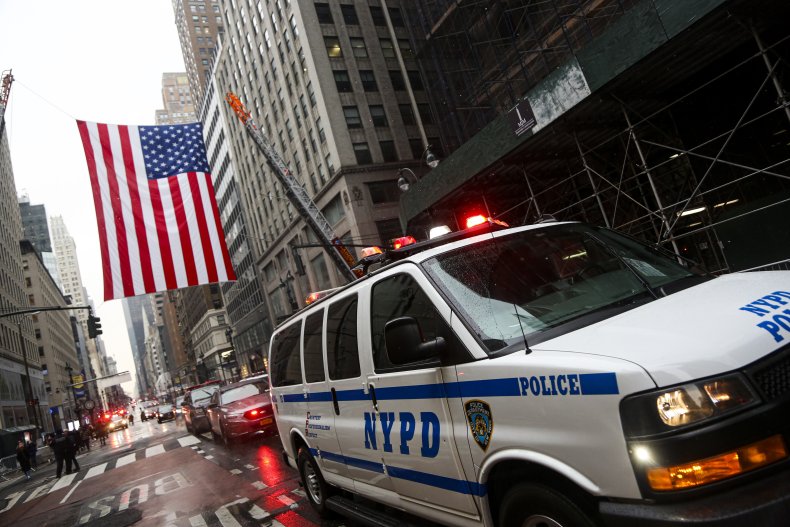 "The overproliferation of guns, ready to use them on individuals in blue uniforms or blue jeans, they don't care. They don't care," he said. "And to see something like this happen repeatedly in our city is unacceptable."
President Joe Biden will be visiting the city on Thursday and will meet with Adams to discuss gun violence. Adams introduced his "Blueprint to End Gun Violence" on January 24.
"We're going to lay out clear items we need on the federal level, just as we did with state lawmakers. Everyone must be on the same team," Adams said. "This department is going to fight to keep the city safe."
Tuesday's shooting came as the NYPD prepares to pay tribute to one of the two officers who were shot and killed while responding to a domestic dispute in Harlem on January 22.
Officer Wilbert Mora's funeral is set for Wednesday morning. Thousands of police officers gathered for his partner Jason Rivera's funeral on Friday.