The New York City Police Department paid tribute to an officer who was killed in the line of duty during a domestic disturbance.
Officer Jason Rivera, 22, who had joined the NYPD in 2020, died after he was fatally shot when responding to a call in the Harlem neighborhood of Manhattan on Friday.
The NYPD said the shooting took place at around 6:15 p.m. ET Friday on W. 135th Street near Malcolm X Boulevard.
Rivera and his partner, Wilber Mora, 27, were struck when a suspect who police identified as Lashawn McNeil, 47, started firing from inside a bedroom.
Police said that Mora, who has been with the NYPD for four years, is gravely injured and remains in hospital.
"Tonight, we mourn the loss of a hero officer—a son, husband, and friend," the NYPD said in a tweet.
"Only 22 years old, Police Officer Jason Rivera was murdered in the line of duty. We vow to #NeverForget Jason as his fellow Finest vow to honor his tremendous legacy of service & the ultimate sacrifice."
After he opened fire, a third police officer shot McNeil, who remains in a critical condition.
NYPD Chief of Detectives James Essig told a news conference the firearm used in the shooting was a Glock 45 with a high-capacity magazine that holds up to 40 additional rounds. The gun was stolen in Baltimore back in 2017.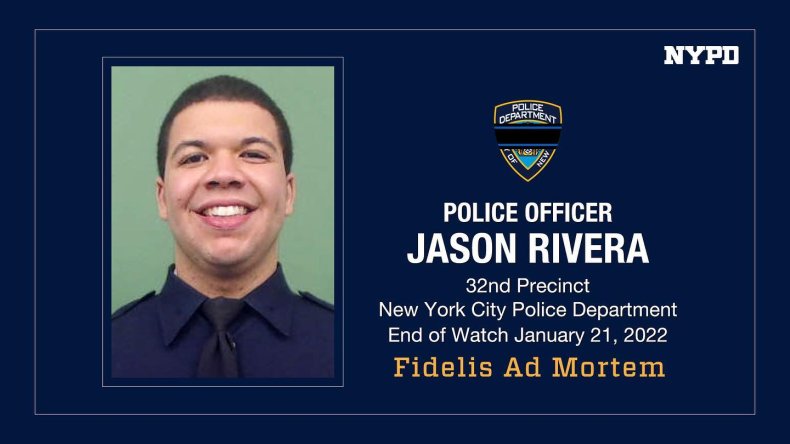 The NYPD is working with the Joint Firearms Task Force and the Bureau of Alcohol, Tobacco, Firearms and Explosives to trace the gun further.
NYPD Commissioner Keechant Sewell said the police department was in mourning.
"We have four times this month rushed to the scene of NYPD officers shot by violent criminals in possession of deadly, illegal guns," Sewell said.
Meanwhile, New York City Mayor Eric Adams, a former police officer, said from Harlem Hospital where the officers were taken to that "it is our city against the killers."
"Let me be clear, there are no gun manufacturers in New York City. How are we removing thousands of guns off the street and they still find a way into New York City in the hands of people who are killers?" Adams said.
NYPD officers gathered in support at the hospital, Reuters reported.
Rep. Hakeem Jeffries (D-NY), whose district includes areas from Brooklyn and Queens, tweeted: "Deeply saddened by the tragic killing of an NYPD officer in Harlem. Our City is in mourning.
"Praying hard for the officer who is battling for his life and the heartbroken family members who have been left behind."
When contacted for comment, the NYPD told Newsweek that the "investigation remains ongoing" and that both Officer Wilbert Mora and the suspect "remain in critical condition."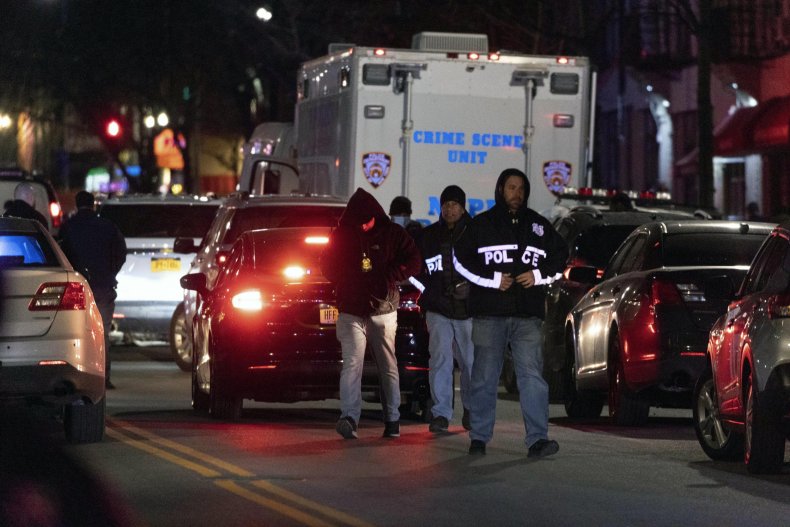 Update 01/22/22, 06:00 a.m. ET: This article has been updated with an NYPD statement.