NYPD Union President Criticizes de Blasio for Violating Jewish People's Rights, Calls Mayor 'an Idiot'
The President of a New York police union has called New York City Mayor Bill de Blasio "an idiot" over the mayor's tweets published on Tuesday night in which the mayor threatened to arrest any members of the Jewish and other communities who gather in large groups during the ongoing coronavirus epidemic.
Ed Mullins, president of the Sergeants Benevolent Association (SBA), a union representing approximately 13,000 active and retired sergeants of the New York Police Department, blasted the mayor in an interview published Wednesday on the website of Fox News contributor Sara Carter.
"The truth of the matter is the guy's an idiot. He has no idea what he's doing," Mullins said of the mayor. "He's embarrassed and he thinks he's taken a hardcore approach."
De Blasio's Tuesday night tweets criticized Orthodox Jewish attendees of a funeral at the Tola'as Yaakov synagogue in Williamsburg, Brooklyn for creating a large crowd. Despite the many face masks in the crowd, the mayor has tried to slow the spread of Covid-19 by forbidding residents from congregating in large crowds.
"Mayor DeBlasio, YOU cannot instruct the NYPD to violate people's rights!" a Tuesday night tweet from the SBA read. "This event was a funeral this community will NOT leave bodies in their homes for you."
"The grand rabbi from Williamsburg passed away. The community followed all guidance & wore masks," a second SBA tweet read. "The Shomrim was there giving out masks if they saw somebody on the street without a mask. They did an excellent job. The only issue is your incompetent and targeted people of faith."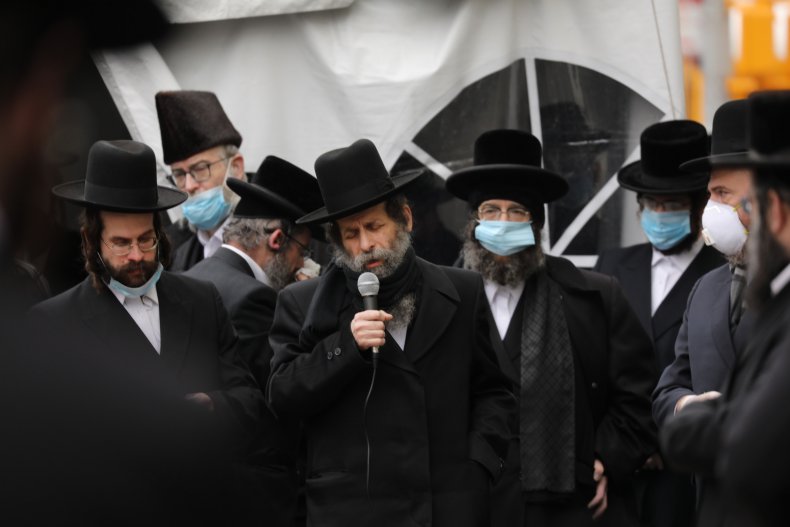 In a public statement, Jacob Mertz, secretary of the Tola'as Yaakov synagogue said that it intended to hold its funeral in accordance with the mayor's social distancing orders, adding, "We apologize that it turned out otherwise."
"We know that the mayor's reaction came from his concern to the health of safety of our community and the entire city, and it wasn't ill-intentioned," Mertz wrote. Mertz said the synagogue would henceforth follow all necessary social distancing orders.
While de Blasio wrote in his Tuesday night tweets that he understood the instinct to gather and mourn, he also wrote, "large gatherings will only lead to more deaths + more families in mourning," and added that he "instructed the NYPD to proceed immediately to summons or even arrest those who gather in large groups."
Many criticized the mayor for singling out the Jewish community despite allowing crowds to gather on Tuesday in Central Park and elsewhere to watch a flyover by Navy and Air Force planes honoring medical, emergency and other essential workers.
During De Blasio's Wednesday coronavirus briefing, he apologized for any hurt he caused by his tweets and defended his comments as coming out of "anger", "frustration" and "tough love." He said he has "a lot of love" for the Jewish community and promised to call out any other gatherings "equally."
Mullins and the SBA's Twitter account have both been vocal critics of de Blasio's handling of the coronavirus epidemic, claiming that the mayor hasn't visited police officers with the virus in hospitals and that mayoral policies have made it harder for police officers to do their jobs.
Three hours before de Blasio criticized the funeral attendees, the SBA Twitter account published a tweet declaring, "MAYOR DEBLASIO SHOULD BURN IN HELL for what he's done to NYC."
Newsweek has reached out to the New York Police Department for comment. The department hadn't responded by the time of publication.