The police chief in Oakland, California, is warning that crime is "out of control" in the city after City Council members approved a budget cut stripping $17.4 million from the police department and directing the money elsewhere.
"I'm challenged by the decisions that were made on Thursday around the budget for the city of Oakland, particularly for the Oakland Police Department," Chief LeRonne Armstrong said at a Monday news conference.
"We find ourselves in a crisis," he added. "We find ourselves reeling from a weekend of violence, where we've seen four homicides over a three-day period. It now has us currently at 65 homicides for the year—a 90 percent increase compared to last year."
Other crimes in the city are also on the rise, he said, noting that shootings have gone up 70 percent this year, robberies 11 percent and carjackings nearly 88 percent.
"We see clearly that crime is out of control in the city of Oakland," the chief said. "And our response was for less police resources."
His remarks come days after the City Council decided in a controversial 7-2 vote that the $17.4 million would be redirected to the Department of Violence Prevention over the next two years with the intention of improving public safety.
In a statement to Newsweek, Council President Nikki Bas, who spearheaded the efforts to reallocate police funds along with council member Carroll Fife, said the budget cut does not mean she doesn't support public safety.
"I appreciate the Chief's passion and commitment to keeping the people of Oakland safe," Bas wrote. "I know he has lost loved ones to violence, like so many others in our city this last year alone. In my district, we lost Dashawn Rhoades last weekend to gun violence at Lake Merritt on Juneteenth, and two 17-year olds several weeks before just a few blocks east."
She added, "As Council President of the City of Oakland, I share the goal of our Police Chief: to keep the people of our city safe. We differ in one important way, and that is how we must allocate our public safety resources over the next two years, given this historic moment to reimagine safety."
Despite Bas' commitment to other public safety measures, other city officials have expressed opposition to her approach.
Mayor Libby Schaaf voiced concerns that the budget cut will force officers to work more overtime shifts, which are not only expensive but can be unsafe for officers and residents.
"Unfortunately, [the budget] also cuts 50 police officers who respond to Oaklanders' 911 calls and enforce traffic safety. It also cuts much-needed future academies, which will significantly reduce police staffing and delay response to Oaklanders in their time of crisis," Schaaf said in a statement.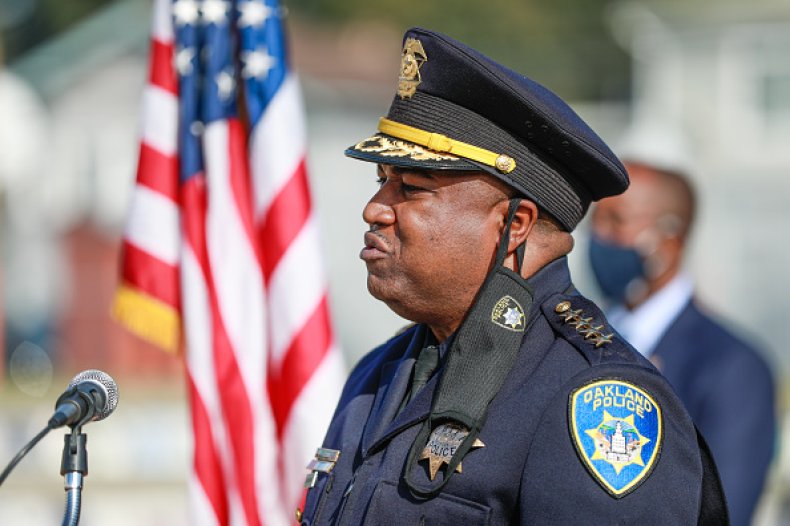 Schaaf's proposed 2021-2023 budget sought about $650 million for the police.
"I believe that until we have proven alternatives, we cannot destroy Oakland's current public safety system at a time when we are losing so many to gun violence," the mayor's statement said.
Oakland has seen an alarming spike in violence, and particularly deadly shootings, in recent months. There was a mass shooting at a Juneteenth celebration attended by about 5,000 people. Two men opened fire, injuring six and killing one.
"These are people," Armstrong said on Monday. "Far too often in these [council] meetings we are talking about numbers, we are talking about money and cost. I don't know what the cost of a life is. But I know that having resources makes our city less safe.
"Without the resources, it makes it challenging to make Oakland safe, and more families find themselves dealing with trauma, find themselves dealing with putting the pieces together. When the yellow tape is gone and when the streets are cleaned up, there is still hurt and pain and tragedy in our community. I hope that we can put politics aside and put public safety first."
Following the police killing of George Floyd in Minneapolis last year, many Oakland residents demanded that officials redirect funds slated for the police to other forms of public safety.
"Oakland can lead the nation by transitioning low-level, nonviolent 911 calls to other departments, including the Fire Department's new mobile crisis response program for mental health emergencies and the Transportation Department for minor traffic enforcement like blocked driveways, auto tows, improper parking and abandoned autos," Bas told Newsweek. "This will allow police to focus on responding to and investigating serious and violent crime."
Bas' budget will reallocate the police department money to the Department of Violence Prevention, which targets investments in Oakland's youth; the new mobile crisis response system, through the city's Fire Department; and the Department of Transportation, which will handle low-level vehicle-related 911 calls so officers can focus on violent crime.
"Our police budget will still make up nearly half of our general purpose fund—over $660 million in two years. But public safety and community wellness goes beyond policing," Bas wrote. "It also requires deep investments in violence prevention, affordable housing, jobs, small businesses, and access to arts and culture, parks and libraries."
While the budget cut was praised by activist groups like the Anti Police-Terror Project, police groups like the Oakland Police Officers' Association (OPOA) expressed concern that the decision might hurt communities most impacted by violent crime.
"The two no votes are from council members in districts that are most impacted by violent crime. The message they're saying is 'we may support your programs but we do not want less public safety at a time of skyrocketing violent crime,'" OPOA President Barry Donelan told KPIX.
However, Bas said the one-year transition period will allow for service levels to remain the same over the next year so that the vacant officer positions won't take effect until July 2022.
Updated 06/29/2021, 1:50 p.m. ET: This story has been updated with additional comments from Bas.