Oath Keepers Leader Stewart Rhodes Charged With Plotting to Overthrow Government on Jan. 6
Stewart Rhodes, the leader of the far-right militia the Oath Keepers, has been charged with seditious conspiracy for his role in the January 6 Capitol riot despite never entering the Capitol building itself.
The Oath Keepers is one of the groups accused of encouraging a mob of protestors to breach the U.S. Capitol building during the certification of Joe Biden as the 46th president. Rhodes, whom the Department of Justice cites by his full name Elmer Stewart Rhodes, was arrested in Texas on Thursday, according to court documents. Another man, Edward Vallejo, was also arrested on similar charges in Arizona.
Rhodes and Vallejo are among the 11 defendants listed in an indictment unsealed on Wednesday regarding charges of seditious conspiracy. However, this indictment is one part of another larger indictment that also includes the original case with seven defendants and another against one individual who was previously charged. One of the defendants listed in the original case is Broadway actor and Michael Jackson impersonator James Beeks. All 19 defendants in this combined indictment are charged with corruptly obstructing an official proceeding, with individual defendants facing various other charges.
"Beginning in late December 2020, via encrypted and private communications applications, Rhodes and various co-conspirators coordinated and planned to travel to Washington, D.C., on or around Jan. 6, 2021, the date of the certification of the electoral college vote," wrote the Department of Justice in its statement on the indictment.
The Department of Justice outlined the various actions that Rhodes, Vallejo and the other defendants are accused of in connection to the January 6 riots. These actions include "organizing trainings to teach and learn paramilitary combat tactics; bringing and contributing paramilitary gear, weapons, and supplies…to the Capitol grounds" and "breaching and attempting to take control of the Capitol grounds and building on Jan. 6, 2021, in an effort to prevent, hinder and delay the certification of the Electoral College vote," among other allegations.
The Oath Keepers are known as a far-right militia that heavily targets law enforcement and military personnel for their ranks. Rhodes himself was a former Army paratrooper and was also a graduate of the Yale Law School. He has denied helping to orchestrate the January 6 Capitol riots.
Seditious conspiracy charges carry a maximum penalty of 20 years in prison. The case will be prosecuted by the U.S. Attorney's Office for the District of Columbia and the Department of Justice National Security Division's Counterterrorism Section.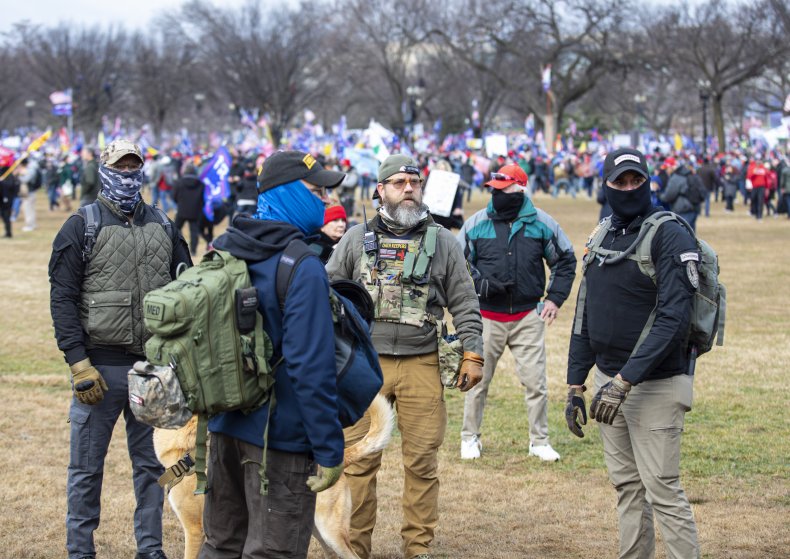 The complete list of those charged in all three cases can be found below:
Elmer Stewart Rhodes
Edward Vallejo
Thomas Caldwell
Joseph Hackett
Kenneth Harrelson
Joshua James
Kelly Meggs
Roberto Minuta
David Moerschel
Brian Ulrich
Jessica Watkins
James Beeks
Donovan Crowl
William Isaacs
Connie Meggs
Sandra Parker
Bernie Parker
Laura Steele
Jonathan Walden