Oath Keepers Leader Targets Proud Boys During Court Hearing
Stewart Rhodes, the founder and leader of the Oath Keepers, compared his far-right extremist group with the Proud Boys during his sentencing hearing Thursday afternoon, saying there was a major difference.
"Unlike other groups like the Proud Boys, who seek conflict and seek to street fight, we deter," Rhodes said, according to a tweet from Politico's Kyle Cheney.
Rhodes, who was found guilty of several charges, including seditious conspiracy, in connection with the January 6, 2021, riot at the U.S. Capitol, was sentenced at the hearing to 18 years in prison. Prosecutors reportedly had sought 25 years but got the judge to agree to an increased sentence because of "terrorism enhancement" penalties.
Rhodes is the first person charged in the January 6 attack to be sentenced for seditious conspiracy. His sentence was also the longest handed down so far in the hundreds of cases involving people charged in the Capitol riot, the Associated Press reported.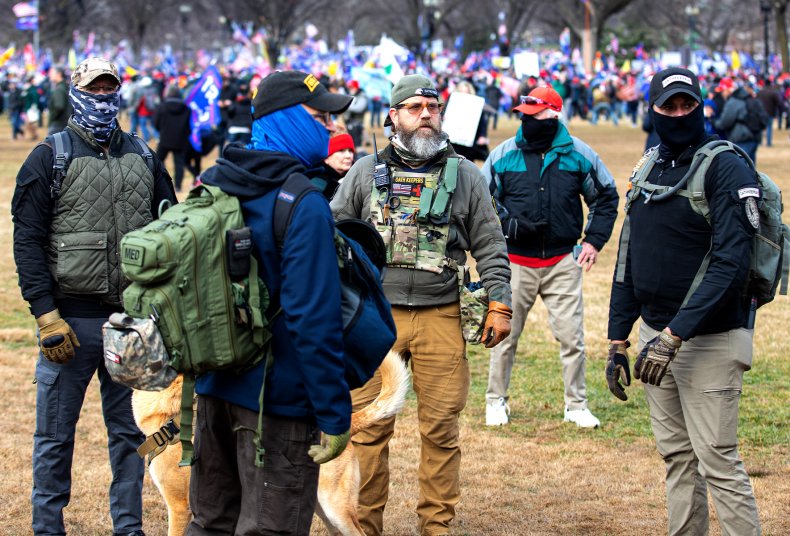 Prosecutors said that Rhodes organized an "armed force" and "orchestrated and then led this conspiracy," according to Cheney.
Newsweek reached out to Rhodes' attorney, Phillip Linder, via email for comment.
Rhodes called himself a political prisoner at the hearing. But Judge Amit Mehta told him, "What we cannot have, we absolutely cannot have, is a group of citizens who because they didn't like the outcome [of the 2020 presidential election] were then prepared to take up arms in order to foment a revolution. That's what you did. You are not a political prisoner, Mr. Rhodes."
The judge continued, "You, sir, present an ongoing threat and a peril to this country, to the republic and to the very fabric of our democracy."
Earlier this year, four members of the Proud Boys, another far-right extremist group that was involved in the January 6 riot, were found guilty of seditious conspiracy. They included the group's former leader, Enrique Tarrio. Joseph Biggs, Zachary Rehl and Ethan Nordean were also convicted on that charge as well as others.
Michael McAuliffe, a former elected state attorney and federal prosecutor, told Newsweek on Thursday, "The testimony by Rhodes at his sentencing appears to be in direct contradiction to the evidence at trial and the jury's verdict.
"Rhodes is facing one of the most significant sentences of all the January 6th prosecutions, so it's not surprising he is attempting to blunt the sharp edges of his prior conduct," he said.
"Such statements that his group, the Oath Keepers, actually deters violence likely will not in any manner reduce his sentence," McAuliffe said before Rhodes received 18 years.