Oath Keepers' Stewart Rhodes Was in Contact With Secret Service: Ex-Member
A former member of the Oath Keepers testified Thursday that Stewart Rhodes, the founder of the far-right group, was in contact with the Secret Service before the January 6, 2021, Capitol riot.
John Zimmerman, who is from North Carolina, appeared as a Department of Justice (DOJ) witness in federal court during the trial of five other members. During his testimony, Zimmerman said he witnessed a call that Rhodes received in September 2020.
While listening to Rhodes' end of the call, Zimmerman was under the impression that the leader was in contact with a Secret Service agent, he testified. It is unclear if federal prosecutors know the identity of the Secret Service agent who was allegedly in contact with Rhodes.
In a statement shared with Newsweek, the Secret Service said it was aware that members of the Oath Keepers have contacted the agency in the past, which is not uncommon for such groups because the agency often receives inquiries regarding security restrictions and activities.
"Regardless of organization affiliation, no weapons of any kind are allowed inside of a Secret Service protected site or venue," an agency spokesperson said. "Only sworn law enforcement officials who are actively participating with the security plan are allowed to have weapons at these locations."
The seditious conspiracy trial of Rhodes, along with members Kelly Meggs, Kenneth Harrelson, Jessica Watkins and Thomas Caldwell, began Monday. Other members of the Oath Keepers are expected to go on trial in November. In total, nine members are charged with conspiring to use force to oppose the lawful transfer of power to President Joe Biden.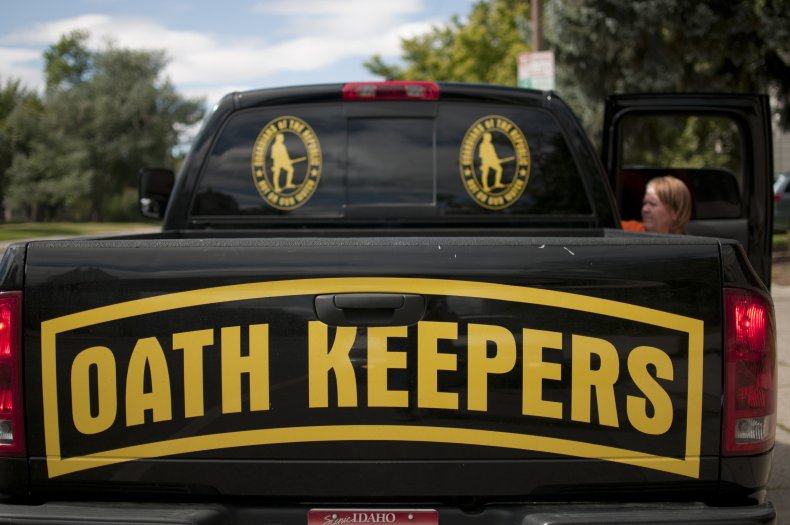 Zimmerman, who was the leader of the group's Cumberland County chapter, told the court that he was not in Washington, D.C., on January 6, 2021, because he was recovering from COVID-19. He said he joined the Oath Keepers as an "extension" of community law-enforcement services.
Earlier this year, a series of controversies related to the Secret Service's actions during the Capitol riot came to light, after it was reported that the agency erased text messages from January 5 and 6, 2021, following oversight officials' request for them.
Over the summer, a former White House aide, Cassidy Hutchinson, testified that former Secret Service agent Tony Ornato, who also served as a top aide to Donald Trump, told her he was in the car with the former president when Trump demanded to be driven to the Capitol.
At the end of August, Ornato retired from the Secret Service after 25 years of service.
Prosecutors have argued in another case against an Oath Keepers member that Rhodes tried to speak with Trump directly on the night of January 6 to urge the former president to call on people to block the certification of the 2020 election. Asked Thursday whether Rhodes was in contact with Trump, Zimmerman said he could not recall.
The DOJ has accused Rhodes and members of his organization of plotting to stop the transfer of power after the 2020 election by stockpiling guns outside of Washington so they could be mobilized quickly.
In an audio recording played by the DOJ on Monday, Rhodes was heard saying, "My only regret is that they should have brought rifles." He also said that the Oath Keepers could have "fixed it right then and there" if they were armed at the Capitol on January 6.
On Thursday, Zimmerman testified that the group gathered guns in case Trump invoked the Insurrection Act.
Correction 10/06/22 3:39 p.m. ET: An earlier version of this story misspelled Stewart Rhodes' first name. We apologize for the error.
Update 10/06/22 8:10 p.m. ET: This story was updated with comments from the Secret Service.