What Are The Oath Keepers Accused Of Ahead Of January 6 Conspiracy Trial?
By early next year, the biggest January 6 trial so far will begin, with many of the defendants facing the most serious charges in connection to the insurrection.
A total of 17 people with links to the far-right Oath Keepers group will begin their trials on January 31, 2022, with the latest suspect—Broadway actor and Michael Jackson impersonator James Beeks—indicted with his other alleged co-conspirators in late November.
The Oath Keepers are explicitly anti-government militia groups founded in 2009 by Elmer Stewart Rhodes, whose members are preparing for a new civil war in the country. The group mainly recruits current and former law enforcement and military personnel, although it does also accept civilians.
Their members are accused of planning to violently obstruct the certification of the 2020 Election result on January 6 while wearing paramilitary gear and forming a "stack" formation before storming the Capitol building.
According to the latest indictment, the Oath Keeper members face a number of charges, including conspiracy, obstructing an official proceeding, unlawful entry of a restricted building or grounds, and resisting or impeding certain officers in relation to the January 6 attack.
The conspiracy charges are the largest single indictment of the investigation into the January 6 attack.
Earlier this year, there were reports that at least some Oath Keeper defendants could face "sedation" charges due to the seriousness of their alleged crimes.
Oath Keepers Donovan Crowl, Thomas Caldwell and Jessica Watkins were the first to be charged in connection to the Capitol attack.
The trio have since been charged in a number of superseding indictments with other Oath Keepers members and allies, bringing the total number to 17.
These are Sandra Parker, Bennie Parker, Laura Steele, Kelly Meggs, Connie Meggs, Kenneth Harrelson, Roberto Minuta, Joshua James, Jonathan Walden, Joseph Hackett, William Isaacs, David Moerschel, Brian Ulrich, and Beeks.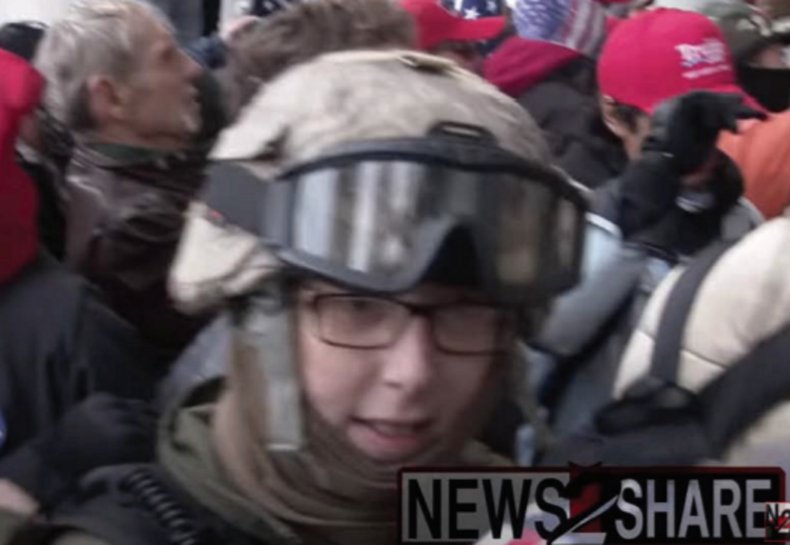 According to prosecutors, between November 3 and January 6, all 17 defendants did knowingly "combine, conspire, confederate, and agree" to commit an offense against the United States, namely "to stop, delay, and hinder" the certification of the Electoral College vote in Congress.
The Department of Justice states an apparent call to arms was posted on the Oath Keepers website by Rhodes two days before the January 6 attack.
The message from Rhodes, referred to as "Person One" in court filings, described how it is "critical that all patriots" who can travel to Washing D.C. for January 6 in order to show support for Donald Trump and "fight to defeat the enemies foreign and domestic who are attempting a coup, through the massive vote fraud and related attacks on our Republic."
The post also said Oath Keepers should be prepared to act at any point in the future if Trump was to invoke the Insurrection Act, which permits the president to deploy active duty troops under certain circumstances.
As part of their plans to disrupt the certification of the Electoral votes, the group attended parliamentary combat practice events, and discussed whether or not to bring guns to the protests.
On November 9, Rhodes held an Oath Keeper meeting attended by Watkins, Kelly Meggs, Harrelson and Hackett in which he called for the group to defend Trump post election and "do what needs to be done" to save the country.
"Because if you don't guys, you're going to be in a bloody, bloody civil war, and a bloody—well, you can call it an insurrection or you can call it a war or fight," Rhodes added.
Prosecutors said it was at this meeting that Watkins and Kelly Meggs first discussed what weapons they could bring to D.C.
The group ultimately decided not to bring firearms to the protests due to D.C.'s laws prohibiting open carry at protests. Instead, Harrelson is alleged to have stored firearms at the Comfort Inn in Arlington, Virginia, as part of plans to initiate a "quick reaction force" if violence broke out on January 6.
Later in November, Watkins urged several Oath Keeper members to attend a week-long training regime in order to be "fighting fit" by January.
The group are also alleged to have sent texts and social media messages discussing their plans for January 6.
On the morning of January 6, prosecutors allege that Crowl, Watkins, Sandra Parker, Bennie Parker, Young, Steele, Kelly Meggs, Connie Meggs, Hackett, and Moerschel had "prepared themselves for battle" on January 6 by equipping themselves with communication devices and donning reinforced vests, helmets, and goggles.
At 1:50 p.m Watkins wrote on messaging app Zello: "We have a good group. We have about 30-40 of us. We are sticking together and sticking to the plan."
At 2:35 p.m., Crowl, Watkins, Sandra Parker, Young, Steele, Kelly Meggs, Connie Meggs, Hackett, Isaacs, Moerschel, and Beeks joined together to "form a column or stack of individuals" wearing Oath Keepers clothing, patches, insignia, and battle gear outside the Capitol.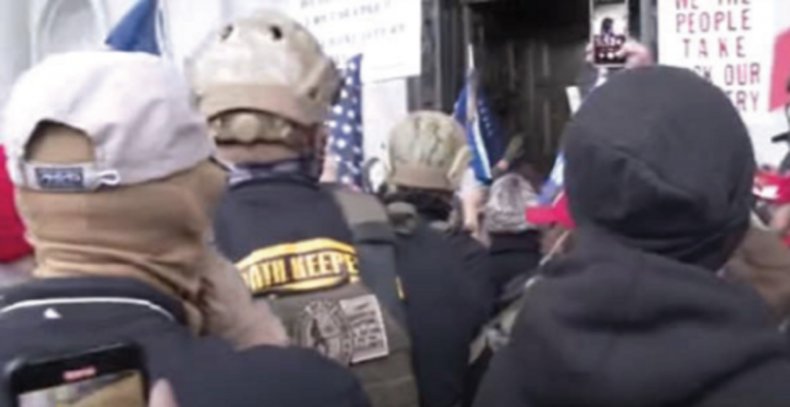 "Together, the Stack maneuvered in an organized fashion up the steps on the east side of the Capitol: each member keeping at least one hand on the shoulder of the other in front of them," prosecutors said.
"At the top of the steps, the Stack joined and then pushed forward alongside a mob that aggressively advanced towards the east side Rotunda doors at the central east entrance to the Capitol, assaulted the officers guarding the doors, threw objects and sprayed chemicals towards the officers and the doors, and pulled violently on the doors."
In total, all 17 Oath Keeper defendants are facing conspiracy charges.
They also facing between a further two and five counts of conspiracy obstruction of an official proceeding and aiding and abetting destruction of government property and aiding and abetting entering and remaining in a restricted building or grounds, as well as civil disorder and aiding and abetting assaulting, resisting, or impeding certain officers, tampering with documents or proceedings and aiding and abetting between them.